'Grey's Anatomy' Star Ellen Pompeo Reveals Her 'Actor Crushes,' and One is a Former Co-Star
Ellen Pompeo is a famed fixture on ABC's hit show Grey's Anatomy. Prior to starring on the medical drama, Pompeo paid the bills tending bar until she began landing acting roles.
One of those opportunities included a scene with a Hollywood superstar, on whom she revealed is tops on her 'crush' list.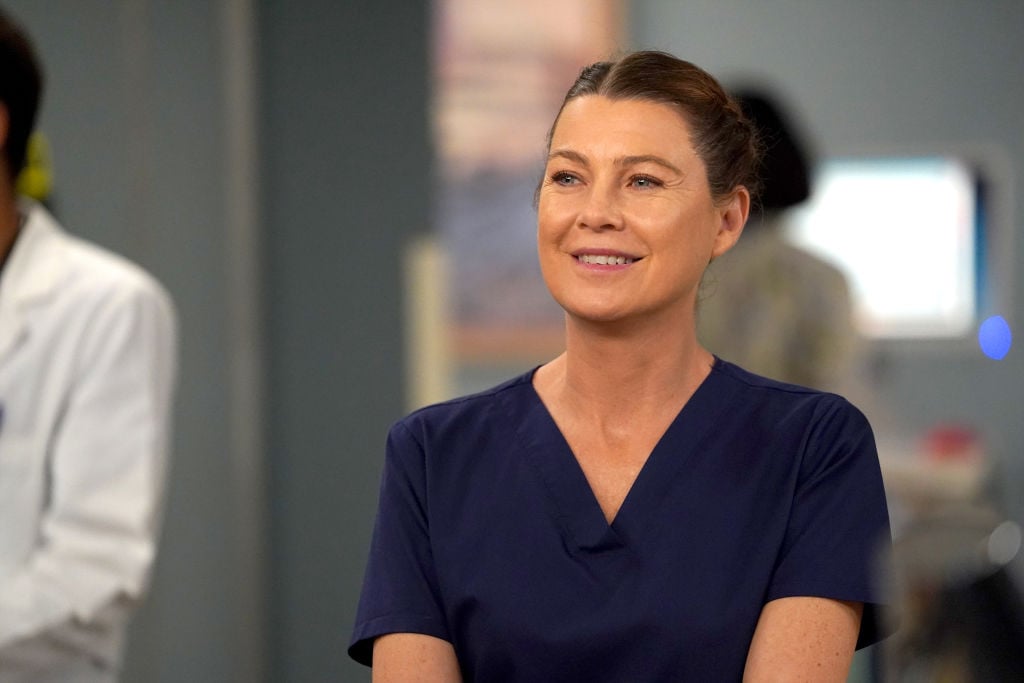 Meredith Grey behind the bar
In an interview with Backstage, Pompeo recalled working in the service industry before realizing which career field she wanted to pursue.
"I was a bartender for years, but I hadn't started acting yet," the Grey's star said in 2016. "I was bartending and cocktail waitressing, contemplating, 'What am I gonna do with my life? Am I really going to pursue acting—really? It just seems crazy.'"
Her path started to take shape after she began meeting the right people in showbiz. "I met an agent, and she started sending me on auditions. And then I started getting work," Pompeo explained. "It was a little backward for me. I was doing my survival job, but I wasn't really trying to act. I was thinking about trying to get into something more sensible. [Acting] found me. The signs were there that that's what I was meant to do."
RELATED: 'Grey's Anatomy's' Krista Vernoff Hints at a Returning Alum – Here Are Some Potential Candidates
Ellen Pompeo started on the big screen
The Grey's actress credits her tried and true instincts when it came to finding her way around the industry.
"I've always had the gift of intuition," Pompeo shared. "And I think I always knew how, I got some pretty intense presumptions of the acting world as soon as I really started working."
Though the parts Pompeo originally landed were small, she had the opportunity to work with top names in Hollywood including Stephen Spielberg for her scene with Leonardo DiCaprio in 2002's Catch Me If You Can. The actress soon realized that there was a definite discrepancy between how men and women were regarded in show business.
"As soon as I came out to L.A. and started doing movies and working and auditioning for big directors and hearing feedback, I got a taste of how challenging it is, especially for women, and what your half-life is," she explained. "I started Grey's when I was 33, so knowing financially how unfairly women are treated, and knowing the age bias that exists, I was pretty perceptive and I knew at 33 I better just stick with this, not try to have a film career at 40. Like, that won't go well."
RELATED: 'Grey's Anatomy': Are Meredith And DeLuca Really Over?
'Grey's' star still has love for Leo
Apparently, Pompeo's scene with DiCaprio – which happened to be a bedroom scene – made quite an impression on the actress. Though the film they worked on together was almost 20 years ago, the Grey's star still holds a special place in her heart for the Oscar winner. When she was asked about her 'acting crushes,' Pompeo named her former co-star as one of her top two.
"My favorites are Matt Damon and Leo," she admitted, giving a shout out to DiCaprio's Academy Award win in 2016. "So, so happy about [his Oscar]. So well-deserved."
Pompeo has clearly been an admirer of the Titanic star for quite some time. "I mean, I think he should've got it at 13 for What's Eating Gilbert Grape," she noted. "He's amazing."
Maybe her praise is enough to lure DiCaprio onto Grey's for a guest appearance!
RELATED: 'Grey's Anatomy' Star Ellen Pompeo Had A Role in a Marvel Film That Was Cut Down to a Cameo