'Grey's Anatomy' & 'Station 19' Crossover Event: Do You Have to Watch Both Shows?
Grey's Anatomy is back tonight from a long break; however, the series returns at a new time with a crossover event. Many fans want to know if they have to watch Station 19—which airs first at 8 p.m.—to understand everything going on with Grey's Anatomy at 9 p.m. Let's take a look at whether or not fans will be lost if they only watch one of the two shows tonight.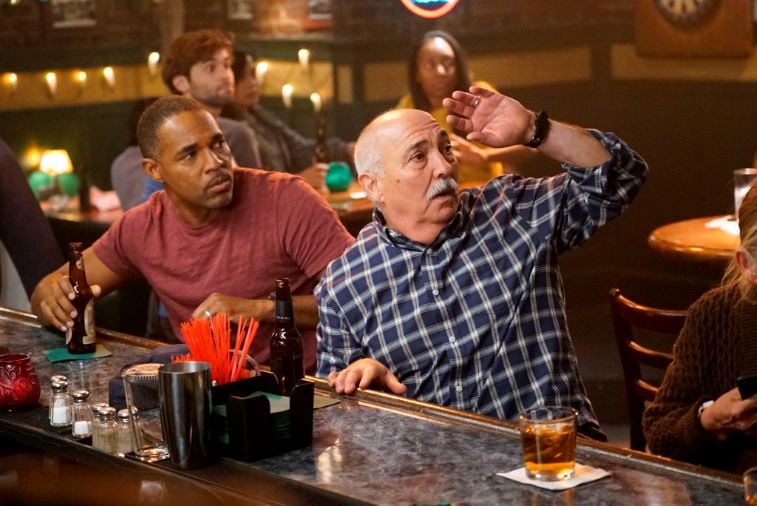 What can we expect from the 'Grey's Anatomy' season 16 midseason premiere?
The Grey's Anatomy fall finale ended with a car crashing into the wall of Joe's Bar, which many of the staff frequent after their shift. Jackson Avery (Jessie Williams), Levi Schmitt (Jake Borelli), and Taryn Helm (Jaicy Elliot) are all trapped inside the bar. 
"Watch with a whole box of tissues!" Krista Vernoff—showrunner of both Grey's Anatomy and Station 19—told TV Line. 
Viewers should also worry about a few doctors outside of the bar as well. Miranda Bailey (Chandra Wilson) is visibly distraught in the previews. She just lost her unborn baby and now might lose her husband, Ben Warren (Jason George), who is also in the bar. 
Amelia Shepherd (Caterina Scorsone) is dealing with the aftermath of finding out that Link is not her baby's father. Will she tell Link (Chris Carmack)?
"I think it's complicated now, and I think it's complicated in a way that will force Amelia and Link into difficult, really difficult, conversations and complications," Vernoff told TV guide.
What can we expect from the 'Station 19' Season 3 premiere?
Station 19 will begin with the firefighters rushing to the scene of the crash into Joe's bar. They also have several of their own trapped in the underground structure. Their retired captain, Pruitt Herrera (Miguel Sandoval)—who just found out that his cancer is back—is in the bar with Ben Warren. 
"The bar is underground, and the structure is unstable," Vernoff notes. "Arguably, we could worry about everyone [in there] — which includes the responding [firefighters]."
The showrunner also added that Station 19 would be full of "more death and chaos." There will be flashbacks surrounding the main characters of the series and why they chose to be firefighters. 
Do I have to watch both 'Station 19' and 'Grey's Anatomy' to understand what's going on
Luckily, Vernoff and the writing team are doing their best to make sure that each show is a complete stand-alone episode on its own.
"Each hour of each show needs to be a whole story [by] itself," Vernoff told Variety. "And when merged with the other show, when there are crossover elements, it needs to feel like, 'Oh, that's a bigger movie.' So I had to make two-hour movies, [but] if you only watched [either the first or last] hour, you felt totally satisfied."
So, you can watch one show or the other and not be lost. Vernoff believes that viewers could jump in on the newer Station 19 without having watched any episodes to this point.
"I wanted to invite you into a world to have you meet these people fresh, if you were fresh, and be excited to see them again if you weren't," Vernoff continued.
The team also will tie-up loose ends and cliff-hangers from the Station 19 Season 2 finale.
"The challenge was to honor and respect the fans who've been watching for the first two seasons [of Station 19]," Vernoff says.
Although it was difficult to bring both shows together and carry on every storyline, the showrunner and writing team feels confident that they did it well. Tune in tonight on ABC at 8 p.m. ET for Station 19 and then at 9 p.m. ET for Grey's Anatomy.
Read More: 'Grey's Anatomy': Fans Argue Over a Controversial Possible Ending to the Show