'Grey's Anatomy': Will Teddy Altman End Up With Owen Hunt or Tom Koracick? Kim Raver Hints What Happens as Her Character Picks Her Person
Buckle up — The Grey's Anatomy Season 17 premiere will finally deliver some answers about Teddy Altman's (Kim Raver) love triangle with Owen Hunt (Kevin McKidd) and Tom Koracick (Greg Germann). 
For months, fans have been wondering whether Teddy ends up with Owen or Tom. But after the season 16 finale, it became difficult to imagine Teddy and Owen together, particularly because she cheated on the father of her baby hours before their wedding. So what's going to happen next? Luckily, Raver shared what to expect from Teddy as she picks between Owen and Tom on Grey's Anatomy Season 17.
What happened to Teddy Altman, Owen Hunt, and Tom Koracick on 'Grey's Anatomy'?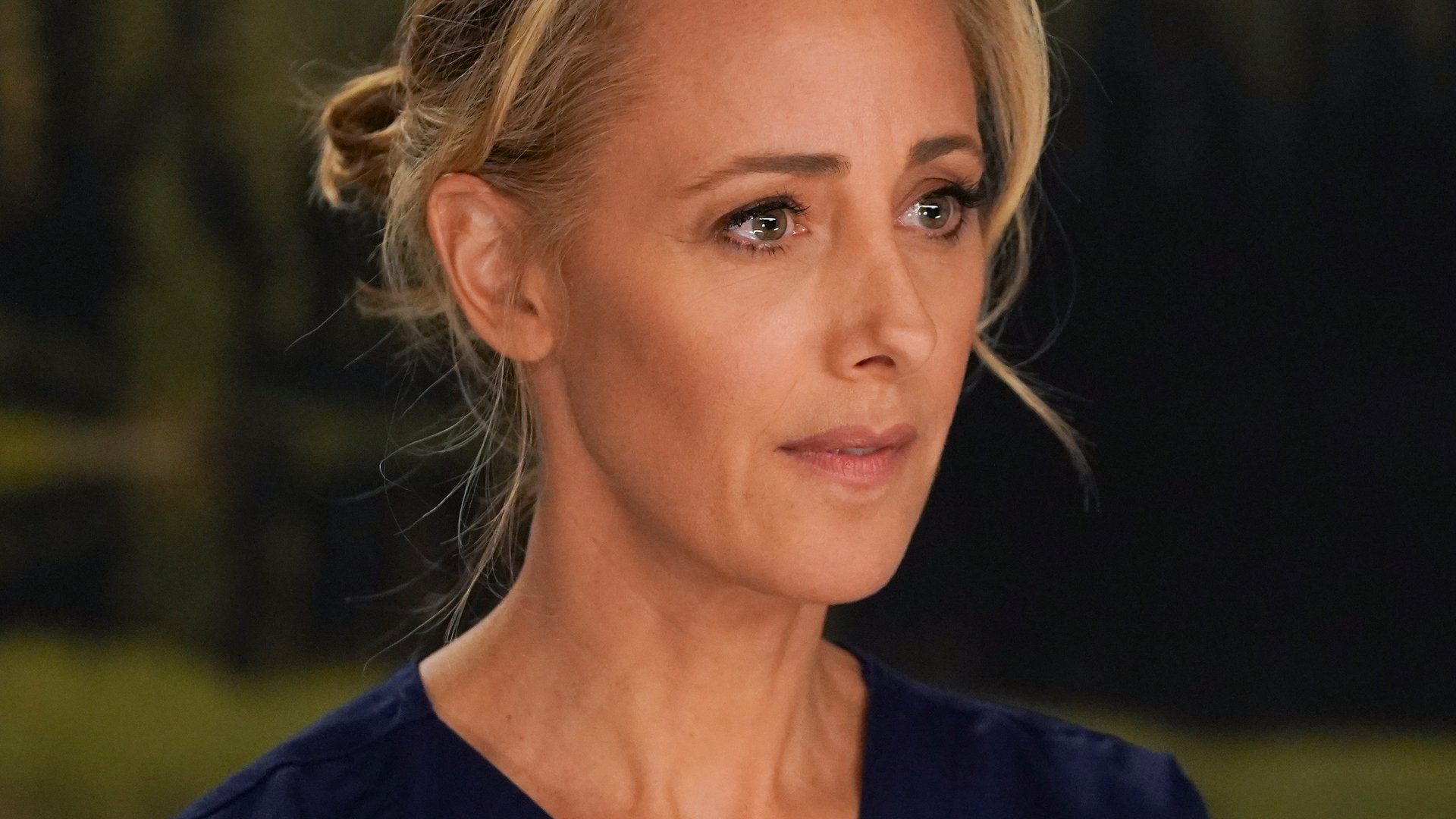 The Teddy, Owen, and Tom love triangle blew up in Grey's Anatomy Season 16. After Teddy and Owen had baby Allison together, the cardio god started having an affair with her ex. Then when Teddy and Owen decided to get married, Tom called out his lover, even asking her to run away with him. Teddy admitted she was in love with both men. But ultimately, she wanted to be with Owen.
Nevertheless, Teddy and Tom accidentally left a voicemail of their hookup on Owen's phone. The trauma surgeon was busy with surgery at the time. But when he got the chance to listen to the voicemail in full, he realized his soon-to-be wife was cheating on him. Later, Owen was a no-show at his wedding, leaving Teddy alone in her wedding dress. 
Kim Raver teases the Teddy, Owen, and Tom love triangle on 'Grey's Anatomy' Season 17
When the Grey's Anatomy Season 16 finale aired in April 2020, showrunner Krista Vernoff revealed she didn't know whether Teddy would end up with Owen or Tom. 
"All three of them feel like whole, rich, and conflicted human beings. My empathy and sympathy changes from week to week and scene to scene," Vernoff told TVLine at the time. "I think it's a really beautiful story, and I don't know where it ends."
Then in an interview with TVLine from September 2020, Vernoff confirmed Grey's Anatomy Season 17 will start with a time jump due to the coronavirus (COVID-19) pandemic. Meanwhile, lingering storylines — including the Teddy, Owen, and Tom love triangle — will be "built" into the premiere. 
Now, where does that leave the characters moving forward? When speaking with KTLA on Nov. 12, Raver shared what will happen to Teddy as she makes her choice between Tom and Owen on Grey's Anatomy.
"I think this is going to be a huge reckoning for her about who she picks and why she self-sabotages," Raver said. "It's sort of the journey of why she's doing all of this destructive behavior. But I think it leads to really amazing drama. And that is sort of the fun of Grey's Anatomy, too."
The actor also defended her character, pointing out that Teddy has gone through a great deal of trauma in the past. 
"Look, I'm going to defend Teddy now because I know a lot of people are very upset with her. I think that Teddy has gone through a lot of trauma," Raver said. "She's lost a lot of people, she was in Iraq."
But as Raver pointed out during an interview with Entertainment Weekly, it's what Teddy decides to do moving forward that will truly decide her character.
"Everyone is so messy, and I think that is really the beautiful thing of the show," Raver said. "They have their shining moments and then they have their very ugly human moments. And it's like, what are you going to do? Who are you going to be? Or who are you going to become?"
Grey's Anatomy Season 17 starts Thursday, Nov. 12.
Check out Showbiz Cheat Sheet on Facebook!