'Grey's Anatomy': Will Teddy Altman Tell Owen Hunt About Tom Koracick in the Season 16 Finale?
[Spoiler alert: Grey's Anatomy Season 16.] Teddy Altman's (Kim Raver) love triangle with Owen Hunt (Kevin McKidd) and Tom Koracick (Greg Germann) has been throwing fans through loops in Grey's Anatomy Season 16. Viewers rooted for Teddy when she returned to the Shondaland series. But the fandom quickly turned on the cardiothoracic surgeon for cheating on Owen with Tom. Now Teddy and Owen are about to get married. And basically, it's all a mess. So will Teddy finally tell Owen about her affair with Tom in the Grey's Anatomy finale on April 9? It seems things are about to get more complicated.
What happened to Teddy Altman, Owen Hunt, and Tom Koracick before the 'Grey's Anatomy' Season 16 finale?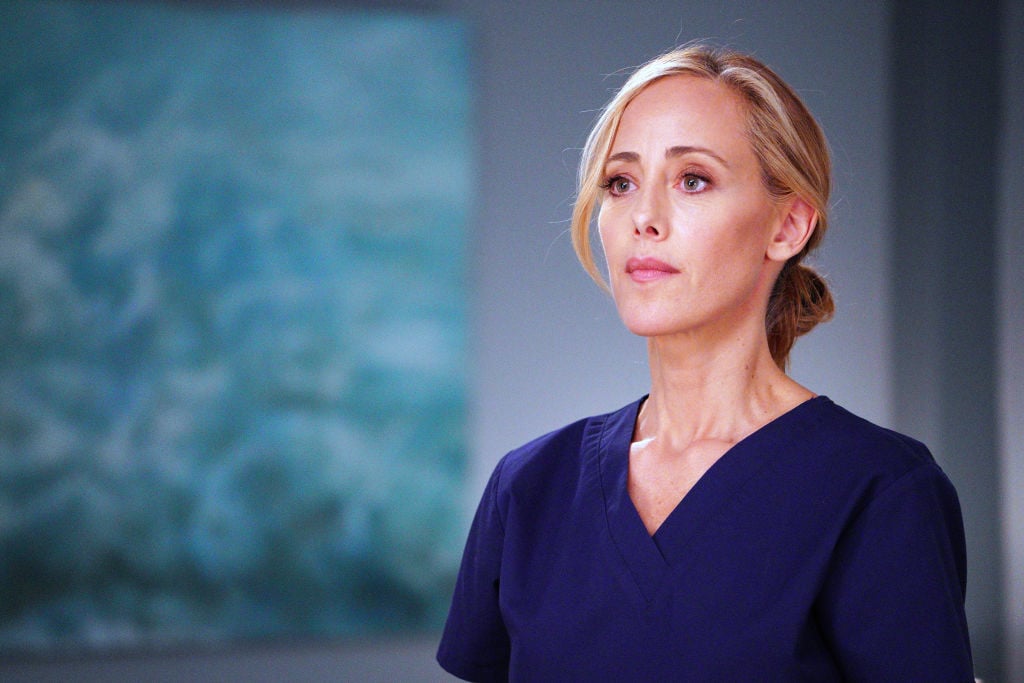 In Grey's Anatomy Season 16, Episode 20 — titled "Sing It Again" — Teddy helps Tom with a case that hit close to home. His ex-wife brings in her child, who happens to look a lot like Tom's late son, David. The boy has a brain tumor and Tom's ex-wife wants him to operate. 
Teddy senses something is up and she pages Amelia Shepherd (Caterina Scorsone), who takes over the case. But in the middle of the operation, Amelia goes into labor and must hand the surgery over to Tom. 
When Tom continues where Amelia left off, there are complications. But given the situation, Tom freezes. In the gallery, Teddy speaks to her ex and calms him down. She gets him to a good place. And in the end, the operation is successful.
Later, Tom thanks Teddy for what she did. In response, the cardio god apologizes to him because he's had more than enough pain. But Tom says Teddy has taken away more pain than she has caused. They hold each other by the hand and sparks are flying. However, Teddy walks away. 
Immediately after, Teddy meets up with Owen and they hook up in a closet. "Screw the plans," Teddy says. "I want to be married to you as soon as possible. Let's do it this weekend."
Will Teddy Altman and Owen Hunt get married in the 'Grey's Anatomy' Season 16 finale?
When Teddy proposed to move up her wedding with Owen after sharing a moment with Tom, fans were floored. Seriously, what is happening and where is this going? Well, in the Grey's Anatomy Season 16 finale promo, it appears Teddy and Owen's wedding won't go on without a few hiccups.
In the middle of the preview, Teddy puts her foot down in front of Tom. "I am marrying Owen," she tells him. And in response, Tom says, "Don't throw your life away, Teddy." 
Then the trailer flashes to a shot of Teddy in her wedding dress. She looks in a mirror and fiddles with her wedding ring. Will she really go through with this, especially since she hasn't been honest with Owen? It seems unlikely. But fans will have to wait and see what happens next.
Even so, it's possible Teddy's love triangle will not be completely resolved until Grey's Anatomy Season 17. The medical drama was cut short by two episodes due to the coronavirus (COVID-19) pandemic. Then when speaking with Entertainment Tonight, Raver revealed Teddy's storyline won't end in a neat package by the final episode of season 16.
"I don't think it's gonna wrap up neatly," Raver said. "There are some crazy things coming up in the next two episodes. Krista and I are talking about it, that we do walk Teddy into and understand why she's doing what she's doing, and then also, through the messiness, get her to that better place."
She continued: "I think what's really cool also is that we're not just gonna wrap it up in a neat little bow, because that's not life. I think it's gonna take some messiness before she gets some clarity."
Raver also teased what to expect from the Teddy, Owen, and Tom love triangle. And although she wasn't able to give away much, we're officially scared for the finale on April 9.
"I really don't want to spoil anything, but it's crazy," Raver said. "Let me just say it's really messy. But it's really good in a very Grey's Anatomy way."
Read more: Why 'Grey's Anatomy' Fans Don't Believe in Meredith Grey and Andrew DeLuca's Romance