'Grey's Anatomy': Will Teddy Marry Owen After He Found Out She Cheated?
[Spoiler alert: Grey's Anatomy Season 16 finale.] The Grey's Anatomy Season 16 finale left everyone in pieces, especially Owen Hunt (Kevin McKidd). Throughout the past few episodes, Teddy Altman (Kim Raver) has been involved in a love triangle with the father of her child and Tom Koracick (Greg Germann). But leading up to the early finale, the drama started the escalate. Teddy told Owen she wanted to get married while continuing her affair with Tom. And now it seems the trauma surgeon knows everything. So will Teddy marry Owen after he found out she cheated? Looks like Grey's Anatomy fans will have to hold on a little longer for Teddy to make her final choice.
How did Owen Hunt find out Teddy Altman cheated on him in 'Grey's Anatomy' Season 16?
In the Grey's Anatomy Season 16 finale — titled "Put on a Happy Face" — Owen finds out Teddy cheated on him. At the start of the episode, the couple gears up for their wedding. They seem excited, but Teddy still hasn't told her fiancé about sleeping with Tom.
When Teddy and Owen's sudden decision to get married reaches Tom, he calls out the cardiothoracic surgeon. He thinks Teddy is making a mistake by rushing into a marriage when she has lingering feelings for another man. Then eventually, they hook up. Teddy even admits she's still in love with him.
As Teddy and Tom get it on, they accidentally leave a voicemail for Owen, who is preoccupied with surgery. Levi Schmitt (Jake Borelli) plays the message out loud for his attending. So loud moans echo throughout the O.R. for everyone to hear. Owen tries to laugh it off and suggests it's a wedding gift. But there's clear panic in his eyes.
Later, Owen listens to Teddy's voicemail in full. He sinks to the floor when he hears another man's voice. Toward the end of the message, Tom tells Teddy they should run away together. But Teddy declines and insists she is marrying Owen. "This was goodbye," she says.
That evening, Teddy prepares for her wedding. She's in her white dress and everything. But when she steps out, Owen's mom is putting away all the decorations for the celebration. Apparently, Owen was pulled in for a last-minute surgery and he didn't tell Teddy. The Grey's Anatomy finale ends as Teddy stares off into the distance. She's screwed and she knows it.
Will Teddy Altman marry Owen Hunt after cheating on him with Tom Koracick?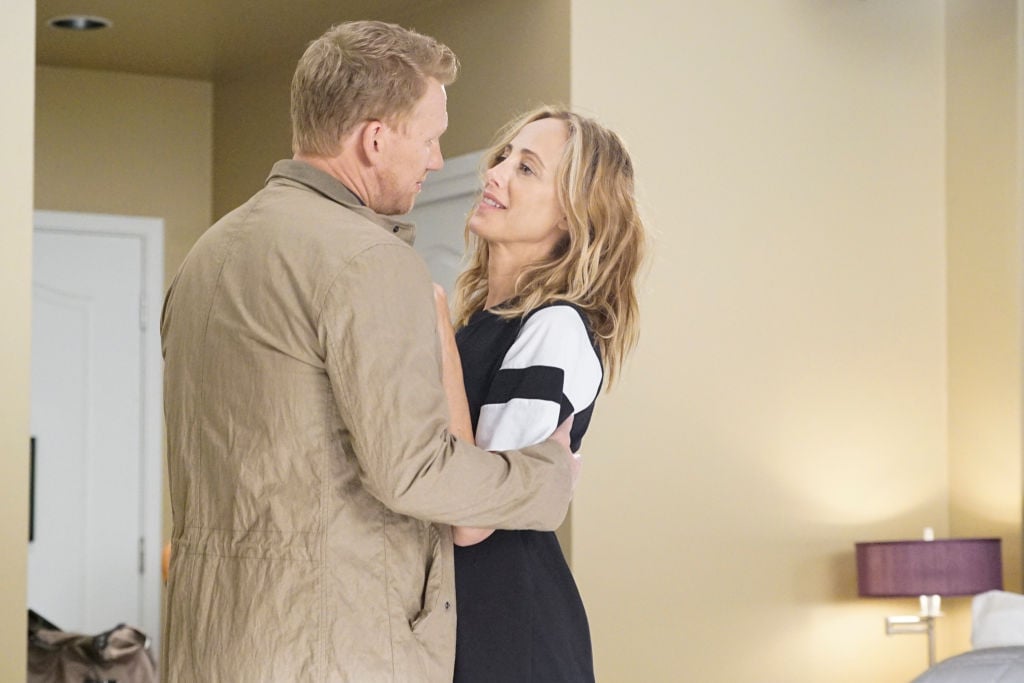 As you may know, Grey's Anatomy Season 16 was cut by four episodes. In March, production was shut down and the decision was made to end the season with 21 episodes. Then when speaking with Variety, showrunner Krista Vernoff revealed the Teddy, Owen, and Tom love triangle was a focal point of the final four episodes. That said, their original plan may change when it unfolds when Grey's Anatomy returns for season 17.
"That is the story that was really playing heavily for the last four episodes of the season," Vernoff said. "And how we play it through now may change as a result of how long the break is going to be, and the fact that we're continuing to think about it."
Meanwhile, in an interview with TVLine, Vernoff confirmed the Grey's Anatomy team doesn't know whether Teddy will choose Owen or Tom in the end.
"All three of them feel like whole, rich and conflicted human beings," Vernoff said. "My empathy and sympathy changes from week to week and scene to scene. I think it's a really beautiful story, and I don't know where it ends."
In an honesty, it's difficult to imagine Teddy marrying Owen after he found out about her affair with Tom. And while it's possible the couple could work through their relationship eventually, we just don't see it happening anytime soon. But as Vernoff mentioned, no one really knows who Teddy will end up with on Grey's Anatomy. So for now, all we can really do is cross our fingers and hope for the best.
Read more: 'Grey's Anatomy': Why Ellen Pompeo Is Happy With Alex and Izzie's Ending