'Grey's Anatomy': The 1 Couple That Makes Some Fans 'Forever Mad'
'Grey's Anatomy' has told plenty of love stories for 17 seasons. However, not all of them have been well-received by the show's fans.
The doctors on Grey's Anatomy have trouble navigating the work-life balance some medical professionals need to thrive. On the long-running series, many Grey Sloan Memorial surgeons make their love connections at the Seattle-based hospital. During the ABC drama's 17-season run, multiple doctors have connected and abruptly disconnected. However, some fans say one couple annoys them more than the rest.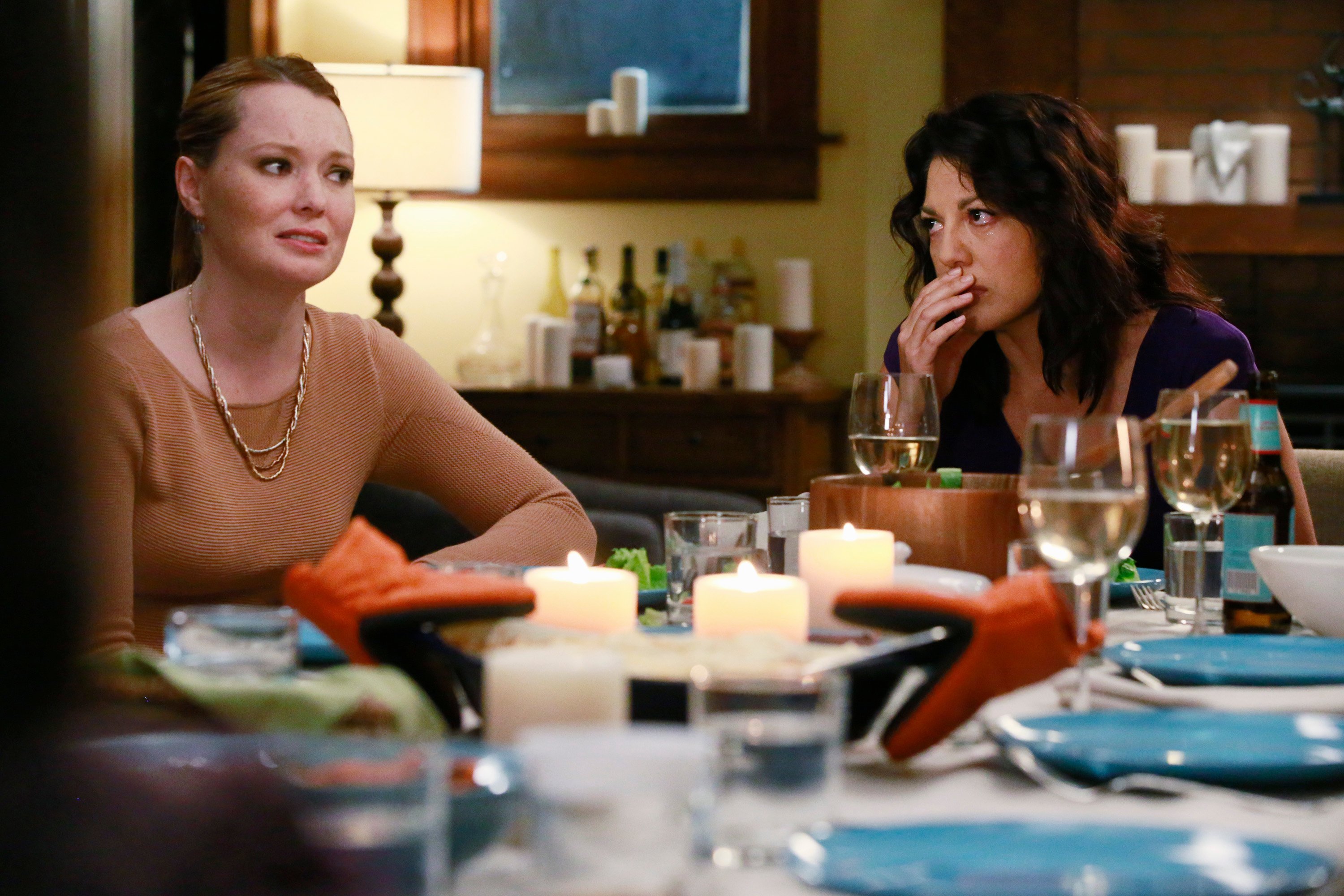 Why Callie and Penny makes 'Grey's Anatomy' fans 'forever mad' 
Since March 2005, Grey's Anatomy intrigues most of its fan base with the love stories that formed out of the halls of Grey Sloan. When the show premiered, it introduced viewers to Meredith Grey (Ellen Pompeo), who inadvertently slept with her boss, Derek Shepherd (Patrick Dempsey). In between MerDer's romance, doctors such as April Kepner (Sarah Drew) and Jackson Avery (Jesse Williams) got married and divorced. 
As the relationships on Grey's Anatomy develop, many fans used Reddit to sound off their thoughts about the show's characters. In one thread, a commenter wrote that doctors George O'Malley (T.R. Knight) and Izzie Stevens (Katherine Heigl) were among some of Grey's' most "cringe" couples. Underneath the post, another fan declared that surgeons Callie Torres (Sara Ramirez) and Penelope "Penny" Blake (Samantha Sloyan) angered them. However, some supporters argued that Meredith's later relationship with intern Andrew DeLuca (Giacomo Gianniotti) was much worse.
The reason some 'Grey's Anatomy' fans don't like Penny and Callie together
Several Grey's viewers pointed out that Callie and Penny had many obstacles to face during the Reddit post. Penny joined the cast in season 12 after a brief appearance in season 11. In Season 11,  Episode 21, "How to Save A Life," Derek died after almost a decade of loving Meredith. The neurosurgeon died due to the doctors at Penny's hospital neglecting to monitor his brain after his car crash. 
Grey's Anatomy fans saw Penny again in Season 12, Episode 5. In "Guess Who's Coming to Dinner," Penny arrived at Meredith's dinner party with Callie. While there, the doctors found out that Penny was one of the surgeons responsible for Derek's death.
Penny's relationship with Callie makes her a pariah to some fans for several reasons. In addition to her connection to the ending of MerDer, she also comes between Callie and Dr. Arizona Robbins (Jessica Capshaw). Although the characters divorced in season 11, some fans still wanted "Calzona" together. 
"I feel like it's really wonderful to be involved in storylines that so many people care about," Sloyan shared with TVLine about Penny's predicament. "[Laughs] Even though the circumstances are difficult, the highly-charged nature of it makes it incredibly exciting." 
What happened to Callie and Penny on 'Grey's'? 
Despite her entrance into Grey Sloan, Penny worked as a resident at the hospital all through season 12. Toward the end of the season, she received a grant to study in New York. The doctor's new job resulted in a custody battle between Callie and Arizona for their daughter, Sofia. Ultimately, Arizona received full custody of Sofia but agreed to visit Callie and Penny in New York. 
In season 14 of Grey's, Capshaw left the show. For Arizona's sendoff, she moved to New York so Sofia could live with both her parents. During the season finale, viewers learned that Callie and Penny broke up, leaving hope for Calzona after all.