'Grey's Anatomy': Will Tom Koracick Die in Season 17? Fans Are Worried About Greg Germann's Character
Grey's Anatomy Season 17 has fans focusing on Meredith Grey's (Ellen Pompeo) fate, but it's time to start worrying about Tom Koracick (Greg Germann). The promo trailer for the Dec. 10 episode confirmed the character is far from OK. But will Tom die in Grey's Anatomy Season 17? Here's what we know.
Why 'Grey's Anatomy' fans are worried Tom Koracick will die in season 17
Tom's arc in Grey's Anatomy Season 17 started where we left off. The Shondaland series briefly addressed the character's love triangle with Teddy Altman (Kim Raver) and Owen Hunt (Kevin McKidd). Last season, Teddy and Tom had an affair, even sleeping together on Teddy and Owen's wedding day. But ultimately, Owen found out the truth and everyone ended up alone.
In Grey's Anatomy Season 17 Episode 3, Teddy tried to start a conversation with Tom. However, he shut her down. Tom told his ex that she "broke" him and  he had enough "misery for one life." Then suddenly, Owen entered the room and told Tom he tested positive for COVID-19, despite being asymptomatic. Tom was instructed to go home.
Teddy offered another olive branch to Tom in the next episode. She stopped by his house. But he didn't answer. Teddy wanted to tell him he wasn't alone. Then as Teddy stepped away, the camera panned down to Tom. He sat on the floor, sweating and gasping for air.
Of course, fans were shocked to see Tom's appearance, and the Grey's Anatomy Season 17 Episode 5 promo revealed his symptoms do not calm down anytime soon. At the start of the preview, Meredith — who also contracted COVID-19 — appears to be on the road to recovery. Meanwhile, Tom returned to Grey Sloan in an ambulance, and it's clear the surgeon's life is in danger.
"It's a fight to save their own," the Grey's Anatomy trailer said.
What to expect from Tom Koracick in 'Grey's Anatomy' Season 17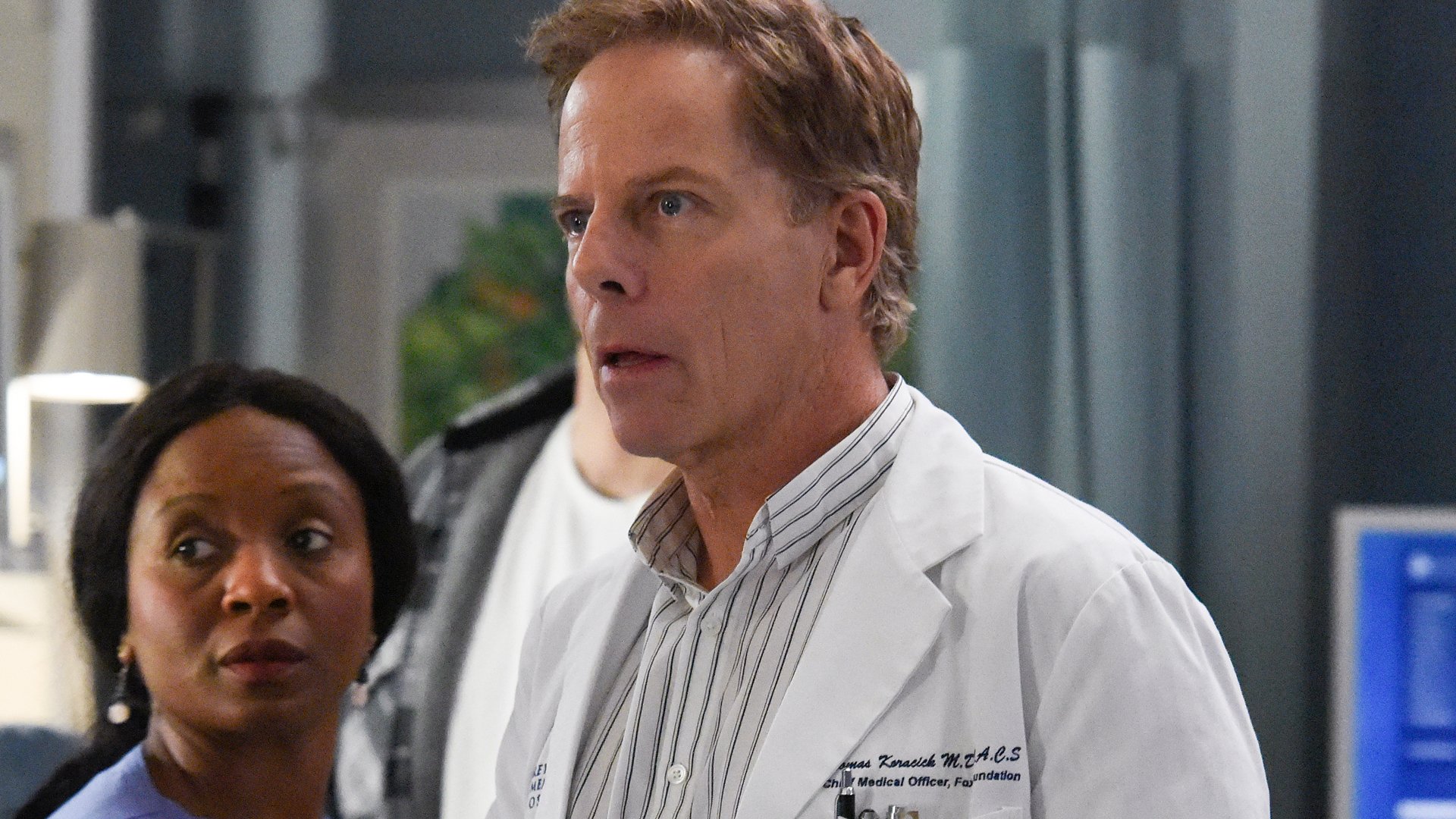 While Tom could potentially die in Grey's Anatomy Season 17, some viewers hope the character has more stories to tell. In ABC's press release for the Dec. 10 episode — titled "Fight the Power" — the network doesn't give any teasers about Tom's health. However, the release states Teddy will attempt to "mend her frayed relationships." 
Now, it's possible Tom's near-death experience is meant to move his arc with Teddy forward. But as always, fans will just have to wait and see what happens. That said, Raver recently shared details about Tom, Owen, and Tom's arc in Grey's Anatomy Season 17. And no matter what happens, the job comes first.
"What's interesting about healthcare workers is that they put others first," Raver told Entertainment Weekly in November 2020. "And so many people, the real healthcare workers, were putting their kids and everything on hold and they were going into a war zone."
She continued, "It's an amazing storyline to be able to tell with Teddy and Owen and Koracick. How are they going to heal themselves? They're going to have to put the healthcare job first and saving others first and then simultaneously try to heal. If they can."
Meanwhile, Grey's Anatomy showrunner Krista Vernoff teased what's going on with Tom, confirming he's showing symptoms of COVID-19. However, she wasn't able to give away any solid details. So stay tuned.
"He did not look good in that final scene. Tom has COVID and he's symptomatic now, and COVID is a dangerous disease," she said. "I hope he's OK."
Check out Showbiz Cheat Sheet on Facebook!