'Grey's Anatomy': What Justin Chambers' Shocking Exit Really Means for Jo
Grey's Anatomy just lost a beloved character in Justin Chambers' Alex Karev. Chambers has starred on the hit medical drama for the past 16 seasons and recently shared some thoughts on his shocking exit. While fans wait to see how the show deals with his absence, Grey's Anatomy star Ellen Pompeo just revealed how she really feels about Chambers' sudden departure.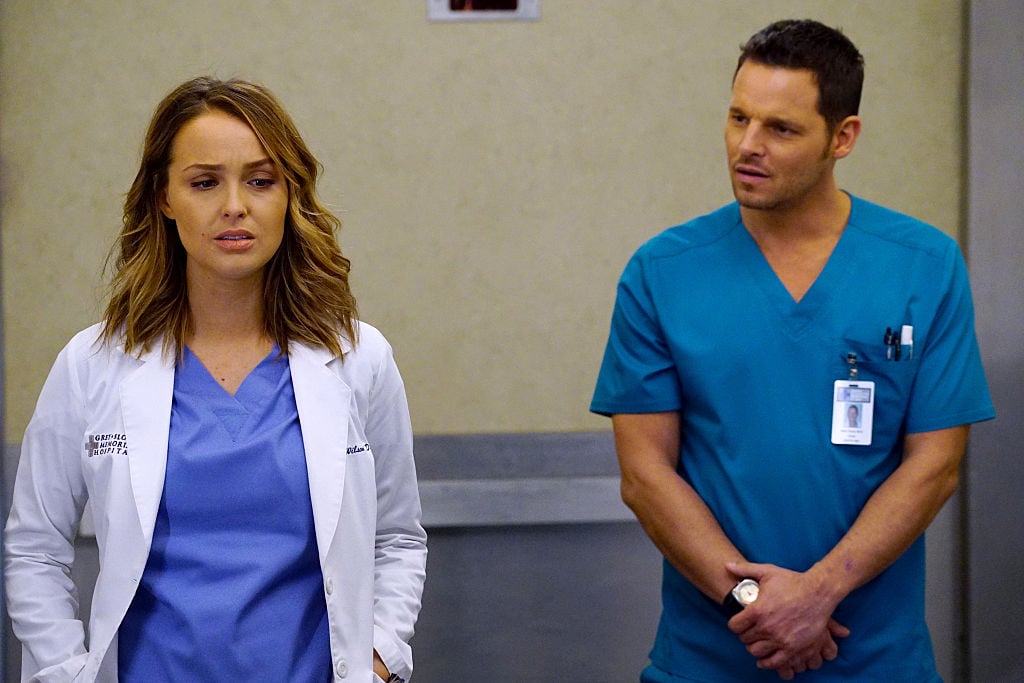 Chambers dishes on 'Grey's Anatomy' exit
Chambers has played Alex since the beginning of Grey's Anatomy. Since Alex was not included in the mid-season finale for season 16, his last episode was back on November 14. This sadly means that fans will not get to see him again.
In an interview with People, Chambers confirmed that he was leaving the series. The actor thanked fans for their continued support and explained how he is looking to diversify his acting career.
"There's no good time to say goodbye to a show and character that's defined so much of my life for the past 15 years," he shared. "For some time now, however, I have hoped to diversify my acting roles and career choices. And, as I turn 50 and am blessed with my remarkable, supportive wife and five wonderful children, now is that time."
Chambers went on to thank everyone on the series for 16 amazing seasons. This includes Pompeo, creator Shonda Rhimes, James Pickens, and Chandra Wilson.
Because he left the show mid-season, it is going to be very interesting to see how Grey's Anatomy explains his sudden exit. The departure will likely be addressed when Grey's Anatomy returns to ABC, but that did not stop Pompeo from sharing what she really thinks about her co-star's decision.
Pompeo responds to Chambers' exit
Taking to Twitter, Pompeo shared some heartfelt words about Chambers leaving the show. The actress, who has been working alongside Chambers since the beginning, retweeted a story about his exit.
The article in the post talked about how Chambers' exit is one of the biggest losses Grey's Anatomy has faced over the years. In regard to the article, Pompeo wrote, "Truer words have never been spoken."
Chambers' final episode was the show's 350th installment. As fans will recall, the episode featured Alex defending Meredith (Pompeo) in her insurance fraud case. Alex spoke on behalf of Meredith in front of a medical board.
Alex's final scenes included him mingling with his co-workers and Meredith finding out that she will not have to give up her medical license. Rhimes and company have not revealed how they are going to wrap up Alex's journey.
What does this mean for Jo on 'Grey's Anatomy'?
Losing Alex will have a significant impact on Grey's Anatomy moving forward. For starters, Alex and Jo (Camilla Luddington) are still married, which puts her future on the show in question as well.
After tying the knot in season 14, Alex and Jo discovered that they forgot to mail in their marriage license. Jo provided a way out for Alex after checking into a psychiatric ward for PTSD and depression.
But instead of leaving Jo, Alex proposed to her a second time, satisfying #Jolex shippers around the world.
Since Jo and Alex are still a thing, his exit makes things a little tricky for her moving forward. We don't know how the series will feature Jo without Alex, but it will be interesting to see how their journey ends.
Sadly, Grey's Anatomy fans won't see Alex getting a proper sendoff this season. But depending on how the series wraps things up, there could be a way for Alex to return for a quick cameo down the road.
What are Alex's other loose ends?
Before his exit, Alex was the head of surgery at Pac North. He also convinced Hunt (Kevin McKidd) and Webber (James Pickens Jr.) to join him.
This opens the door for someone else to become the chief of surgery. It also gives Hunt and Webber an opportunity to leave Pac North or for one of them to take Alex's old job.
It is also a mystery what will happen between Alex and Meredith. The two are very close friends, and with Alex gone, there are only three original characters left.
This raises questions about who will become Meredith's next best friend. Considering how important Alex was to the show, it is pretty evident that he will be sorely missed.
Fans can find out what happens when Season 16 of Grey's Anatomy continues January 23 on ABC.