'Grey's Anatomy': Where We Left Off With Kate Walsh's Addison Montgomery Ahead of Her Return For Season 18
Grey's Anatomy fans, get ready for a blast from the past. Kate Walsh has confirmed that she will be back on the ABC medical drama as Dr. Addison Montgomery after her exit in season 3. Yes, she moved on to Private Practice for six seasons. And, she has returned to Grey's Anatomy for a handful of guest appearances.
But it's been 15 years since she's been a regular player at Grey Sloan Memorial. In fact, the hospital was still known as Seattle Grace when the world-class gynecological and neonatal surgeon was on staff. 
Ahead of Dr. Montgomery's return in season 18 for a multiple-episode story arc, it's the perfect time to go back and check where we left off with this divisive character when she exited Grey's Anatomy in the season 3 finale.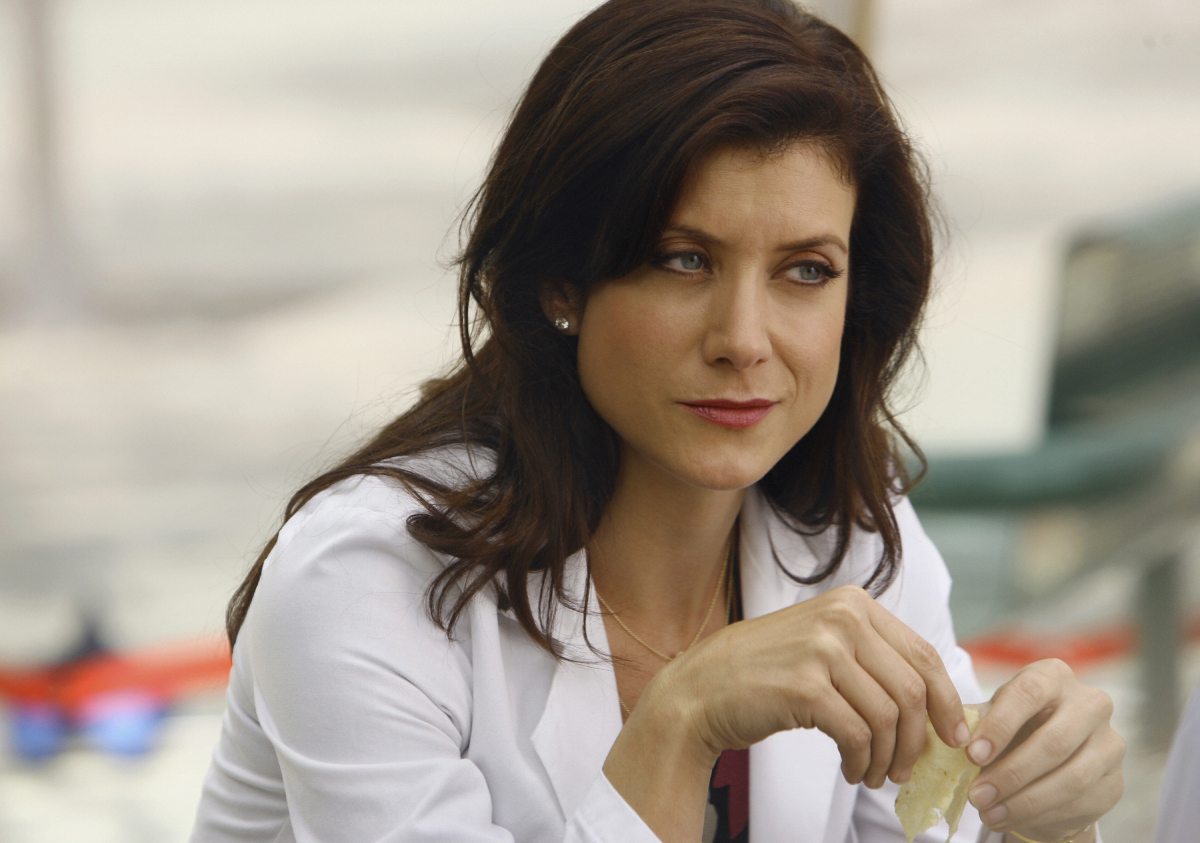 Dr. Addison Montgomery made her first appearance in the 'Grey's Anatomy' season 1 finale
Walsh's first appearance in Grey's Anatomy is one of the show's most memorable, jaw-dropping scenes. Fans were stunned to find out that Dr. Derek Shepherd (Patrick Dempsey) — Meredith's (Ellen Pompeo) McDreamy — was married. And his estranged wife was Dr. Addison Montgomery.
It happened in the closing moments of the season 1 finale — an episode titled "Who's Zoomin' Who?" — which led to quite the cliffhanger.
Derek is fixing Meredith's coat in the hospital lobby, when he turns around to see a beautiful redhead. He quickly apologizes to Meredith as the woman walks toward them and asks Derek why he had been avoiding her calls. Then, she introduces herself to Meredith.
"Hi, I'm Addison Shepherd. And you must be the woman who's been screwing my husband?"
Addison cheated on Derek with his best friend
The ratings for Grey's Anatomy took off in season 2, thanks in part to that shocking season 1 ending. The season averaged 20 million viewers per episode, as fans couldn't get enough of the Derek–Addison–Meredith love triangle.
This is the season fans found out how Derek — a top neurosurgeon — ended up at Seattle Grace. He sold his private practice and abandoned his entire life in New York City after catching his wife of 10 years in bed with his best friend, Dr. Mark Sloan (Eric Dane).
Derek moved across the country to start over, and Addison insisted she wasn't in town to try to win him back. Instead, she was in Seattle for a TTTS case at the request of Dr. Richard Webber (James Pickens Jr.).
She was a recurring character in season 2 of 'Grey's Anatomy'
After that shocking season 1 finale, Addison became a recurring character in season 2. The sophomore season picked up right where the first had left off because the final four episodes written for season 1 had been pushed back to season 2.
Derek wasn't happy that Richard had called his estranged wife behind his back. To make things more frustrating for MerDer, Addison specifically requests Meredith for her TTTS case. She takes the opportunity to blast the young surgical resident with questions. Addison also tells Meredith that she's hard on everyone. Not just the women who sleep with her husband.
The case continues, with Addison and Meredith working together. But after Addison does her magic in the operating room, the patient overhears them talking about Meredith sleeping with Addison's husband. The patient then demands that Meredith be removed from her case.
Addison then sticks up for Mer. She tells the patient that she cheated on Derek, so the wronged woman in the situation was actually Meredith, and she owed her an apology. Addison then tells Meredith that there are two sides to every story. And implied that she cheated on Derek with his best friend in a desperate attempt to get his attention.
Addison and Derek attempted to reconcile
At first, Derek didn't buy Addison's claim that she cheated on him to get his attention. But the truth was that their marriage was an unhappy one. Derek hardly put in any effort, and they were both busy in their own practices. Addison told Derek she was simply scratching an itch when he found her in bed with Mark.
Despite not being interested in the explanation of her infidelity, Derek struggles with his choice between his new-girlfriend and his ex-wife. This was the point in season 2 when Meredith gives her iconic "pick me, choose me, love me" speech.
She begs him to sign his divorce papers and stay with her. She tells him to meet her at Joe's, but he's a no-show. By the next episode, it's clear Derek has opted to reconcile with Addison. She moves into Derek's trailer, and they try to save their marriage. But, he still has Meredith on the brain. And chooses to work with her instead of getting intimate with his wife.
Mark Sloan shows up in season 2 of 'Grey's Anatomy' to continue his relationship with Addison
As Derek and Addison try to work on their marriage with little success, Mark Sloan shows up in Seattle with the goal of continuing his relationship with her. Turning the love triangle into a square. Fans will never forget that when Mark attempted to introduce himself to Meredith, Derek greeted him with a punch.
Despite Mark's arrival, Addison and Derek still tried to make things work between them. And he agrees to finally have "hot sex" with his wife. But by the end of season 2, Meredith and Derek are back together. When Addison finds a pair of women's underwear in Derek's pocket at the start of season 3, she realizes he slept with Meredith. That's when Derek and Addison decided to divorce.
A backdoor pilot for 'Private Practice' aired in season 3 of 'Grey's Anatomy'
Walsh was promoted to series regular for season 3. But Shonda Rhimes' plans for the character didn't keep her in Seattle for long. After her split from Derek — and trying to start something with Alex Karev (Justin Chambers) — Addison worked at Seattle Grace for a short time before deciding it was time to start over somewhere new.
In Season 3, Episodes 22 & 23 — titled "The Other Side of this Life" — Addison's life in Seattle has gotten so complicated that she heads to Los Angeles to visit with old friends from medical school.
The real reason Addison is visiting her fertility specialist friends is that she wants to get pregnant. But, she's devastated to find out she can't have children. Addison stays in Los Angeles to deal with the aftermath of this surprising news, and becomes the temporary OBGYN at Oceanside Wellness Center. These two episodes served as a backdoor pilot for Private Practice.
Dr. Addison Montgomery has visited Grey Sloan since leaving Seattle
While headlining Private Practice for six seasons, Addison did come back to Seattle for a few crossover episodes. Sometimes, it was to treat patients. Other times, her friends needed specialized medical care. Her last appearance was in the season 8 episode "If/Then."
Meanwhile, the character's storyline on Private Practice left Derek, Meredith, and Seattle Grace behind. The focus turned to her new life in a permanent position at Oceanside Wellness Center.
During each episode, Addison would work her magic as an elite gynecological and neonatal surgeon. But there was still plenty of drama among the doctors. Especially in Addison's dating life.
After 'Grey's Anatomy' Addison found love and became a mom
Addison had a few love interests during the six-season run of Private Practice. But it wasn't until she met Jake Reilly (Benjamin Bratt) that she found the man for her. Addison began fertility treatments with Jake as her doctor. He helped her through two failed IVFs and when she was trying to find a surrogate.
After a lot of drama with Jake, Sam Bennett (Taye Diggs), and Naomi Bennett (Audra McDonald), she ended up proposing to Jake just before she was able to adopt her son, Henry Montgomery.
This was the last time fans saw Addison. She was a successful surgeon, a newlywed, and a new mom. Unfortunately, Grey's Anatomy hasn't revealed any details about the character's return. We don't know why she is back, or who will be with her. Fans will just have to wait and see when season 18 of Grey's Anatomy premieres Thursday, Sept. 30 on ABC.