'Grey's Anatomy': Who Are Fans Talking About When They Mention 'M.A.G.I.C.'?
Grey's Anatomy is set to continue its 17th season in the spring of 2021. Over the course of the past 15 years, the medical TV drama has said its goodbyes to many well-known characters (sometimes through abrupt or shocking departures).
Recently, Grey's Anatomy fans on social media have been reminiscing about M.A.G.I.C.  It is an acronym that sounds like something you might find emblazoned on the side of hospital equipment, but its true meaning actually hearkens back to the show's beginnings in 2005.
'Grey's Anatomy' first aired on March 27, 2005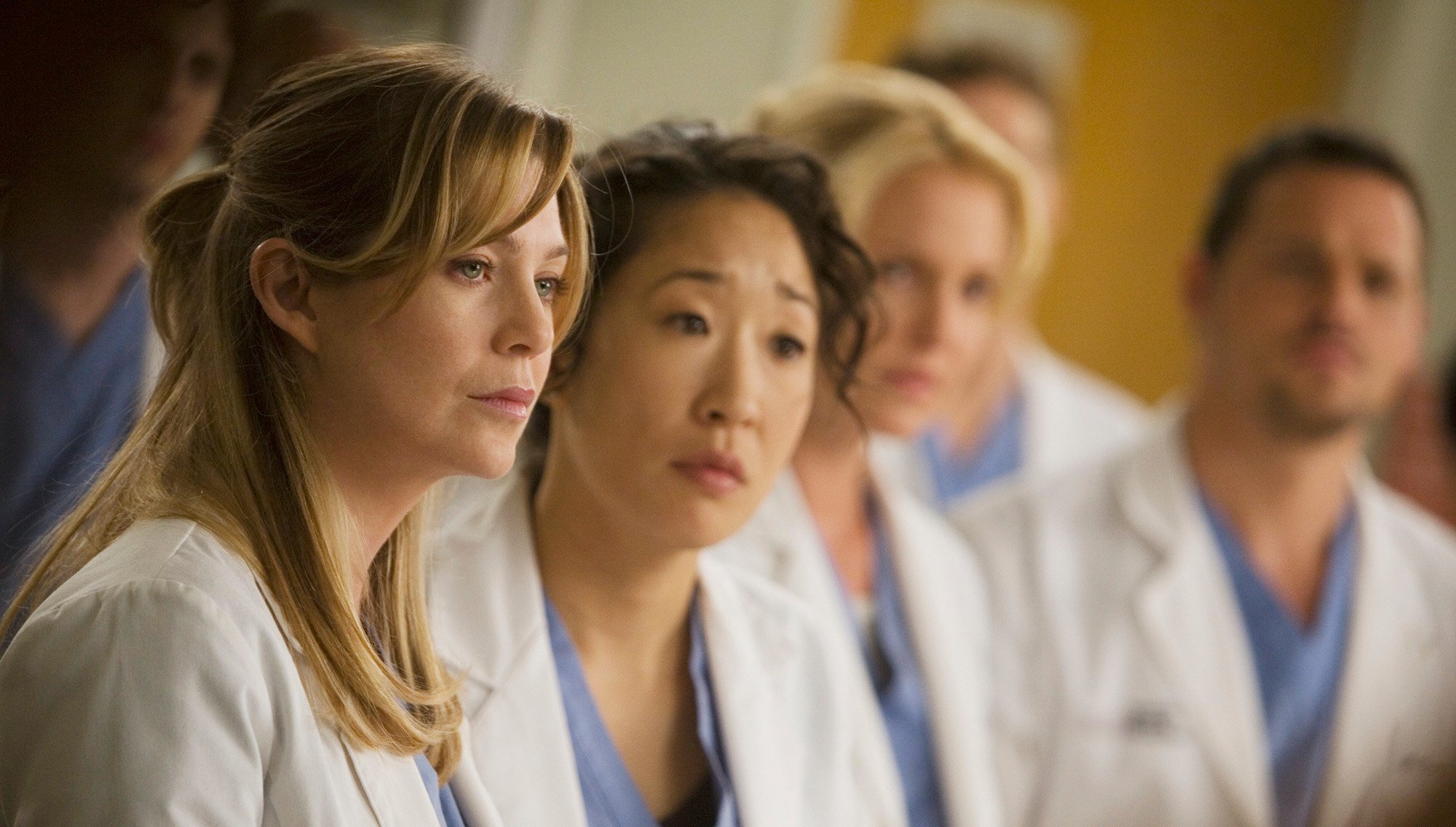 RELATED: 'Grey's Anatomy' Pilot Didn't Include Major Character That Was Later Added With CGI
The Hollywood Reporter recently pointed out that Grey's Anatomy has broken the previous world record set by ER to become television's longest-running primetime scripted medical drama. "[W]ith a whopping 332 episodes…[t]he series, worth an estimated $4 billion — yes, billion — shows no signs of slowing down," reports the outlet.
The show premiered in the spring of 2005 as a controversial competitor to ER. "In theory, it probably shouldn't even be on television," reported Business Library at the time. "After all, ER, a longtime ratings winner, has started seeing audience erosion as reality and cable TV medical shows proliferate."
But the show quickly took off as audiences tuned in to follow the journey of five surgical interns and residents at a fictitious Seattle hospital. And it's these five core characters that fans are talking about when they refer to M.A.G.I.C.
M.A.G.I.C. was the original main characters on 'Grey's Anatomy'
RELATED: 'Grey's Anatomy' Fans Could See the Return of the 'Most Underrated Intern' This Season
Ellen Pompeo stars at Dr. Meredith Grey, but when the show started, she had just started her surgical residency. She was joined by Drs. Alex Karev (Justin Chambers), Cristina Yang (Sandra Oh), Izzie Stevens (Katherine Heigl) and George O'Malley (T.R. Knight).
All five of them were at various stages of their internships or residencies, and the characters bonded together and became very close as they tried to navigate the halls of Seattle Grace Hospital (now known as Grey Sloan Memorial Hospital in the current timeline of Grey's Anatomy).
If you re-arrange the order of the characters' first names, it forms the acronym M.A.G.I.C. Unfortunately for M.A.G.I.C. fans, most of those original characters have long departed the show.
Most of M.A.G.I.C. is no longer on the show
RELATED: 'Grey's Anatomy': The Real Reason Fans Are Nostalgic For the Early Seasons
"Over the years, we've said goodbye to a number of VIPs from the Seattle section of the Shondaverse; some part in sweet sorrow, while others left a less satisfying taste in our mouths," reports Entertainment Weekly.
Dr. Grey (the "M" in M.A.G.I.C.) is still on the show. However, Dr. Karev ("A") moved to Kansas in season 16. Dr. O'Malley ("G") died in season six after an accident. Dr. Stevens ("I) came and went, but made her permanent departure in season six. And Dr. Yang ("C") was last seen in 2014. "Sandra Oh's Cristina Yang saw the hospital through 10 seasons — and its countless name changes — before she left…for a top cardiothoracic job in Switzerland," explains Entertainment Weekly. "The cosmic perfection of this job is that she inherited it from her former mentor (and former fiancé, Dr. Preston Burke)."
Fans on Reddit have recently shared how much they miss the original cast. "I miss M.A.G.I.C. so much," mourned Reddit user Metkep. "This sparked an outpouring of agreement from fans. "They were the best bunch of interns," someone replied. Another fan wrote, "I miss those scenes of them hanging out on the gurneys. So nostalgic."
Dr. Grey called out the dwindling numbers of the core cast in season 13's episode, "You Haven't Done Nothin'."
"Because it's just us now," Dr. Grey tells Dr. Karev. "There were five of us and now it's just you and I…and it can't be just me."