'Grey's Anatomy': Krista Vernoff Reveals Why Alex Karev Didn't Die in Season 16
Alex Karev's (Justin Chambers) exit in Grey's Anatomy Season 16 had fans divided. While some viewers were happy Alex left without a scarring death, others would have rather seen the character die than to abandon Jo Wilson (Camilla Luddington). So why did the pediatric surgeon receive the send-off he did? Recently, Grey's Anatomy showrunner Krista Vernoff revealed why the writers decided not to kill off Alex.
How did Alex Karev leave 'Grey's Anatomy'?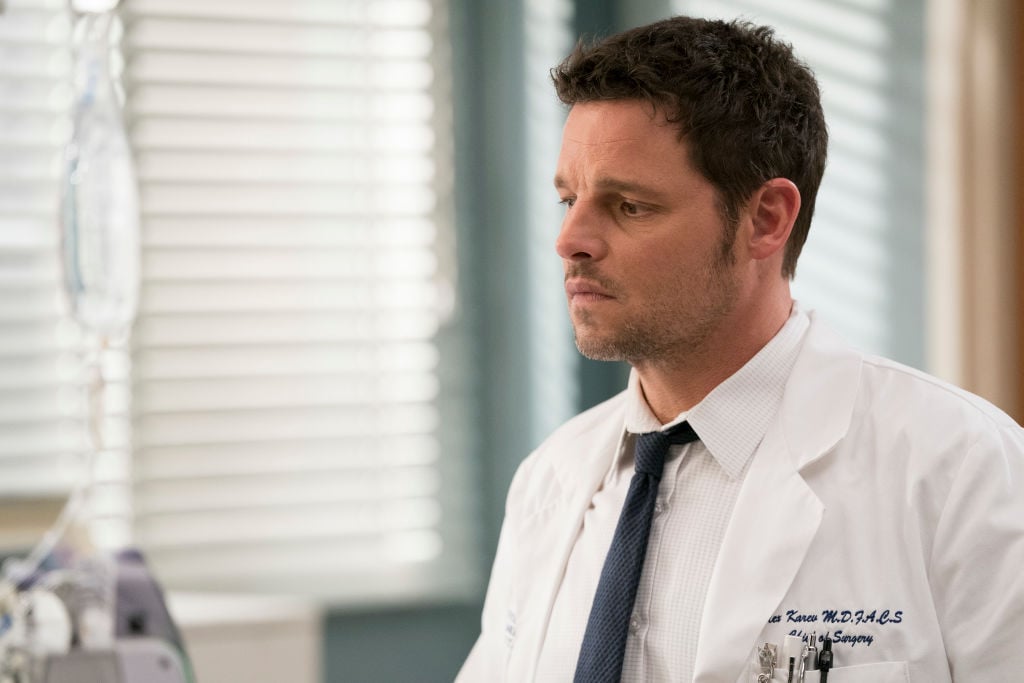 In Grey's Anatomy Season 16, Episode 16 — titled "Leave a Light On" — Alex leaves mysterious letters for Jo, Meredith Grey (Ellen Pompeo), Richard Webber (James Pickens Jr.), and Miranda Bailey (Chandra Wilson). At this point in the season, Alex has been MIA and everyone is growing worried. But according to the letters, Alex is with Izzie Stevens (Katherine Heigl) in Kansas with their twins, Alexis and Eli.
Alex reveals he reconnected with Izzie when he contacted her for Meredith's medical license trial. Then, as Jo would say, one thing led to another. During their call, Alex found out Izzie used the embryos they made when she was diagnosed with cancer. So Alex chooses to stay with Izzie for their children. He also confesses he is still in love with her.
In the end, Alex leaves his shared to Grey Sloan Memorial to Jo. He also sends her signed divorce papers. Meanwhile, Alex reinforces Meredith is her own person and is strong enough to stand on her own, without him.
Krista Vernoff explains why 'Grey's Anatomy' didn't kill off Alex Karev
After the Grey's Anatomy Season 16 finale on April 9, Deadline released an interview with Vernoff to discuss the current cycle, including Alex's massive exit. And ultimately, it seems the Shondaland series didn't kill off Alex because they wanted to give the character a better departure than an off-camera death.
"I believe that there would've been at least as big an outcry if we had killed that character off-camera, and those were our choices," Vernoff said. "It was kill the character off-camera, or come up with some believable way that he gets his happily ever after."
She continued: "Some of the fans have posited, 'Well he could have just been off-screen in Seattle like April Kepner [Sarah Drew].' But then you've got an actress on the show who doesn't get to do any of the fun, sexy, playful thrill that we're known for. Then you penalize the actors who are staying on the show by limiting what you could do creatively with them."
Vernoff also acknowledged Grey's Anatomy fans who were disappointed by the episode. "I wasn't surprised by the fan reaction," she said. "But I know it would've been equally angry if I had killed him. So it was like, these are your choices, and I felt really happy with what we chose."
Why Krista Vernoff loved Alex Karev's send-off episode in 'Grey's Anatomy' Season 16
Although many Grey's Anatomy fans were upset with Alex's exit, others were satisfied, including Vernoff. Still speaking with Deadline, the showrunner shared she was "proud" of the episode. Vernoff also praised the show's writer, Elisabeth Finch, for doing "an extraordinary job with a nearly impossible task."
Meanwhile, in an interview with The Hollywood Reporter, Vernoff delved deeper into why she loved Alex's send-off episode.
"I love that episode," Vernoff said. "I thought it was beautiful, romantic, heartbreaking, painful and the perfect combination of the way so many stories happen in Shondaland, where you're simultaneously crying for joy and crying for grief. It was perfectly imperfect and it was perfectly messy."
She also explained how Alex's ending not only showed development in the character, but will push others to move forward.
"It allowed for Alex to have grown as a human in a variety of ways and to still be imperfect and to disappoint a woman he has loved greatly," Vernoff said. "It allows for Jo to have been a person who really healed him and in so many ways that he's now able to go be this wonderful dad to these kids. And it allowed for the characters who are still at Grey Sloan to not have to go through another massive chapter of grief."
Vernoff continued: "I thought it was beautiful and I'm really proud of it. It was an amazing thing to get to watch 16 seasons worth of material. To get to go backwards on a character's timeline, 16 seasons, and to have it actually be stuff we shot on the show? That's rare in TV."
When Alex left Grey's Anatomy, the Shondaland series made it clear there was no good time to say goodbye. And while we're sad by the character's exit after 16 seasons, the writers are satisfied with the path they chose. And who knows? This leaves Alex — and maybe even Izzie — open to come back one day.
"When I left the show in Season 7, people asked me if there was any chance of me ever coming back, and I was smart enough to say, "Never say never,'" Vernoff told Deadline when asked about Alex's return. "Here I am, so who knows?"
Read more: Why 'Grey's Anatomy' Fans Don't Believe in Meredith Grey and Andrew DeLuca's Romance