'Grey's Anatomy': Why Amelia Won't Reveal the Father of Her Baby
[Spoiler alert: Grey's Anatomy Season 16.] Sorry, Grey's Anatomy fans — the messy triangle between Owen Hunt (Kevin McKidd), Amelia Shepherd (Caterina Scorsone), and Atticus "Link" Lincoln (Chris Carmack) is far from over. For weeks, viewers — as well as our beloved characters — have been stressed about the father of Amelia's child. However, in the 13th episode — titled "Save the Last Dance for Me" — the neurosurgeon decided against a paternity test. So why didn't Amelia reveal the father of her baby on Grey's Anatomy? There's more to this story than meets the eye.
'Grey's Anatomy' reveals the father of Amelia's baby could be Link or Owen
In the Grey's Anatomy Season 16 premiere — titled "Nothing Left to Cling To" — Amelia learns about her pregnancy after a visit with Carina DeLuca (Stefania Spampinato). At this point, Amelia and Owen are broken up and she is dating Link. Meanwhile, Owen and Teddy (Kim Raver) are gearing up to raise a family together.
Regardless, by the time the episode ends, the paternity of Amelia's baby is questioned. But as season 16 continues, it's clear Amelia believes the father is Link. Then when she tells him the news, Link is excited and ready to dive in. However, that feeling doesn't last for long.
In the Grey's Anatomy Season 16 fall finale — titled "Let's All Go to the Bar" — Amelia gets an ultrasound. And it turns out, she is 24 weeks pregnant, rather than 20. So it's possible Amelia's baby is Owen's and not Link's.
Eventually, Amelia gathers up the courage to tell Link the truth. That said, she doesn't want to get a paternity test since she made her decision and wants to be with Link. At first, Link is fine with Amelia's decision. But he reconsiders and wants to take the test.
Then in episode 13, Amelia puts her foot down. She doesn't want to take the test. As Link is stressing out in the plant room, Amelia texts her boyfriend. "I'm sorry," she writes. "I didn't run the test. I need time."
Link stares at his phone in disbelief.
Krista Vernoff explains why Amelia doesn't want to reveal the father of her child
When speaking with Variety on Feb. 13, Grey's Anatomy showrunner, Krista Vernoff, delved into the drama surrounding Amelia's baby, explaining why the character is having such a difficult time facing the paternity of her unborn child.
"She is not going to play by anyone else's rules," Vernoff said. "And she is protecting her own heart and her own pregnancy and her own sanity at whatever cost."
The showrunner later added: "She is figuring out what it is on her own terms. This character has learned how to listen to her own body and she's been through one very traumatic pregnancy. And the feelings that came up in her body were not feelings that she wants to navigate during this pregnancy. So she's looking to take care of herself and her baby."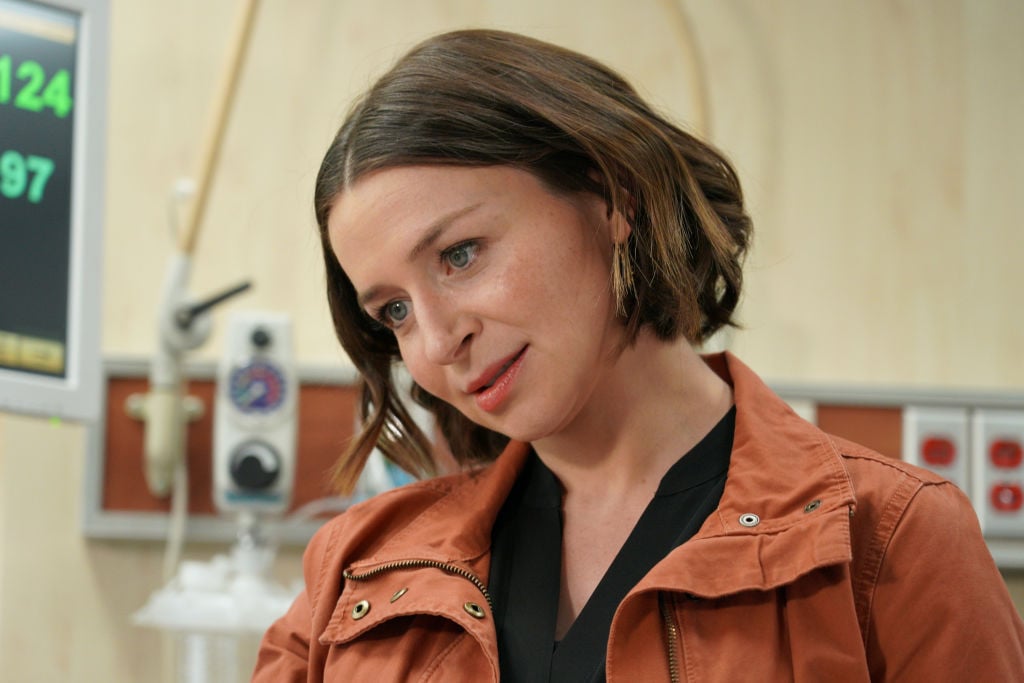 But despite "isolating herself from Link at this moment," Vernoff said Amelia isn't alone and will likely find refuge in her sisters, Meredith Grey (Ellen Pompeo) and Maggie Pierce (Kelly McCreary).
Vernoff also confirmed the father of Amelia's baby won't be revealed for some time. "I know the fans want an answer as to whose baby this is, and they're not going to get it as soon as they wish for it," she said.
Grey's Anatomy fans have already expressed their frustrations in regards to Amelia's story storyline. Now, viewers can expect more in the upcoming weeks — but that's sort of the point.
"The way we've written this story, from week to week, I'm sort of on her side, and then I'm on Link's side, and then I don't really know," she said. "I think it sparks a lot of conversation of, 'Is she being selfish to not find out or is he being selfish to want to know?' It is kind of the question that we ask."
Read more: 'Grey's Anatomy': Shonda Rhimes and Sandra Oh's Oscar Party Reunion Has Fans Begging for Cristina Yang's Return