'Grey's Anatomy': Why Callie Didn't Appear in Arizona's Final Episode
Throughout the years, Grey's Anatomy has said goodbye to several of its characters. During Season 12 of the medical drama, Sara Ramirez, who played Dr. Callie Torres, left to pursue other roles. Two years later, Jessica Capshaw, who starred as Dr. Arizona Robbins, was axed from the show after joining the cast in 2009. Unfortunately, Callie and Arizona didn't get the closure fans hoped for during Arizona's last episode on Grey's.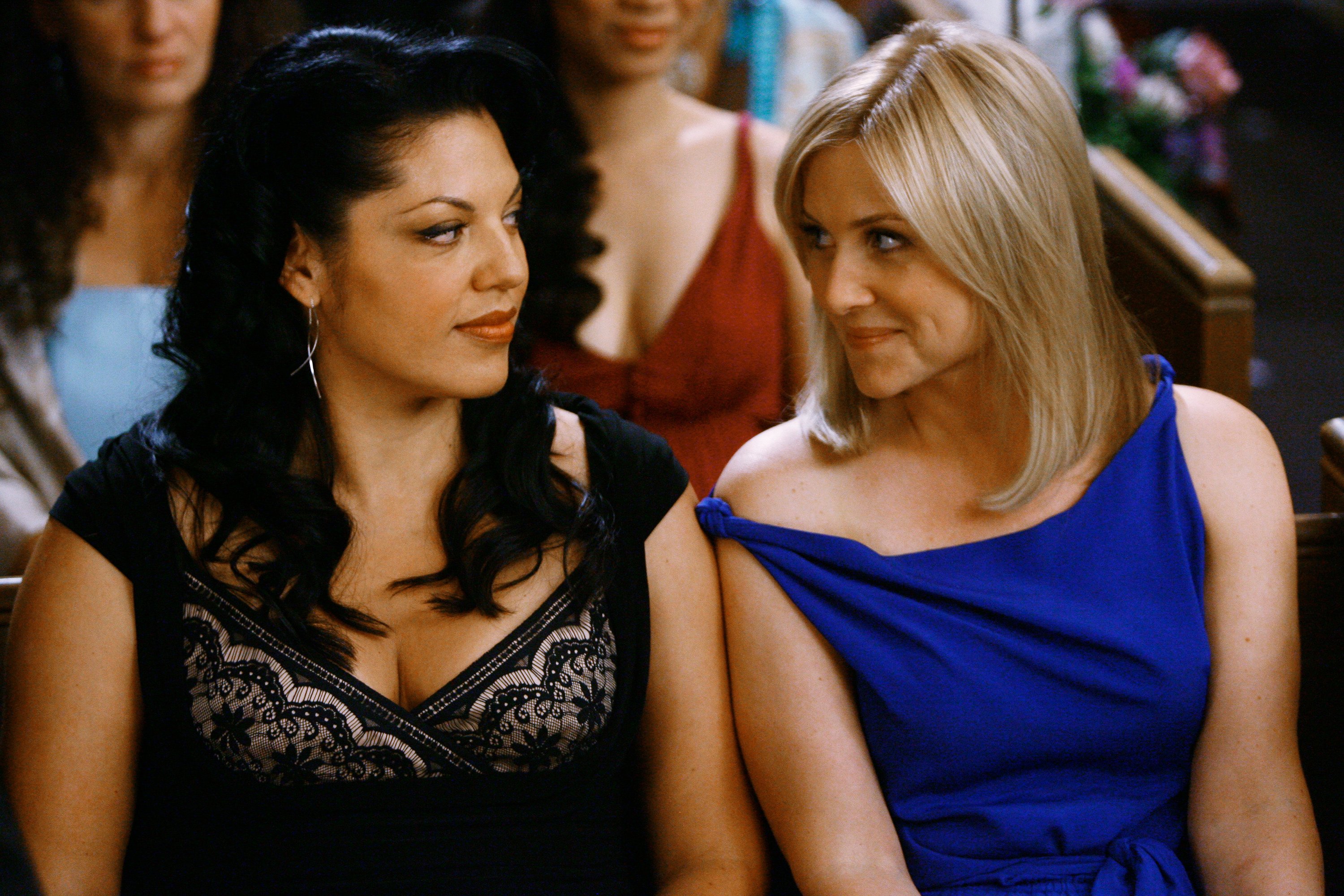 Sara Ramirez taped her last episode as Callie on 'Grey's Anatomy' in 2016
Ramirez joined the cast of Grey's in season 2 as Callie. As the series continued, viewers watched Callie marry George O'Malley (T.R. Knight). Callie and George eventually divorced after cheating on her with his friend, Dr. Izzie Stevens (Katherine Heigl). After their split, Callie found love with Arizona, and the couple shared a daughter, Sofia. However, the couple's love story soon turned into divorce and a lengthy custody battle in season 12.
RELATED: 'Grey's Anatomy': People Really Hated Callie When She First Appeared on the Show
In 2016, after spending a decade playing Callie, Ramirez announced she planned on leaving Grey's. Ramirez shared via Twitter that season 12 would be her final one as Callie. For her last episode, Arizona decided to split custody of Sofia with Callie so she could move to New York with her girlfriend, Dr. Penelope Blake (Samantha Sloyan).
 
"I'm deeply grateful to have spent the last 10 years with my family at Grey's Anatomy and ABC, but for now, I'm taking some welcome time off," Ramirez wrote, per Variety. "Shonda's been so incredible to work for, and we will definitely continue our conversations! I send my love to Ellen [Pompeo], the rest of the cast and crew, and I look forward to always being a part of the Shondaland family!"
Shonda Rhimes shared why Callie wasn't in Arizona's last episode on Instagram
In March 2018, Rhimes and Grey's' showrunner, Krista Vernoff announced that season 14 was the last season for Capshaw's Arizona. Callie and Arizona didn't reunite in-person for the episode. Instead, Callie texted Arizona and shared how excited to see her again. During the finale, Arizona left Grey Sloan Memorial so Sofia could be in New York with Callie.
RELATED: 'Grey's Anatomy': Arizona's Worst Moment on the Show Was 'Cruel' and Selfish
After the season 14 finale premiered, a fan asked Rhimes via Instagram why Callie was missing from Arizona's last episode. Rhimes answered the fan's question by saying she wanted Callie and Arizona to have another moment on-screen. Unfortunately, Ramirez's role as Kat Sandoval in Madam Secretary halted Rhimes' efforts. 
"Let me tell you something: we tried," Rhimes said in an Instagram video. "CBS has a hold of her because she's on another show, and we can't get her. But we love her. Always. This is her home. Come home, Callie."
Sara Ramirez said she would play Callie on 'Grey's Anatomy' again
In September 2018, Ramirez seemingly responded to Rhimes' Instagram video about her returning to Grey's. According to Country Living, Ramirez said her Madam Secretary character wouldn't affect her role as Callie if she returned. She also said the decision to bring Callie back would be ABC's.
RELATED: 4 'Grey's Anatomy' Couples That Deserved to Be Endgame
Ramirez's message came after she told Entertainment Weekly she doesn't regret leaving Grey's when she did. Ramirez also said she is open to playing Callie again in the future. 
"When Shonda [Rhimes] and I last spoke, we agreed to keep the conversations going, and she knows I'm open to keeping those conversations going," Ramirez said when asked about a possible appearance on Grey's.