'Grey's Anatomy': Why Derek and Meredith Had a Real Wedding Registry
One thing Grey's Anatomy has managed to do over the years is keep their fans involved in unique ways. When Derek (Patrick Dempsey) and Meredith (Ellen Pompeo) were engaged they created a real wedding registry. Here is the good reason behind the move.
Meredith and Derek had a unique wedding on 'Grey's Anatomy'
RELATED: 'Grey's Anatomy' Fans Are Wishing Alex Karev Was Dead After Shocking Ending
Grey's Anatomy started with Meredith and Derek waking up after sleeping together. They were basically strangers and then they found out they'll have to work together.
Their relationship had a long journey before they finally got married. Derek proposed in "Elevator Love Letter" by putting up scans of patients that were important to them in the elevator and used her mother's ring to propose.
The couple was going to have a bigger wedding but basically gave that up so Alex (Justin Chambers) and Izzie (Katherine Heigl) could marry because she was going through cancer treatment. Meredith and Derek said they wanted a simple ceremony so they got hitched in the locker room using a post-it in "Now or Never." They were too busy to make it to their City Hall wedding.
The couple later got legally married to adopt a child. Shonda Rhimes talked about what the "legal" ceremony meant for her.
"I don't think anybody who's looking at this wedding will think that I caved into anyone's demands," she said according to Digital Spy. "This doesn't really fit anybody's definition of the usual way a television wedding goes."
Rhimes continued, "This was on their little checklist of things that will make things easier for them to adopt from another country. Derek and Meredith have considered themselves married for a very long time. This is a piece of paper that's necessary. I don't think it means much to them."
They had a real wedding registry for fans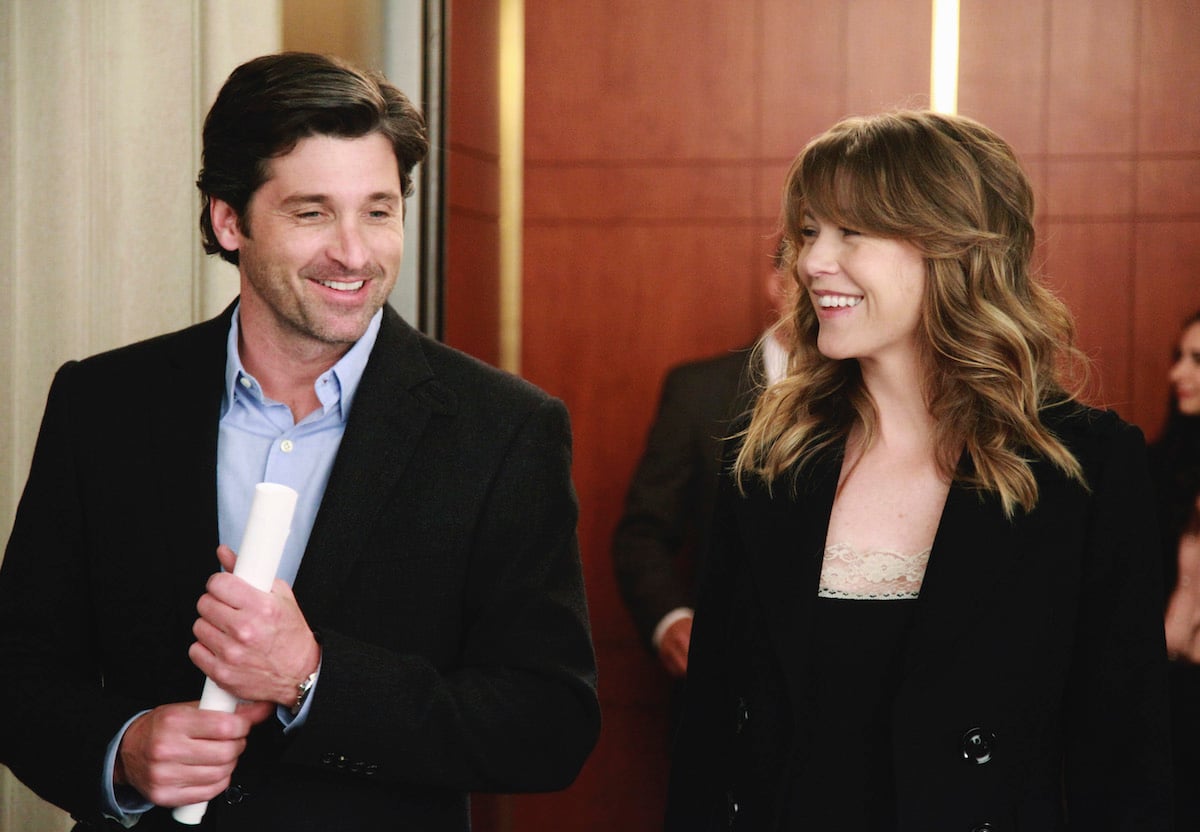 RELATED: 'Grey's Anatomy' Fans Call Writers 'Cruel' Because of Dr. Richard Webber Twist
Fans were very excited over the couple finally getting married. The show tried to get them involved by setting up a wedding registry for their wedding through The Knot, according to People.
There was a quote on the site from Izzie. "I know I know. I secretly never thought it would happen either," she said. "But it's real. This is going to be the most magical, romantic, breathtaking wedding you've ever seen. I promise."
Instead of buying dishes and towels, the registry asked fans to donate to the American Academy of Neurology Foundation, the American Skin Association, and the Alzheimer's Association. These charities were selected because they are connected to the character's stories. Meredith and Derek worked in neurology, and Meredith's mother died from Alzheimer's. Izzie was also diagnosed with Stage IV metastatic melanoma.
So the registry was a sweet way for fans to feel included and give back. Grey's Anatomy has continued the tradition of giving back to the medical community.