'Grey's Anatomy': Why Ellen Pompeo Had Different Reactions to Sandra Oh and Patrick Dempsey's Exits
Grey's Anatomy is the longest-running medical drama in TV history. Star Ellen Pompeo (Meredith Grey) has remained with the series since day one. But it has seen plenty of stars come and go over the years – including fan-favorite Sandra Oh (Christina Yang). In fact, Oh was so popular, her exit left Pompeo wondering if there could be a Grey's Anatomy without her.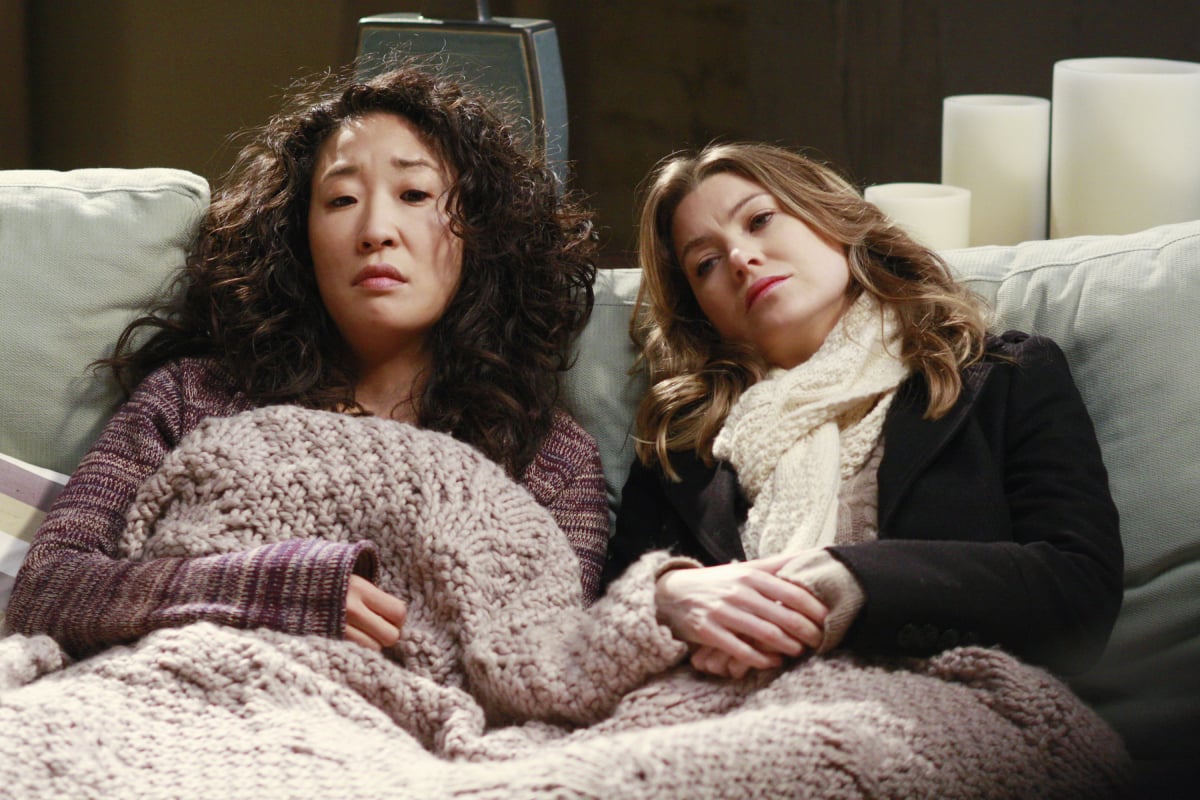 Ellen Pompeo says it's 'not so fun' watching herself age on screen
Grey's Anatomy has been an ABC network staple since it's premiere in 2005. Pompeo was 33 years old when she landed the career-making role. But 16 seasons in, she is now 50 years old, and she admits that it hasn't been fun watching herself age on screen.
During a recent appearance on Dax Shepard's Armchair Expert podcast, Pompeo made it clear that she doesn't plan on playing Meredith Grey forever.
"I do not want to be the grapes dying on the vine," she said. "Already to watch myself age from 33 to 50 now on screen, that's not so fun. Because you really see it because I'm in the same clothes, I'm in the same character. The way I see myself aging, that's a motherf**ker."
Pompeo explained that her goal is to leave Grey's Anatomy when the show is "still on top." She says that if she gets too aggravated and is no longer grateful, then she shouldn't be there.
Being a 'Grey's Anatomy' producer makes a big difference
Even though she has gotten older on TV in front of millions, Pompeo says that her overall goal in life is to keep her ego in check. She doesn't want to tell herself lies, and she doesn't lie about her age. She explained that she doesn't put anything in her face because it doesn't do her any favors.
Pompeo said that she is thankful for the role of Meredith Grey. But, the one thing that has kept her from getting bored and not "phoning it in" is being a producer. She described the experience as a "marathon, not a sprint."
RELATED: 'Grey's Anatomy': Was Ellen Pompeo Referring To Patrick Dempsey When She Called Her Work Environment 'Toxic'?
The ABC star says that the key is knowing when you can slow down, and when you can speed up. Pompeo checks herself all the time. What helps her is being engaged in the story, having some control over her storyline, and talking about things she finds interesting.
Pompeo is grateful to have a platform that allows her to tackle issues like sexual assault, big pharma, and human trafficking.
Ellen Pompeo came close to leaving 'Grey's Anatomy' with Sandra Oh
The only time Pompeo was tempted to leave Grey's Anatomy was in 2013 when Oh announced her departure. Pompeo explained that Patrick Dempsey was amazing and iconic, and his impact was obviously huge. But, more of her day-to-day work was with Oh, and she wasn't sure how to go on without her.
"She was such an amazing scene partner," said Pompeo. "Then I was like, 'Is there a show without Sandra?'"
She had no doubt that Oh would work "forever," but she wasn't sure about herself. Pompeo wondered if she would work again or if she would be "so typecast." As fans know, Pompeo ended up not going anywhere.
When Dempsey left the show during season 11, Pompeo said at that point she felt like she had something to prove. She says the story became "what can I do without the man?" Pompeo showed everyone that she can carry the show just fine all by herself. Now, she is one of the highest paid actresses on television, earning $20 million per year.
Season 17 of Grey's Anatomy will hopefully premiere on ABC sometime in 2020.