'Grey's Anatomy:' Why Katherine Heigl Once Called Working Conditions 'Cruel and Mean'
Grey's Anatomy alum Katherine Heigl portrayed Dr. Izzie Stevens from 2005 to 2010. Withdrawing from the Emmy Awards in 2008, Heigl went public with her disappointment in her storylines with tabloids reporting that she was angling to get out of her contract.
The actress voiced her frustration again regarding the prime time drama during an appearance on a late night talk show, stating that show's schedule demands were over the top.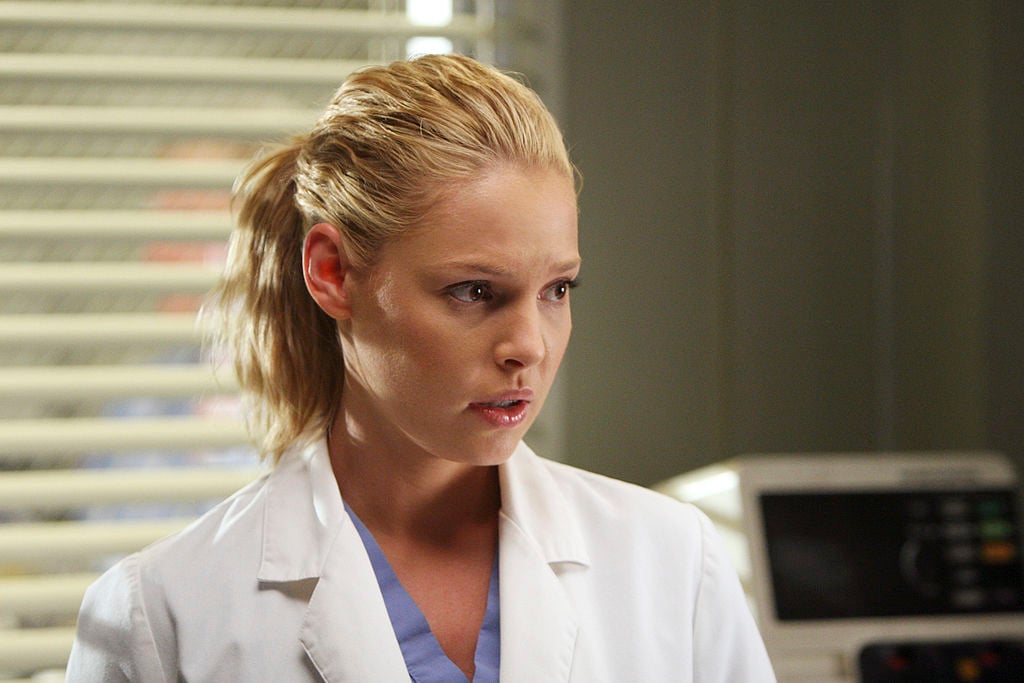 Katherine Heigl's Emmy debacle
When Heigl's statements regarding the 2008 Emmys hit the headlines, the Grey's star began developing a reputation for being difficult.
"I did not feel that I was given the material this season to warrant an Emmy nomination and in an effort to maintain the integrity of the academy organization, I withdrew my name from contention," Heigl stated, according to Entertainment Weekly. "In addition, I did not want to potentially take away an opportunity from an actress who was given such materials."
Though she apologized to show creator Shonda Rhimes for her remarks, Heigl's comments had already made their mark.
"On some level, it stung and on some level I was not surprised," Rhimes told Oprah Winfrey in 2012 of the actress's actions. "When people show you who they are, believe them."
Venting to David Letterman
By 2009, Heigl was already fielding film offers and juggling her schedule to fulfill her commitment to Grey's. Starring alongside Gerard Butler in The Ugly Truth, both Heigl and Grey's producers had to make some creative arrangements regarding her shooting time. Yet when Heigl made an appearance on Late Night with David Letterman, the actress was quite vocal on her grueling work agenda.
"Our first day back was Wednesday," she told Letterman in July 2009, according to Newsday. "It was — I'm going to keep saying this because I hope it embarrasses them — a 17-hour day, which I think is cruel and mean." 
At the time, her character's fate was left hanging due to surgery for a brain tumor. "You last saw Izzie, you know, flatlining," Heigl explained. "So, I won't give it away, but, you know, I'm there so I'm either there as a ghost, on the other side, or I survived a disease no one survives."
Letterman picked up on her comment, noting "I'm guessing if you're working 17 hours, that means you're not dead." Heigl's responded saying, "What if, however, Dave, I was in a bed in a coma for 17 hours? They could do that to me."
ABC exec has a response
The brass at ABC didn't take too kindly to Heigl's remarks, issuing some comments of their own.
"I think it's unfortunate," ABC entertainment president Stephen McPherson said, as reported by NBCLosAngeles.com. "People are going to behave in the way they choose to behave. There are so many people who work so hard on Grey's, and all of our shows, without any notoriety and those are the ones I'd be concerned about, people who feel like they're being criticized or looked down upon."
While show producers revealed that Heigl's long work day was to accommodate her film schedule for The Ugly Truth, the actress wasn't completely convinced and felt she put a burden on the production crew.
"If that is true, I really wish [the producers] had warned me. … I would have forgone the talk shows," she told Entertainment Weekly in 2010. "I asked the entire crew — without really understanding that I was asking this — to work a 17-hour day. And for them it's much worse than just 17 hours. They get there an hour before us and they leave an hour after us. And they all have families they want to get home to. … They don't get any of the attention and they don't get the paycheck."
Heigl claimed she didn't get any flak after the interview when she returned to the set, though she did get appreciation from the crew. "No one brought it up because I think they were all like, 'Ehh, Katie…,'" the Grey's alum recalled. "But there were some members of the crew who actually thanked me for saying something because they can't say anything."
In January 2010, Heigl's last episode of Grey's Anatomy aired.