'Grey's Anatomy': Will Jackson and Jo Become a Real Thing? Some Fans Are Already Calling Them Their Favorite New Couple
A new romance has started to emerge during the first few episodes of Grey's Anatomy in season 17 and fans are already divided. In the premiere, Jo Karev (Camilla Luddington) asked Jackson Avery (Jesse Williams) for a sexual favor that didn't go as planned. But by episode 3, the odd couple had officially hooked up. While some fans are already calling Jo and Jackson their favorite couple, others don't want to watch Jackson get attached to another doctor at Grey Sloan Memorial.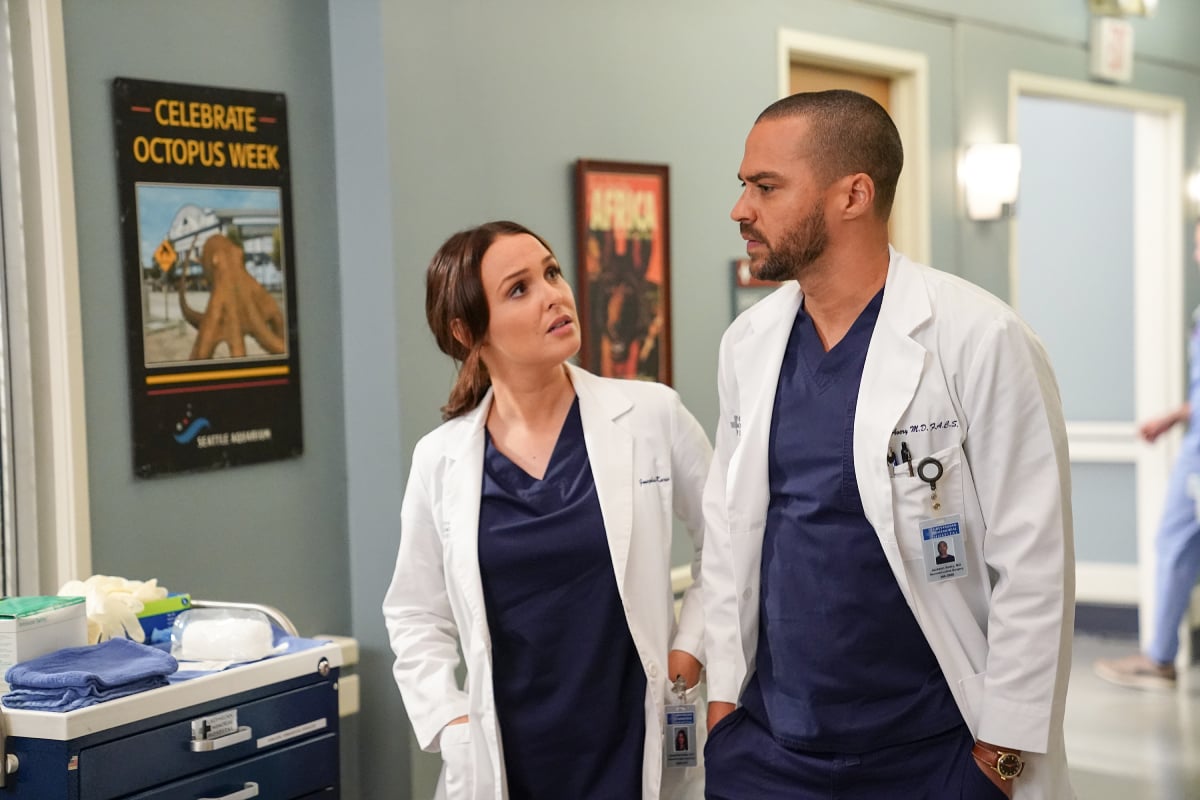 'Grey's Anatomy' fans didn't see this coming
When season 17 premiered, fans knew that the staff at Grey Sloan would be in the middle of the COVID pandemic. However, showrunner Krista Vernoff didn't tease any new romances. When Jo asked Jackson for a hookup in the premiere even though they had never so much as flirted, it was a big shock to fans.
No one saw this coming, and Grey's Anatomy fans took to Twitter to share their opinions on the controversial pairing. Many pointed out that they are tired of seeing Jackson jumping from woman to woman. At the same time, others believe that Jo isn't over her husband, Alex Karev (Justin Chambers).
Last season, Alex unexpectedly left Jo for his ex-wife Izzie Stevens (Katherine Heigl) when Justin Chambers exited the series. This did not sit well with fans because it went against everything he believed in. That one decision destroyed 16 seasons of character development for Alex and sent Jo on a cringeworthy path that many fans are having a hard time watching.
"Anyone else think that Jackson & Jo getting together is weird asf or just me?? #GreysAnatomy," one fan wrote. Another added, "I don't like it. EW!! Jackson & Jo. EW! #GreysAnatomy." A third fan stated, "This Jackson and Jo sh*t is pure Trash. #GreysAnatomy."
Camilla Luddington simply wants what is best for her character
In an interview with Cosmopolitan, Luddington discussed her character moving on from her ex-husband while looking back on her controversial season 16 storyline. She says that she wants what's best for Jo but admits her breakup with Alex was shocking.
"It did feel like probably the only way that [Alex] would leave her, I couldn't really imagine another way," Luddington explained. "So in order for them to break up, it, to me, did make sense, even though it was really shocking."
RELATED: 'Grey's Anatomy' Fans Have Strong Opinions On How Showrunners Are Dealing With Justin Chambers' Mysterious Exit
Luddington explained that Jo and Alex loved each other for a long time, and there was a lot of good that came out of that relationship. As Jo continues to work on herself and her mental health, Luddington believes fans will see her "slowly but surely come out of this stronger."
Will Jackson and Jo become a real thing on 'Grey's Anatomy' this season?
Luddington says that season 17 will see Jo face a lot of new challenges. She says her character will have moments when she doesn't want to go to work because she finds it "really difficult, stressful, and depressing." Through her struggles, Luddington believes Jo is looking for comfort and friendship.
Even though some Grey's Anatomy fans are already calling Jo and Jackson their favorite couple, Luddington believes this relationship is more of a "seed of friendship" right now.
RELATED: 'Grey's Anatomy' Star Debbie Allen Claims Season 17 'Couldn't Be More Relevant'
"I think that Jo shouldn't jump into anything serious right now," Luddington revealed. "But I think if something organically happens, I'm down. I obviously live and breathe this character and just want her to be happy. So if that's with Jackson Avery, it's with Jackson Avery. If it's with someone else, it's with someone else."
Luddington is rooting for Jo to "move on and find her true lover, her person." She also wants her character to have a family. The actress believes that is something her character is craving, and she loves that idea.
"So I would like to see her happy with a partner, whoever that is … and maybe some kids," Luddington said.
New episodes of Grey's Anatomy air Thursday nights on ABC.