'Grey's Anatomy's' Ellen Pompeo Shares One of Her Most Memorable Scenes With Her 'Person' Sandra Oh
Loyal fans of ABC's Grey's Anatomy still hold the iconic Meredith Grey-Cristina Yang friendship close to their hearts, holding out hope that actress Sandra Oh will one day make a return appearance to the show. 
After portraying the fierce cardio surgeon for 10 seasons, Oh left the medical drama in May 2014 much to the distress of longtime viewers. Playing Oh's 'person' since the series launched in 2005, Pompeo revealed one of her most memorable scenes with her onscreen bestie.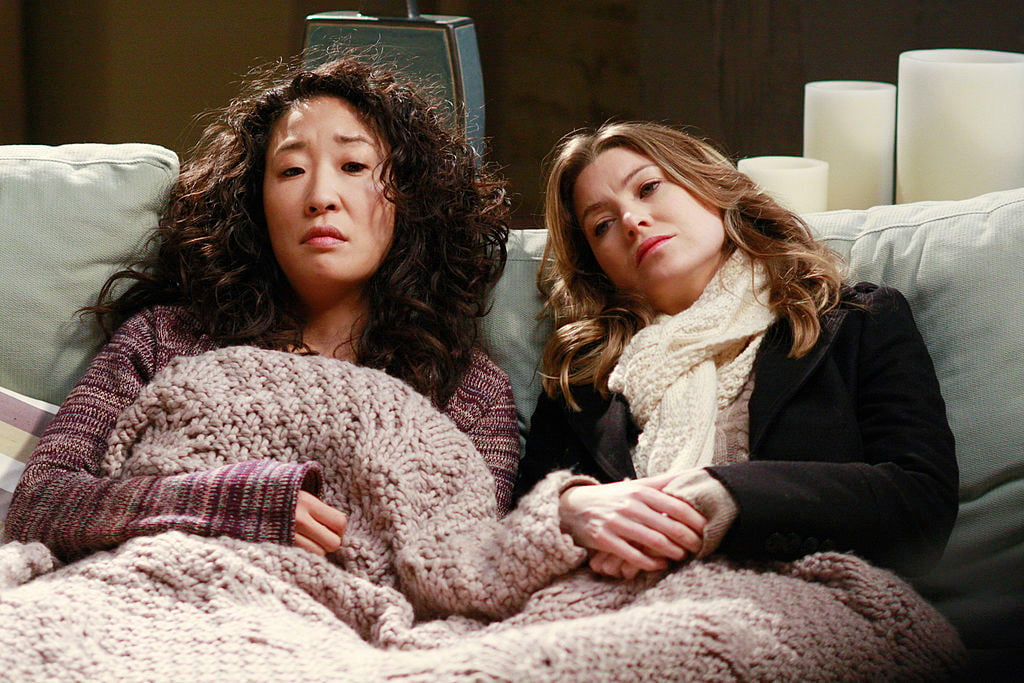 Sandra Oh recalls her final scene with Ellen Pompeo
On her last day of filming, Oh specifically remembers shooting her last scene with her Grey's BFF, though she wasn't thrilled with how it was written.
"In the finale, Scene 44 was an extremely important scene between Meredith and Cristina. I remember reading it and I hated the scene," Oh told the Hollywood Reporter. "It made no sense to me and I couldn't connect to it."
Yet once the two actresses performed the segment, Oh felt it worked out perfectly.
"Sometimes the place that is the most resistant is, a lot of the times, the place to mine," the former Grey's star said. "It was deeply emotional. It was the last scene that Ellen and I shot. I can't speak for how it was for her to shoot that, but at the very end, I remember feeling for our chests embracing. I'm holding her and I can hear that she's tearing up. I was holding her and it felt like we were one body."
'Grey's' star is Sandra Oh's 'biggest fan'
Pompeo has always been quick to sing Oh's praises, often cheering her on via social media.
"Since Arliss @IamSandraOh has been a girl you cannot take your eyes off of when she's on screen… her skill is hard to put into words but man these accolades are sooo deserved," Pompeo tweeted last January upon Oh's earning a SAG award. "Absolutely thrilled for this talented  woman."
The Grey's star even titles herself as Oh's top admirer. "I'm her biggest fan sitting right in the front row applauding everything she does," Pompeo said, according to USA Today.
Though Pompeo would love to see a Meredith-Cristina reunion, she is thrilled to watch her former co-star achieve such well-deserved notoriety.
"Selfishly I would love to see Sandra Oh come back to Grey's," Pompeo told TV Line. "But I also love Killing Eve so much, and I love seeing her have so many of these incredible moments. So, as much as I love Sandra, I'd rather see her shine out on her own. I enjoy that more. That's more gratifying to me." 
Ellen Pompeo recalls an epic scene
As Season 8 of Grey's came to a close, the medical drama left viewers on the frontlines of a disaster that impacted some major cast members. Suffering a plane crash on their way to assist in a vital operation, the medical team of then-Seattle Grace Mercy West had to fight for their lives while stranded in the wilderness of their crash site.
The storyline brought Pompeo a scene with Oh that sticks with her to this day. "We roamed through the forest in Big Bear, looking for Cristina Yang's shoe," Pompeo told the Hollywood Reporter in 2014. "We've kicked some serious acting ass together. I am very proud of the work we've done together over the last decade."
Fans are still clinging to the hope that they will one day get to see Meredith and Cristina dance it out just one more time!