Grimes Is Actually Involved With Tesla Motors Operations
Elon Musk and his girlfriend, Grimes, have had an interesting relationship, to say the least. The Tesla titan started dating the Canadian musician back in 2018, and they've been at it ever since. That said, she's not just his girlfriend. She may be a musician, but she has other hobbies and interests, too. And, some of Grimes' interests included getting involved in Tesla's operations.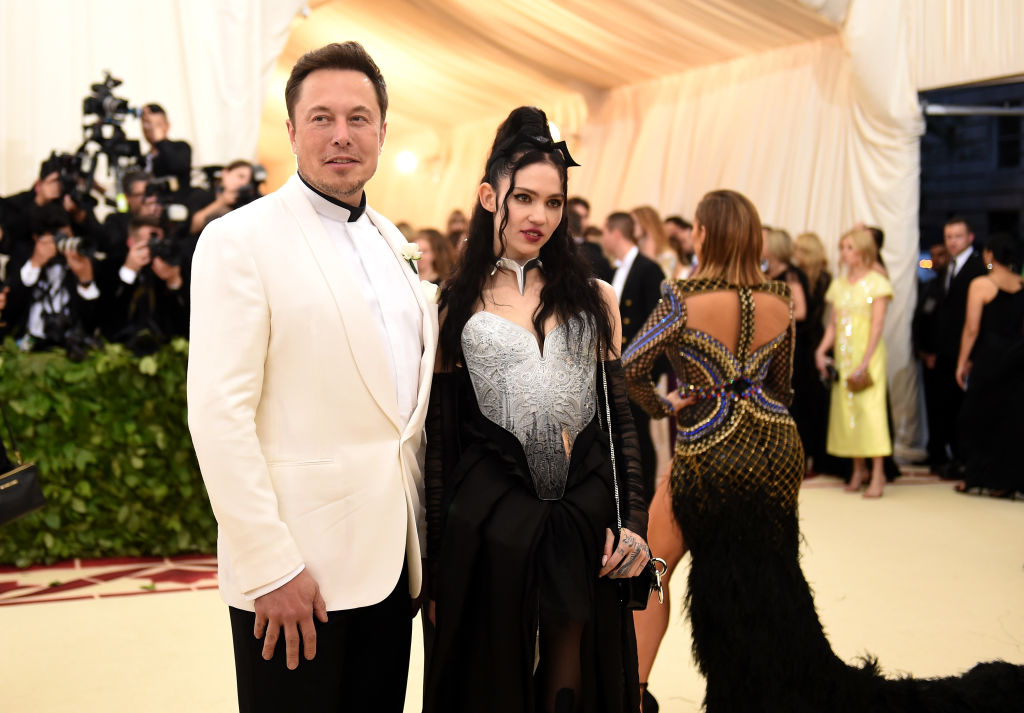 The story of Elon Musk and Grimes
Grimes has been a fan of Musk long before the two actually met each other, and they met each other by pure chance. Musk saw a nerdy joke that Grimes made on Twitter, and he connected with her shortly after. Since then, they've been in an on-again, off-again relationship, but more recently, they became parents to a new child.
Their kid, who's named X Æ A-12, became an instant internet meme due to how strange of a name it is. But, as Musk and Grimes explained over social media, their child's name actually has a lot of symbolic meaning that represents the love and bond that the two share with one another.
A lot of their relationship and love for one another come from their mutual love of all things science and futuristic. For example, Grimes' nickname in her personal life is "c," which is the symbol for the speed of light. Musk's nerdiness needs no introduction, as he's the man who sent a car into space that was rigged to play David Bowie's 'Space Oddity' on repeat.
How Grimes got involved in Tesla Motor Operations
Unlike other major American automakers, Tesla workers don't have a union. There are a lot of reasons for that, and one of them has been the idea that Musk and Tesla's leadership are working to prevent a union from forming. Grimes, however, wanted to know why no Tesla union has formed yet, and so, she tried to find out for herself. 
According to Business Insider, the Canadian musician said, in a now-deleted tweet, that she "literally tried to instigate [a] union vote." Since she posted this on Twitter, it's not clear how she tried to do that, but the result was the same. UAW couldn't collect enough signatures for it to happen, according to Grimes. As a result, she said that Tesla decided to hire a third party to do some polling to see if Tesla workers wanted to form a union or not.
The result of that poll, according to Grimes, was the same result that Musk had mentioned earlier. The majority of Tesla workers, for one reason or another, apparently do not want to join a union. That said, this information was just based on a now-deleted tweet from her, so how true it remains up in the air. Regardless though, her actions aren't too surprising, since Grimes has shown time and again that she isn't just Musk's celebrity girlfriend.
Grimes is an independent artist first and foremost
While few people have a billionaire for a boyfriend, Grimes is and has been a self-funded artist, according to E! News. A fan on social media said that she was getting into Musk's bank account, but in response, she said that she doesn't need a man for money.
Obviously, Musk is the richer partner, as he has a net worth of about $38 billion. That said, Grimes has been a successful musician before she even met Musk, and that's how she's able to fund her projects herself. Her net worth is about $3 million. While that's not a lot compared to the Tesla mastermind, it is more than enough to fund her projects.
Her most recent one is an album called 'Miss Anthropocene,' and it's her first album in five years. It's been quite successful so far, and it was entirely funded by her, according to E! News.