Grimes Want to be 'Totally Covered' in Alien Tattoos
Pop star and social media favorite Grimes has a knack for garnering attention with unusual behavior, and her new ink is sure to continue this tradition. In 2021, the pop star started an elaborate mission to cover her entire body in "alien tattoos."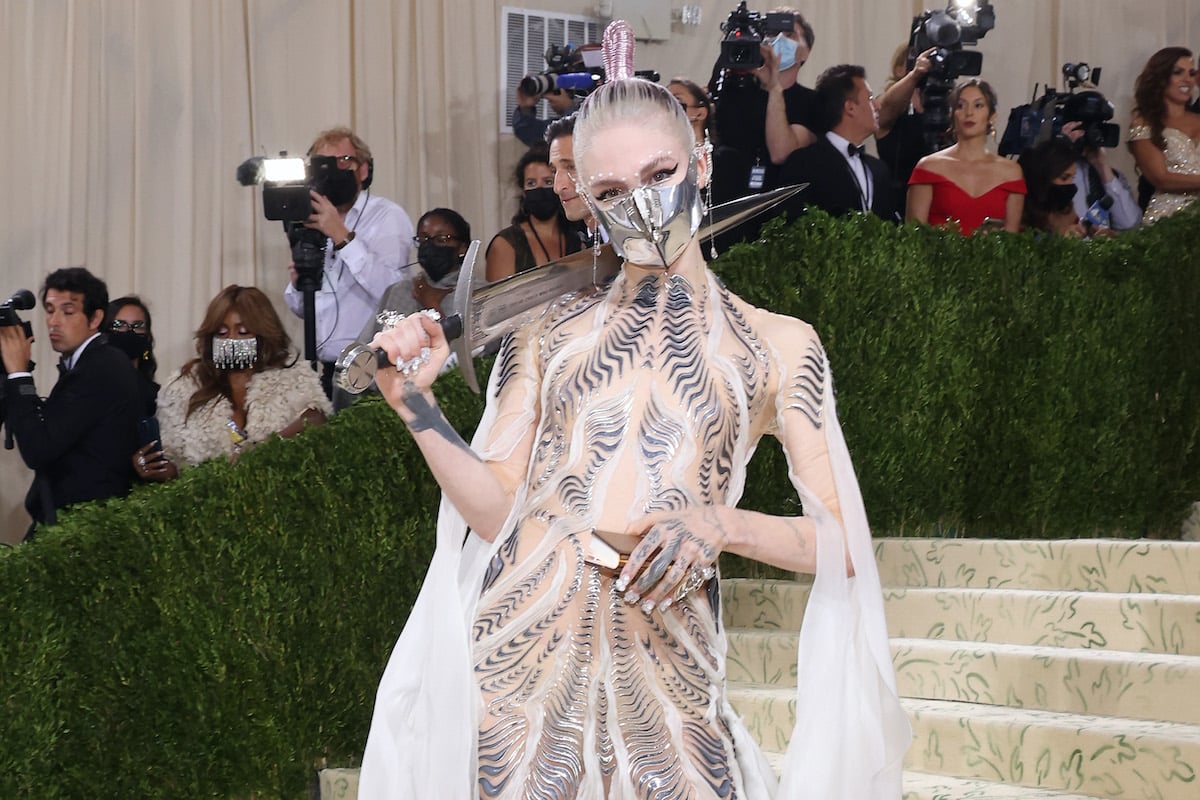 The strange tattoos may come as no surprise for the sci-fi-tinted singer and artist. Judging by her social media posts, her alien mission is going exactly how she wanted.
Grimes' alien mission
Grimes is no stranger to tattoos. According to Page Six, she has tattoos depicting symbols from The Legend of Zelda, The Lord of the Rings, and several other staples of the sci-fi/fantasy world. However, her recent tattoos take this love for the genre further.
Her fingers are covered in Elvish words from Tolkien's iconic tome, and the rest of her body reflects similar interests. Video games, music, art, and spirituality all have space on the canvas of her body, but Grimes wanted something bigger, more cohesive, and complete.
The singer, who told Teen Vogue that she never spends more than 10 minutes thinking about her next tattoo in 2016, went the opposite route just five years later. To do so, she enlisted the help of big-name artists and designers to make her dream come true.
In January of 2022, Grimes posted the initial results.
Grimes' artistic mission
Grimes announced her plans to cover her body in the alien tattoos in 2021, and that mission is still going strong today. Grimes began her mission with the help of a tattoo artist named Tweakt and touchup by renowned fashion artist Nusi Quero. Quero loved seeing Grimes use her body as a statement and spoke about it with the same publication.
"[The tattoo is] a courageous and beautiful decision and talisman [Grimes] will carry with her from here forward, an armor, a spectral field that will affect and protect her in ways unknown but no doubt with a benevolence of some kind," he told Page Six about her decision. According to Page Six, Grimes wanted to be "totally covered" with alien tattoos.
The results are not the standard tattoo blue. Instead, Grimes opted for white ink, which may not stand out from afar but paint a picture for those up close. The singer told her Instagram followers that while the process hurt, she was happy with the first results. Her mission isn't over, but the first results were yet another chapter in the intergalactic world of Grimes' mind.
While her ex-husband makes headlines for going into outer space, Grimes is content with bringing outer space to earth as she prepares for the next chapter of her life and career.
Grimes becomes an artist
Grimes is no stranger to attention. According to a timeline in Vulture, she first burst onto the scene with her 2010 album Geidi Primes. She was part of a new wave of artists who used platforms like Myspace to develop their brand in ways that had never been done before.
Grimes explored genres- adding electronic sounds, medieval folk, and psychedelic art-pop for a unique sound. It worked, and Grimes went from an unknown college student to a pop sensation overnight.
Every ensuing album made her name and status bigger than it was before. Not content with pop success, however, Grimes developed a reputation as more than a musician. She was an artist who not only wrote and performed all of her songs, she designed the album covers and kept creative control over all aspects of her image.
Much like her contemporary, Lady Gaga, Grimes mixed music, performance art, and creative persona to mold her into something more unique. In recent years, her high-profile relationship with Elon Musk garnered more attention than her music. Despite this, she projects an image that often seems out of this world.
RELATED: Megan Fox and Machine Gun Kelly Gave Each Other Matching Tattoos