'Guardians of the Galaxy': Chris Pratt Once Challenged Co-Star Dave Bautista to a Wrestling Match
Chris Pratt once challenged his 'Guardians of the Galaxy' co-star Dave Bautista to a wrestling match after taking a prescription sleeping aid.
Chris Pratt's Guardians of the Galaxy character feels the need to prove himself to other people, comparing his physique to Thor's when the two meet in Avengers: Endgame. Apparently, that competitive nature extends to the actor as well, since he once challenged co-star Dave Bautista to a wrestling match. Given that Bautista was once a professional wrestler and bodybuilder, it may sound like Pratt was asking for trouble. As it turns out, there were extenuating circumstances that led to his request.
Chris Pratt asked Dave Bautista to wrestle after taking Ambien
If there are two things that don't mix, it's prescription sleeping aids and texting. Pratt learned this lesson the hard way when he took Ambien and challenged Bautista to a wrestling match, despite his co-star clearly having an obvious advantage.
During an appearance on The Late, Late Show With James Corden this week, the Guardians of the Galaxy star recounted the comical story, revealing he would text people and forget about it almost immediately after.
"There was a moment in my life where I would take sleep aids to help me sleep, and I don't anymore because of things like this," Pratt told Corden. "And I would text people."
While Pratt forgot all about his antics the next day, Bautista was quick to bring up the strange text.
"I took Ambien," Pratt explained. "The next day, he comes and he goes, 'Hey man, that text that you sent last night–' I go, 'What text?'" Pratt recalled. "He goes, 'You don't remember?'"
According to Pratt, Bautista let out a laugh even Drax would be proud of after realizing what had happened. If nothing else, the humorous story proves this duo is as silly behind the scenes as they are traversing through space.
What did Chris Pratt's message to his 'Guardians of the Galaxy' co-star say?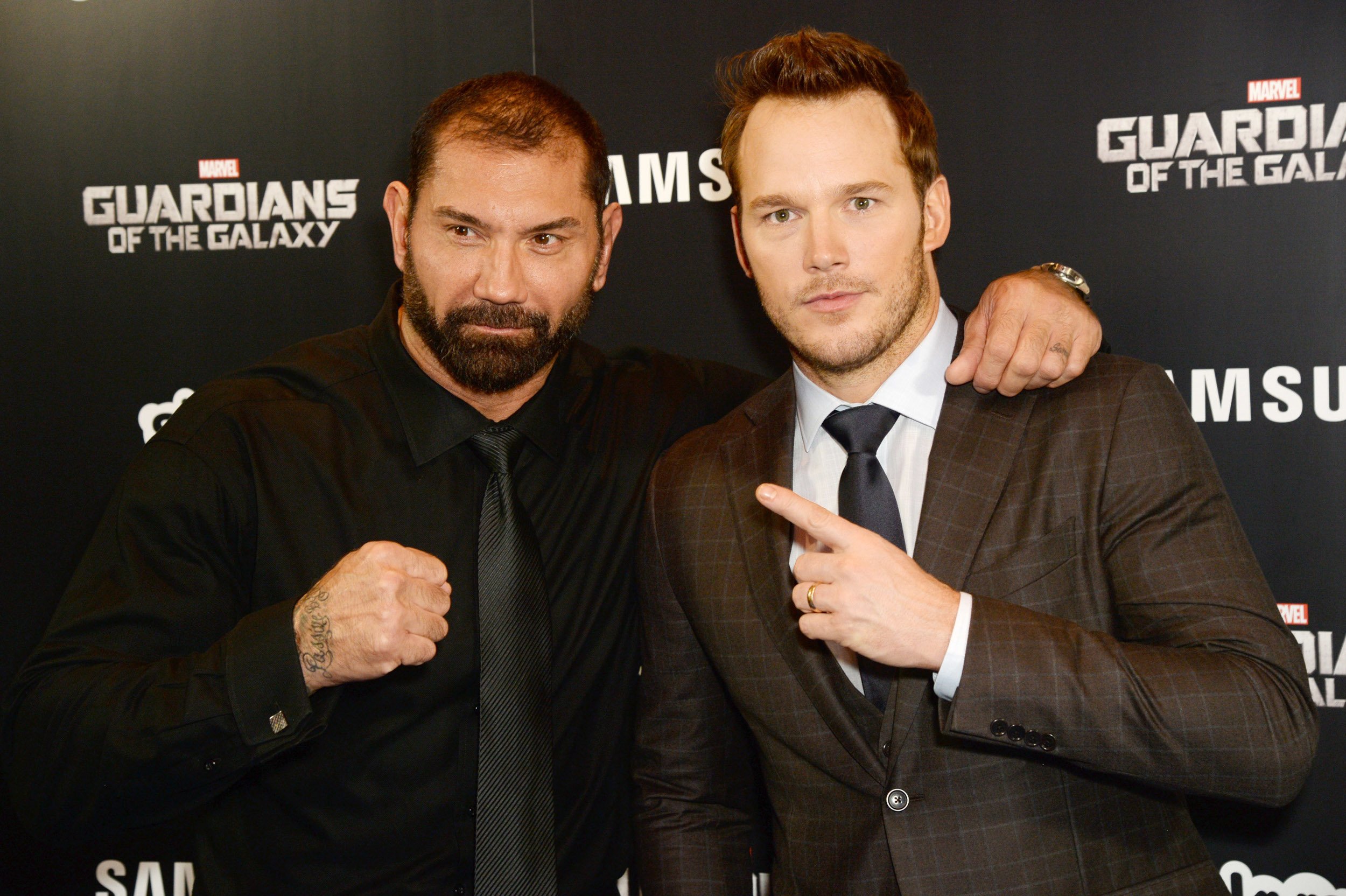 Following the recap of his wrestling challenge, Pratt delved further into what he sent to Bautista — and the contents of the text message were lengthy and amusing.
"It was, 'Dave, I want to wrestle you. I want to wrestle you. No one needs to know, but I just want to know,'" Pratt remembered. "'I think I can take you. I think I can wrestle you, bro. Like, collegiate rules. No elbows, no knees. I just, I want to feel the power!""
It's hard to imagine the former professional wrestler keeping a straight face after receiving that gem. It's a good thing both Bautista and Pratt appear to have a good sense of humor.
Are both stars returning for 'Guardians of the Galaxy Vol. 3'?
Fans hoping to see more of the entertaining dynamic between Pratt and Bautista will get the chance during Guardians of the Galaxy Vol. 3. Slated to arrive in May 2023, the film will see both actors reprising their roles on Marvel's team of misfits. Unfortunately, it may be the last outing for the duo, so they'd better make it count.
Director James Gunn has confirmed that the third Guardians of the Galaxy is likely to be the final installment for him. Bautista expressed a similar sentiment about playing Drax, so even if Marvel decides to continue the series, it will have to find a new lineup of characters.
In the meantime, however, fans can enjoy seeing Pratt and Bautista onscreen one last time. Who knows, perhaps they'll finally get their wrestling match — if Peter Quill would challenge Thor, surely he wouldn't be afraid to fight Drax.