Famed Guitarist Dave Navarro Once Appeared on 'America's Most Wanted' For a Heartbreaking Reason
Celebrities aren't exempt from tragedy. Jane's Addiction and Red Hot Chili Peppers guitarist Dave Navarro knows this all too well. In the musician's documentary, Mourning Son, Navarro details losing his mother to senseless murder and how America's Most Wanted helped to catch the killer.
The murder of Dave Navarro's mother Connie still haunts the legendary guitarist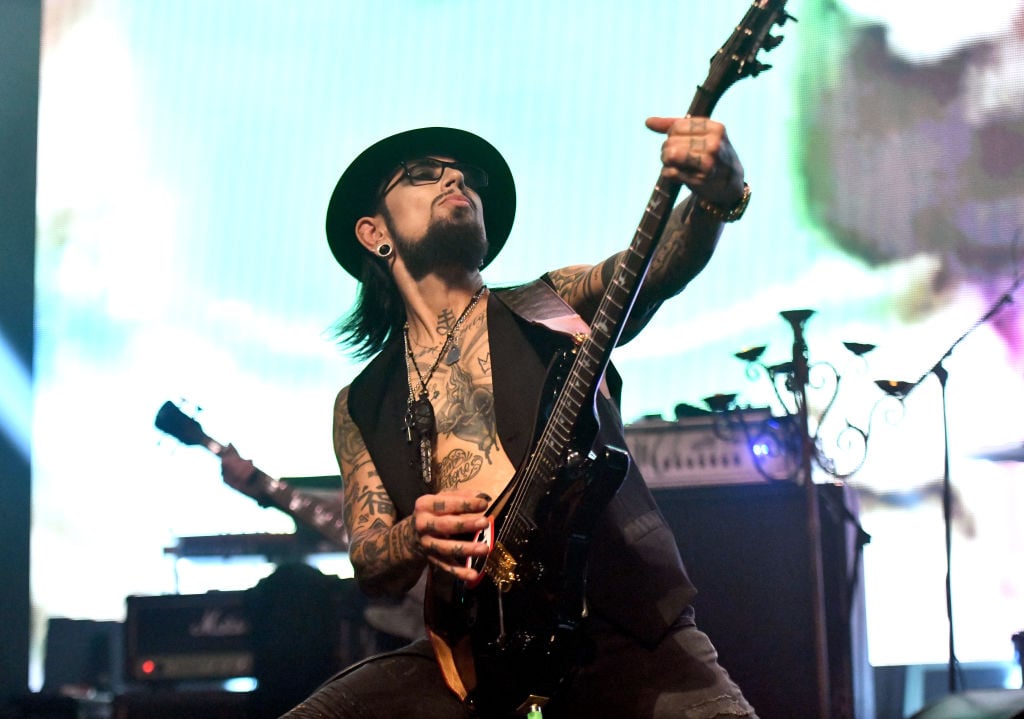 In 1983, Dave's mother Connie — who'd divorced Dave's father when he was seven — broke up with her then-boyfriend, John Riccardi. What followed is nothing short of heartbreaking. Riccardi reportedly stalked Connie up then broke into her condo to kill her and her friend, Sue Jory.
Dave, 15 at the time, was supposed to be there that night, too. This makes his story that much more harrowing. He'd happen to stay with his father, evading the tragic scene.
In the documentary, friends, and family described Connie as "generous" and "warm."
"The truth is, there were times when I wasn't sure if I wanted to tell it," Navarro told The Huffington Post in 2015. "But I think on a therapeutic level, it was worth seeing through. The rewards have been revealing themselves as they go."
The Inkmaster host added that telling the story in this way gave him an unexpected gift.
"Having a creative and specific narrative such as making a film helped to heal a lot of that trauma," he said. "As a result of doing the work, in going on a journey of retaking back my own power, I was kind of immersed in the memories. I realized that I had shut down the memories of our life before 1983 and all that came back. And that was a pretty surprising gift."
John Riccardi spent eight years on the run
While Dave was on the rise in the music world, Riccardi spent eight years on the run. It wasn't until a 1991 segment on America's Most Wanted featured the killer did a tip lead to his whereabouts.
He was arrested on both counts, convicted of murder, and sentenced to death. The California Supreme Court re-sentenced him to life without parole in 2012 after a prospective juror expressed opposing views on the death penalty and was dismissed.
"I'll never forget the day when they got him," Navarro told host John Walsh during his 2004 appearance on America's Most Wanted. "It was an amazing feeling. It was such an amazing sense of joy and anger and hurt and confusion."
He added: "The murder basically tore our lives apart. To be honest…you don't know what to do, you don't know where to turn, you don't know how to live, how to trust. It completely throws your emotional stability out of bounds. To the viewers and to the people that call in, you really do make a difference; your calls really make a difference in our lives — in the victims' lives."
Navarro added in the Huffington Post interview that while making Mourning Son, he didn't see the connection between domestic violence and what his mother endured — until they were in the midst of creating the film.
"I think that's partly because I was so close to the events as a child, especially being in the 1980s, those words weren't really thrown around," he said. "As we were putting the project together, it dawned on me that that's what I'm talking about."
The guitarist has since become an advocate, adding, "Ultimately, I hope that the reason for making the film is bigger than just my story."
Navarro visited his mother's murderer in jail
RELATED: 'Ink Master': This Season 13 Contestant Says Oliver Peck's Racist Past Caused Her to Be Eliminated
Also shown in Mourning Son is the six-hour trip from Los Angeles to the San Quentin State Prison to meet Riccardi in person.
"I happen to have one of these conditions where if I'm afraid of something, I have to do it," he said via The New York Times.
However, when the meeting came, it didn't feel the way he imagined it might.
"I wanted it to make me feel scorn and anger and rage, and it just didn't." There was no confrontation, no screaming, just "an awkward exchange," he said. "A lot of things came flooding back. And I almost was watching myself as an outside observer, so it took a minute to get my body and mind and emotional and spiritual stability all back in sync."
In the end, the interaction allowed Dave to see Riccardi as something else: "He's just some old dude dying in jail."