Guy Fieri's Horrific Horseback Riding Accident Required Emergency Surgery and Nearly Killed Him
At just 10 years old, Guy Fieri suffered a terrible horseback riding accident and almost lost his life. The celebrity chef says he's still scarred from the scary ordeal.
Guy Fieri is Food Network royalty. Although Diners, Drive-Ins, and Dives may be his most famous show, the 54-year-old has starred in many more. Fieri has judged high-profile cooking competitions and launched his own culinary line. The culinary star is everywhere. But Fieri almost didn't make it to where he is today.
At just 10 years old, he suffered a terrible accident and almost lost his life. According to a recent interview, Fieri still has the scars from the scary ordeal.
Guy Fieri almost died in a horseback riding accident when he was 10 years old 
At 10-year-old Fieri was riding a horse near his childhood home when it bucked him off — a risk all equestrians take but few experience. The animal stomped on him, according to GQ, leaving Fieri with a seriously damaged liver and bruised heart. The California native's liver had a ligament torn off and required surgery to fix. To this day, Fieri has a scar on his abdomen from the emergency surgery he almost couldn't get. 
According to Fieri, his "hippie" parents were off traipsing through Europe while he was back home horseback riding. Since his guardians were out of the country, approving his surgery was a difficult task. It involved a lawyer and a court order.
According to the Guy's Big Bite star, "My mom was devastated." Understandably so. Fieri's digestive system was almost lost to his horseback riding accident. If he'd had just a little less luck, there would be no Flavortown and no Food Network superstar today. 
Fieri's wine label references his accident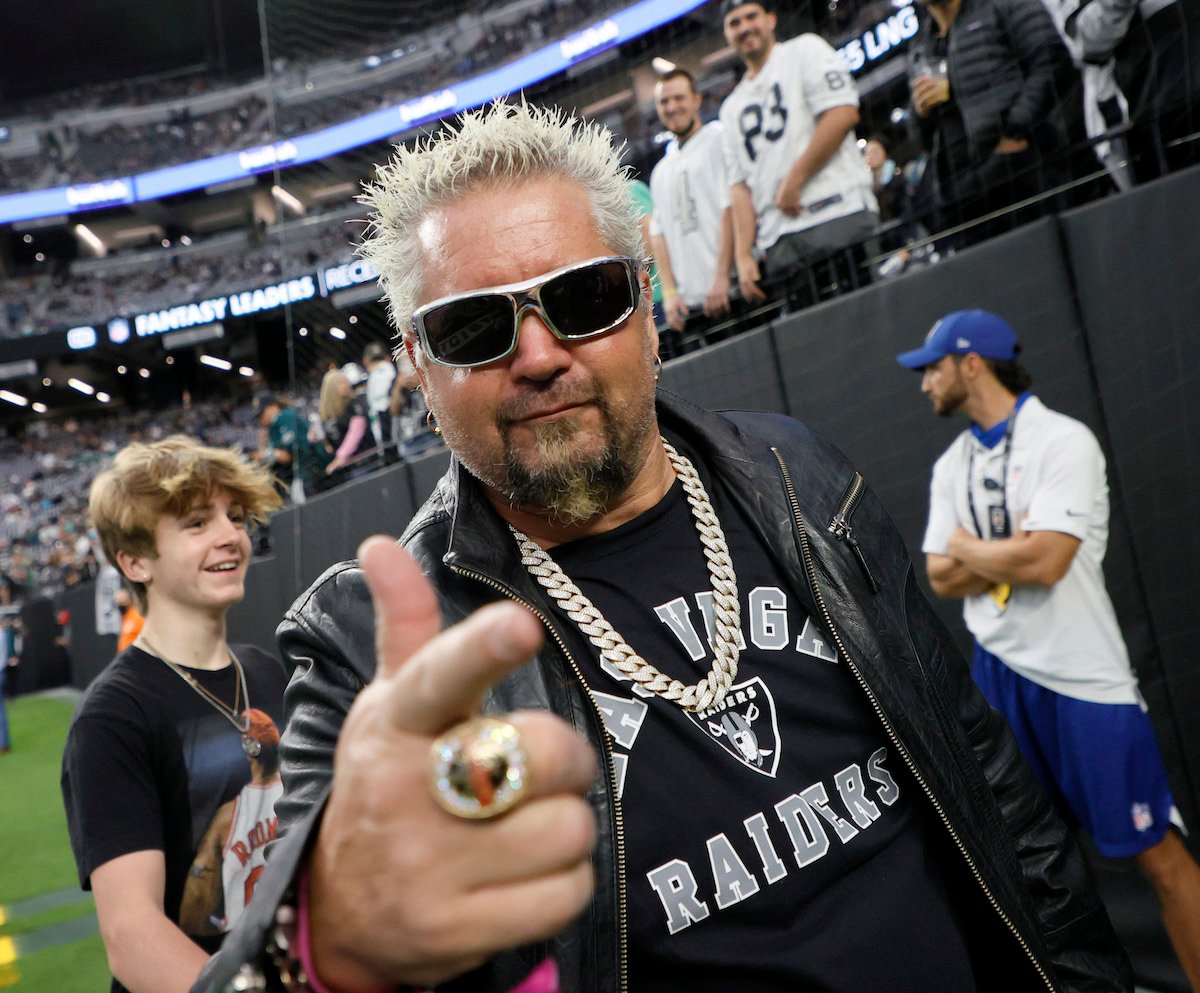 Fieri embraced his accident with his new wine label. He established Hunt & Ryde winery in Sonoma County in 2015. The name is a nod to his two sons, Hunter and Ryder, though they weren't old enough to enjoy the varietals yet. In 2015, Ryder was just 8 years old. Hunter was 19 when Fieri's vineyard opened, but he's of legal drinking age now. 
The wine label for Hunt & Ryde features two boys riding on a horse. Although Fieri almost died on a horse, he still enjoys them. A few days after his GQ interview, Fieri planned on seeing a horse race with Papa John of pizza fame. The Tournament of Champions star doesn't seem to be scared of the animals or turned off from them completely. In fact, the Sonoma winery he purchased is surrounded by other ranches, including ones with show horses.
Unlike his many restaurants, Fieri didn't want his name to be all over the wine. He hoped people can enjoy it as a good wine, not as an extension of his Food Network brand. And he wants to be able to leave it to his sons as part of his legacy. 
How many children does Guy Fieri have?
Fieri and his wife Lori have their two aforementioned sons, Ryder and Hunter. The couple has been together for more than 20 years and is extremely close. In fact, Fieri's whole family is quite lovable. He is still close with his parents, Penny and Jim Ferry who visit the Sonoma property often.
Growing grapes doesn't seem that out of the question for Penny and Jim Ferry's kid. In addition to being "hippies," the two were farmers themselves. Fieri has made a name for himself as a culinary expert, but he was born into farming. 
Unfortunately Fieri's sister Morgan Ferry would never see her brother's winery. The other Ferry sibling died in 2011, after battling cancer. Just like her brother, Morgan had a brush with death at a young age. She was first diagnosed with cancer at 14 but was able to beat it. In 2011, at 38, she wasn't so lucky. According to Fieri, her loss was "the worst thing in the world."