Guy Fieri Is Taking on Paula Deen With Dueling Restaurants in Branson
Food Network star Guy Fieri is opening up a restaurant in Branson, Missouri, which will compete with one of Paula Deen's biggest restaurants.
Guy Fieri is going head-to-head with Paula Deen in Branson, Missouri. The Mayor of Flavortown is opening up a new eatery in Branson in the summer of 2020 called Guy Fieri's Branson Kitchen + Bar, but he is not the only new restaurant in town. Here is everything we know about Fieri and Deen's competing projects.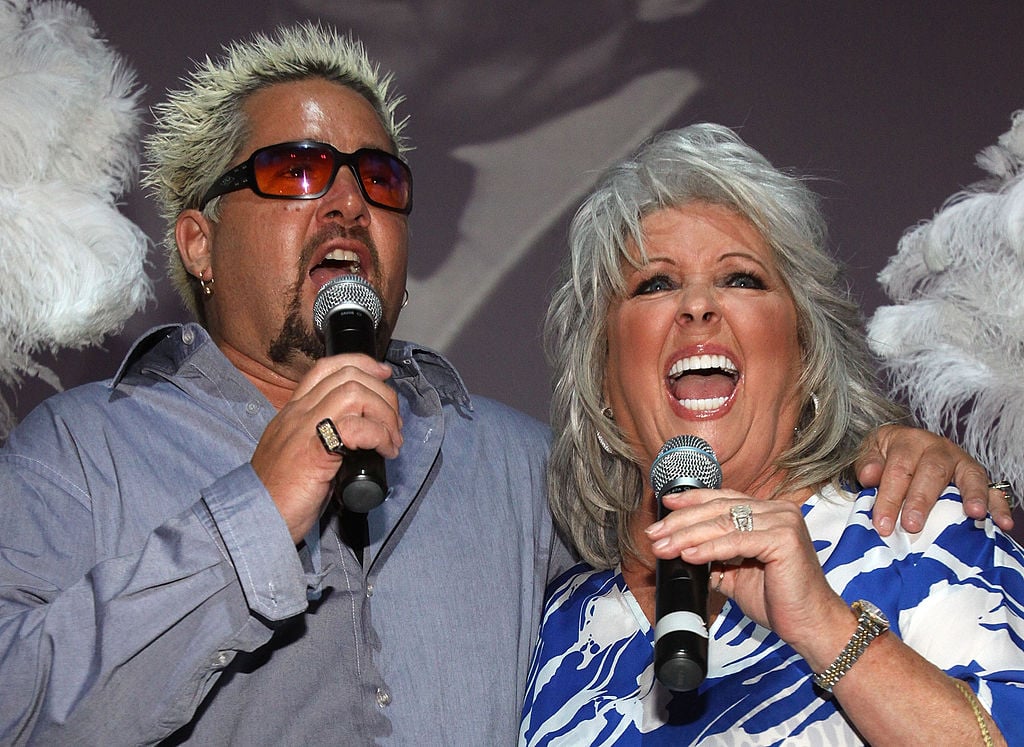 Guy Fieri takes Flavortown to Branson
Fieri is partnering with FACE Hospitality to bring his restaurant chain to Branson Missouri in 2020. The eatery will be located at Branson Landing, where FACE Amusement Group is located.
The company has a number of different attractions in Branson, including Arcade City, 7D Dark Ride Adventure, and Mirror Maize.
According to River Front Times, Fieri's new place will be part of a larger entertainment complex, with the 8,000 square feet restaurant joining the aforementioned attractions.
Guy Fieri's restaurant will serve both lunch and dinner and will feature some of his most iconic menu items, like smoked meats, Bacon Mac n Cheese Burger, Trash Can Nachos, and Bourbon Brown Sugar BBQ Wings.
"I'm all about great food, good times and big fun so to be able to partner up with folks like FACE Hospitality is a perfect opportunity to bring it all together in one place… Branson!" Fieri shared.
The eatery will also include a full bar, serving some of Guy Fieri's famous cocktails. The lineup includes his signature BBQ Bloody Mary, Tattooed Mojito, and Caliente Margarita.
Is this Fieri's first Missouri venture?
Guy Fieri's Branson Kitchen + Bar will be the Food Network star's first restaurant in Branson, but it is not the first time he's been on the food scene in Missouri.
The celebrity chef has invited a number of different chefs from St. Louis to his hit cooking competition, Guy's Grocery Games. This includes BEAST Craft BBQ Co.'s David Sandusky, and Companion Bakery's Josh Galliano and Samantha Mitchell.
Fieri has also filmed scenes in St. Louis for his Food Network show, Diners, Drive-Ins, and Dives. The filming session took place in 2013 and featured a restaurant in Webster Groves called Highway 61 Roadhouse.
Although Guy Fieri has had success in Missouri, his Kitchen + Bar franchises have not faired as well across the country. His outlet in New York City, for example, was largely panned by critics for offering expensive burgers that were not up to industry standards.
We do not know if Fieri's venture will do better in Branson, but he will have some stiff competition from the start in the form of another celebrity chef.
Paula Deen opens up a new restaurant in Branson
In the fall of 2019, Deen launched her first eatery in Branson called Paula Deen's Family Kitchen. The restaurant is featured at Branson Landing and opened to a throng of fans eager to catch a glimpse of the Paula's Home Cooking star.
Deen was present for the opening of her new joint and spoke to her fans before taking part in a book signing. The celebrity chef started her Family Kitchen franchise back in 2015 and revealed that she has wanted to break into the Missouri market for a number of years.
"I'm all about family, all about family, and I think the people that y'all have coming here and that live here, I think they're family people as well," she said.
Although hundreds of people showed up for the event, Paula Deen was forced to leave early because she needed to prepare her house in Savannah, Georgia, for Hurricane Dorian.
Despite an early exit, Deen assured fans that she will be back in the area at some point in the near future.
Deen a perfect fit for Branson
Over the years, Deen has successfully launched restaurants in Tennessee, South Carolina, Florida, and Alabama. But there was a time when food experts did not think her businesses would last.
In 2013, Paula Deen came under fire after one of her employees sued her for not cracking down on racially charged jokes in one of her restaurants. The Food Network promptly canceled her show, though she now has two series of her own, Sweet Home Savannah and Positively Paula.
Despite the scandals, Deen's restaurant has done well in Branson. Not only are fans loving the menu — which captures the heart of her hometown — but the eatery has created over 100 jobs in the small tourist town.
It will be interesting to see how well Paula Deen's restaurant does once Guy Fieri's Branson Kitchen + Bar opens up in the summer, but so far, she definitely has an edge.