Guy Fieri is the Least Entertaining When He's Watching His Own Shows With His Sons
Every industry was affected by the COVID-19 outbreak, and Food Network was no exception. In a world of social distancing and masks, executives at the network had to scrounge up ways to provide new content and resurrect old shows in a time where they cannot film like they usually would.
Several Food Network shows were affected by this, but one of the strangest examples had Food Network Superstar Guy Fieri watching Guy's Grocery Games with his sons. The results were mixed. 
The Guy Fieri brand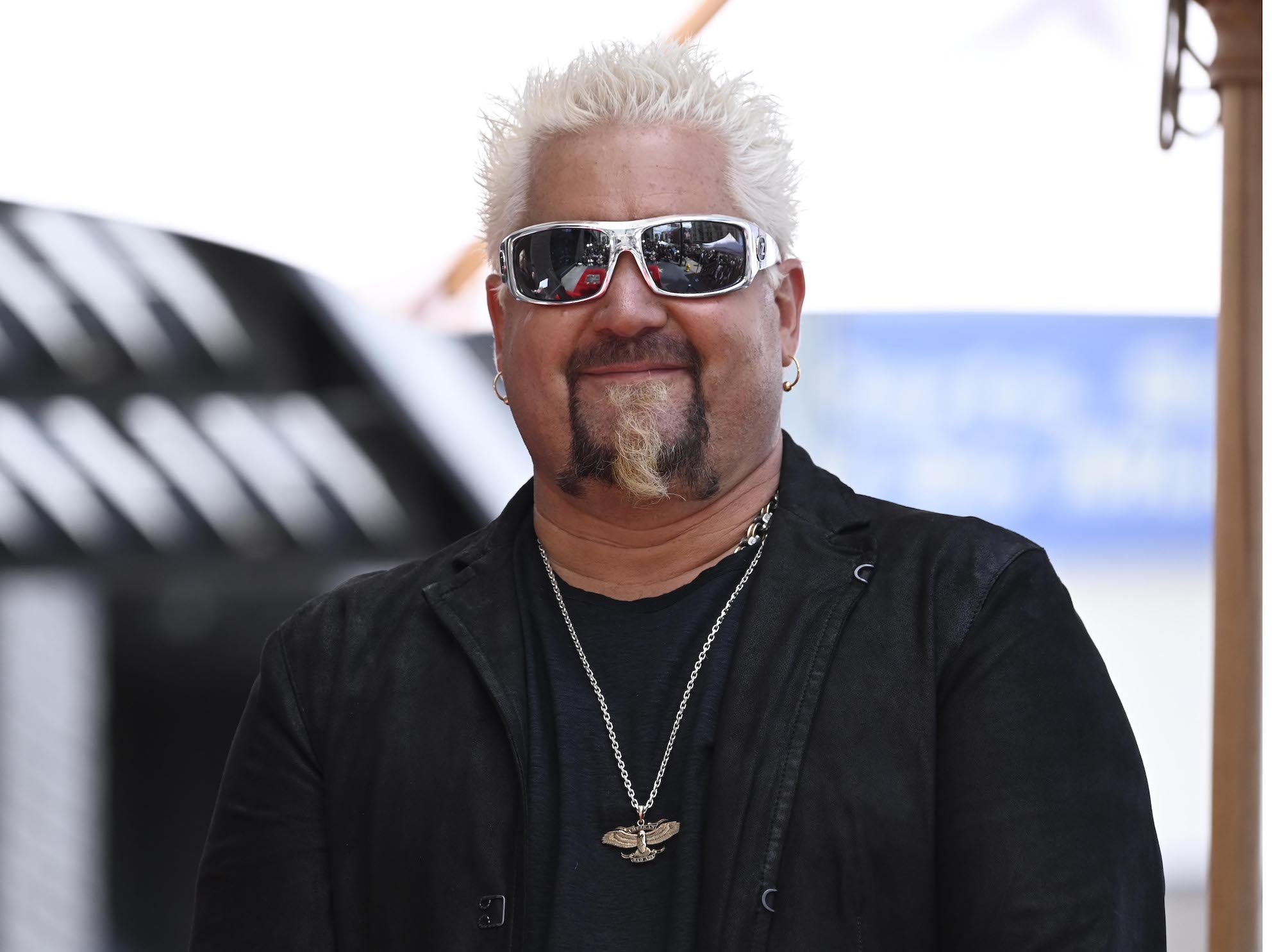 Fieri isn't known for his cooking the way that Bobby Flay or Rachael Ray are. Although he made his mark on the industry with his restaurants and an appearance on Food Network Star, his most significant selling point was his charisma and bodacious personality.
In an industry filled with well-groomed people with high-brow tastes, the tattooed, bleach-haired Fieri could sell food for the average person. 
Although Fieri has cooked on several occasions, his most successful shows involve his ability to sell the work of others. Anyone who has turned on Food Network on any given afternoon has likely seen Fieri visiting restaurants across the country on Diners, Drive-Ins, and Dives, or as Fieri calls it, DDD.
On DDD, Fieri shines a spotlight on small restaurants that might not be well-known outside of local markets and gives them exposure on an international scale
On Guy's Grocery Games or GGG, Fieri tries his hand as a culinary game show host. A mix between food competitions like Chopped and the classic game show Supermarket Sweep, GGG features chefs from around the world competing in a grocery store setting.
With Fieri at the helm, competitors have to face several curveballs as they shop through the market and fulfill the dish that they are required to make. 
However, when COVID-19 effectively shut down the television industry, the show's producers had to step up. 
How Guy Fieri is coping with COVID-19
Several of Food Network's biggest programs have found a way to cope with COVID-19. Culinary talk show The Kitchen had hosts host from the comfort of their own homes, where they whipped up dishes either in their kitchens or at their grills for the world to see.
Fieri, himself, got into his kitchen when he hosted a special DDD where restaurant owners taught him how to cook their greatest dishes remotely. Competitions, however, are harder to emulate. 
Following in the footsteps of other competition shows, Food Network decided to have the ever-charismatic Fieri watch the show with his sons and discuss what was going on with them.
It seems like it should be a slam dunk for both the network and its biggest star. However, as users on Reddit noted, this wasn't exactly the case. 
Many on Reddit found the special quarantine edition of the show awkward, with Fieri's banter with his sons feeling awkward and forced. From speculation about the host to complaints about forcing his family members on the audience, Reddit users complained about the show and its awkward presentation. 
However, as some begin to ease up and prepare for a long virus, GGG appears to be coming back, albeit with social distance and safety at the top of their concerns. 
The return of 'Guy's Grocery Games'
Fieri was, in many ways, a star of the pandemic. He was among the loudest and most generous voices when it came to helping out-of-work restaurant workers with their finances. This included people who worked at his own restaurants around the country. When it came to GGG, however, everything was at a stand-still. 
In an interview with Fox News, Fieri announced that GGG was coming back with a unique twist. GGG Delivery will see chefs working from the safety of their own home as groceries are delivered to them. 
"What we're doing is sending boxes of food to our chefs at home, and then giving them the challenges that they have to play using the food," Fieri told the network. "Fortunately, giving some folks some work, giving some chefs some recognition, giving some fans some entertainment—you name all of it!" 
It may be some time until Food Network, like everything else, gets back to normal. However, in the meantime, the network is making do with what they have. It might come across as awkward and cringeworthy.
Still, with so many networks clamoring to make DIY television without their regular crews, we can expect more entertainment like this from all around the world.