Guy Fieri's Dad Gave Him the Best Life Advice Before Food Network Launched His Career
Restaurateur, author, and Food Network television host Guy Fieri has become one of the most recognizable stars in the culinary entertainment world.
Fieri's big and brash personality, fiery passion for food, and trademark hairstyle have resulted in Fieri becoming an extremely well-known figure in American pop culture.
The beloved figure got his start in the world of television as a contestant on The Next Food Network Star, know known as Food Network Star, in which America got its first taste of the unique flavor that is Fieri.
During his time on the reality show, Fieri spoke candidly about his father and a piece of advice that he was given before his rise to fame. 
Who is Guy Fieri?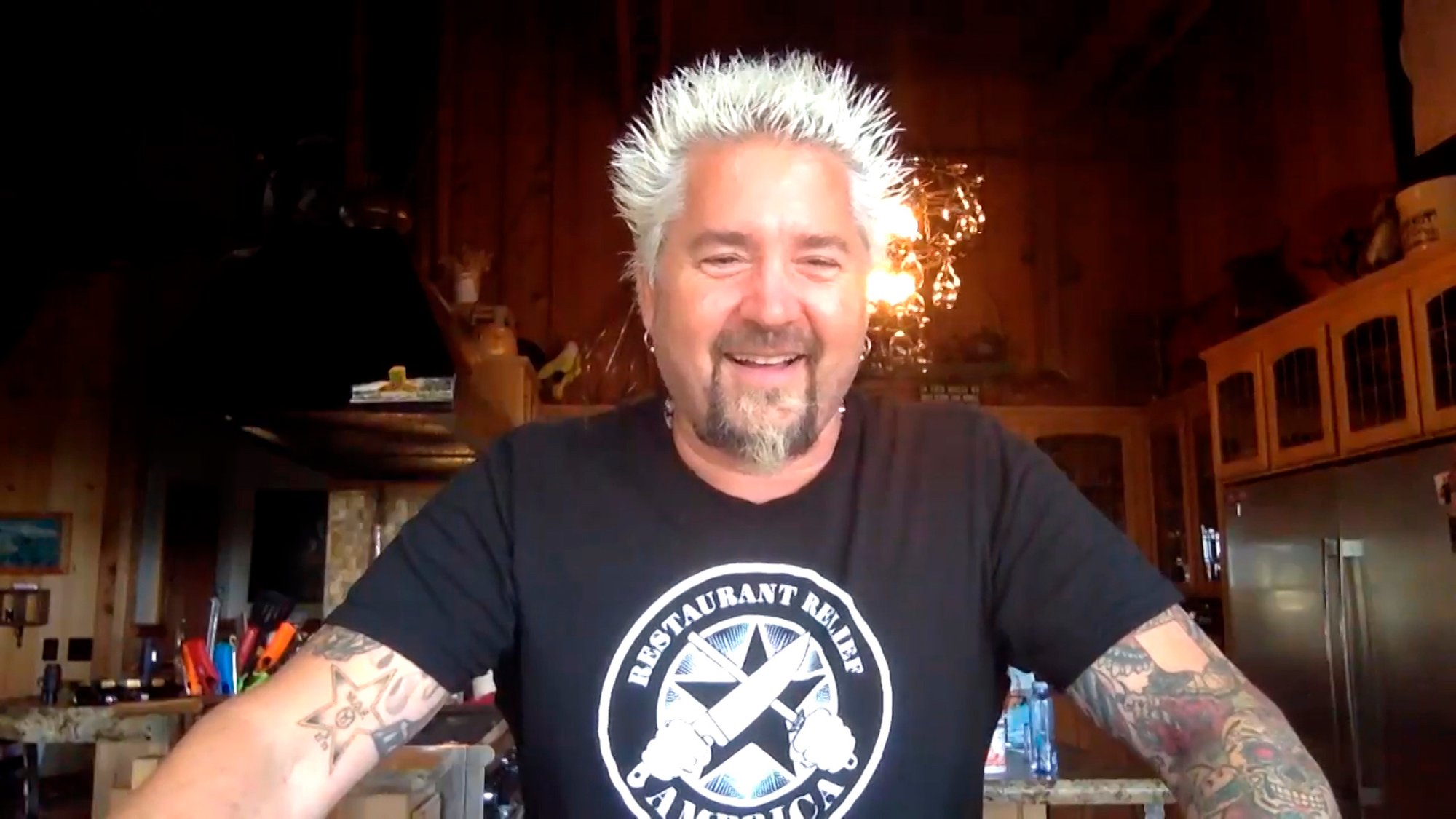 Guy Fieri was born Guy Ramsay Ferry, in Columbus, Ohio. Ferry became Fieri when he married his wife Lori in 1995, and the couple now has two children together, Hunter and Ryder.
Fieri's first venture in the food world was a pretzel cart, which he operated as a teenager. Also known as the Mayor of Flavortown, Fieri is one of the biggest and hottest names in the world of food entertainment.
He is most visible as the host of the beloved Food Network shows Diners, Drive-Ins, and Dives and Guy Grocery Games. Fieri has written several books about food and his life on the road and is a frequent guest on other Food Network programs.
Fieri is also known as a high-profile fan of the NBA team Golden State Warriors, as well as a collector of vintage cars. 
Fieri's time on 'The Next Food Network Star'
RELATED: People Love Guy Fieri, But Only in 'Moderation'
Before gaining national fame as a television personality, Fieri had success as a restaurant owner with his partner Steve Gruber.
The first restaurant Fieri opened was Johnny Garlic's in Santa Rosa, California, which was followed by several other locations across the United States. Then in 2006, Fieri was a contestant on the second season of the Food Network's reality show The Next Food Network Star.
Fieri's season was hosted and judged by Bobby Flay, Bob Tuschman, and Susie Fogelman, who show set out to find the next big thing in the world of culinary television.
Fieri was eventually declared the winner with it the prize of his own show.
Following Fieri's victory, he was given the show Guy's Big Bite on the Food Network, which helped launch the television career that has ultimately led to him being named as the face of the popular network. 
The advice Fieri's father gave him before his stardom
Fieri was born to mother Penelope and father Jim Ferry on January 22, 1968.  The two also had a daughter, Morgan, who tragically passed away from cancer in 2011.
Since then Fieri has been an active fundraiser to find a cure and has partnered with the Make A Wish Foundation in her memory.
During his time on The Next Food Network Star, Fieri spoke about the inspirational advice that his father gave him. Fieri's parents were farmers, and as Fieri described them "hippies," who operated a health food store.
According to Eater, the man later known for his love of barbecue and hamburgers was not allowed to eat the rich and fatty foods he loves. Eventually, Fieri began to cook for his family, which allowed him to select the food he wanted to eat.
Besides being forced to eat healthily, the Food Network star has commented about the lessons learned from his somewhat eccentric father including the value of hard work, and the importance of asking questions to learn. Fieri hopes to pass these lessons to his own sons, one of whom recently showed his love for his father with a unique tattoo of Fieri's Hollywood Walk of Fame Star on his bicep.