'Guy's Grocery Games': How Much Does Guy Fieri Make Per Episode?
It seems like just yesterday Guy Fieri was the new guy to the scene, bringing us hidden greasy spoons in the fan favorite show, Diners, Drive-ins, and Dives. Since the show debuted in 2006, Fieri's star has grown, making him one of the highest paid and most recognizable chefs on the Food Network.
Fieri has grown his empire to include numerous TV shows, restaurants, and products (including cookbooks, bbq sauce, and hot sauce). His show Grocery Games brings back all the things fans loved about the classic show, Supermarket Sweeps. Just how much is Fieri making from his new show?
'Grocery Games' is the latest of over a dozen shows for the chef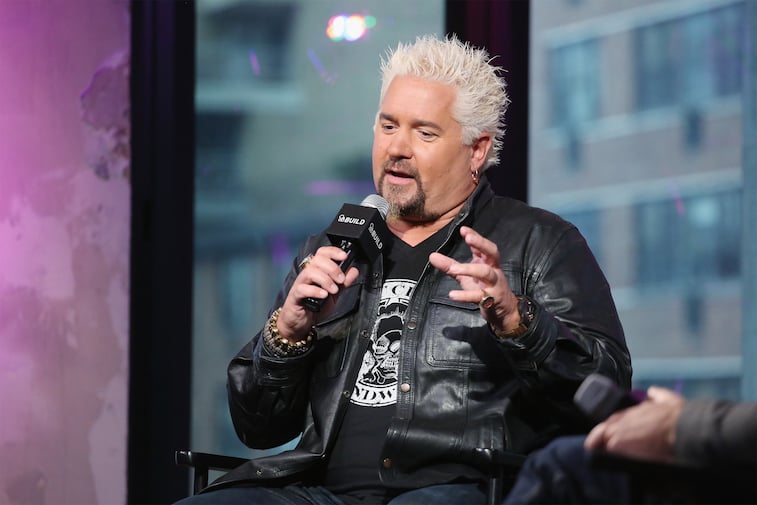 When the Food Network find a star that brings in viewers, they don't hold back. Many stars on the network, including Bobby Flay, Giada De Laurentiis, and Alton Brown have several shows on the network. Fieri is no exception.
Fieri got his start as a contestant on The Next Food Network Star. He competed against a group of home chefs vying for a chance to win their own show. In the end, Fieri walked away with the grand prize. In 2006, his first TV show, Diners, Drive-ins, and Dives premiered. It was originally slated to be a one-time special, but after producers saw the success of the show, they changed it to an ongoing series. The show is still on the air to this date and has aired nearly 400 episodes.
The platinum-tipped star followed up Diners, Drive-ins, and Dives with Guy's Big Bite which aired on the network from 2006 to 2016. During his tenure, he has had several television specials and appeared on other Food Network shows. He was also the host of the game show Minute to Win It from 2010 to 2011. His most recent show, Guy's Grocery Games premiered in 2013.
The show takes place in a real grocery store – well, kind of
Grocery Games takes place in a 15,000-square-foot warehouse in Santa Rosa, California. The warehouse is stocked like an actual grocery store and all the food in it is 100% real and 100% fresh. Crew members check the stock for freshness and quantity daily and replenish it as needed. The "store" receives regular shipments from local bakeries, butchers, and fish shops.
The show also uses a real inventory system and each UPC is entered into the database. Each item brought up to the register is rung up and a real receipt is created. In addition to food items, the store also stocks various kitchen supplies for the contestants to use in the cooking portion of the competition.
Nothing goes to waste
If you're worried that all the food from Grocery Games goes to waste when the show is done, don't be. The show makes sure that no food goes to waste. The staff checks the shelves to make sure that nothing goes past its pull date. Food is donated to local food banks before it is set to expire.
But the crew doesn't stop there. Grocery Games doesn't let anything go to waste, even the scraps from the cooking competitions. All of the leftovers that the contestants didn't use are donated to local animal farms to be used as animal feed.
How much does Guy Fieri make per episode?
The exact amount Fieri makes per episode hasn't been disclosed, but we do know that he charges approximately $100,000 per public appearance. Given this staggering figure, we'd guess that his salary is pretty high. Fieri has an estimated net worth of $8.5 million, so we'd say he's doing pretty well.