Are Gwen Stefani and Blake Shelton's Marriage Plans Causing 'Tense Moments' Between Them?
There is a rumor that Blake Shelton and Gwen Stefani are planning to get married. Find out the rumored reason why this plan is causing tense moments between them.
The Voice brought Gwen Stefani and Blake Shelton together four years ago. They just finished another season together, and are busy performing their new duet, "Nobody But You."
Fans are still wondering if Stefani and Shelton will take another step in their relationship. Find out the latest rumor about "tense moments" between them and more.
Blake Shelton said he loves the marriage rumors about him and Gwen Stefani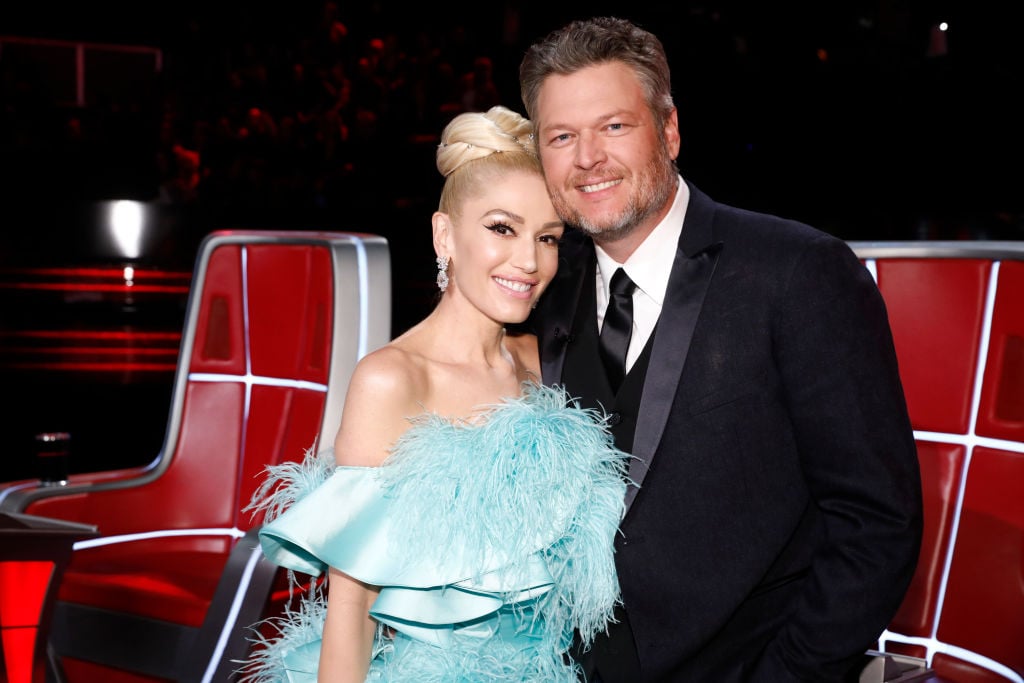 The couple grew closer while working a second season together on The Voice. Shelton revealed that he was divorcing Miranda Lambert and Stefani revealed to him that she was also going through a divorce with Gavin Rossdale.
It didn't take long for there to be rumors that they were engaged and even married. They have been dating four years now and the rumors are still around.
"I love the rumors. Those rumors are great," he told Entertainment Tonight. "Anybody that thinks I am married to Gwen already, I love it," he added.
Would he really want to get hitched to the pop singer? He somewhat revealed his thoughts about marriage. "My God, who wouldn't want to be married to Gwen Stefani?" he asked.
Stefani has also joked about the rumors with fellow coaches of The Voice, Kelly Clarkson and John Legend. "You know, Chrissy [Teigen] and I got married the week we did the 'All of Me' video, so who knows!" Legend told ET. Clarkson then said, "That's putting on some pressure there, Legend!"
Stefani had a great response to this. "Blake was saying some stuff about cubic zirconia, so we'll see," she joked. Stefani added, "I have so many rings picked out — have you seen my jewelry box?"
Shelton and Stefani seem to have fun with rumors and engagement jokes. But what are the rumors about their plans of walking down the aisle?
The couple reportedly might get married soon
Many fans have been expecting the couple to announce their engagement for years now. It has yet to happen, but the rumors still pop up.
Page Six reported in October 2019 that they planned to get married soon. "We're all expecting a wedding soon, a source said. "I don't think there will be a big engagement, but they will have an intimate wedding — I would say within the year they'll be married."
The insider went on to talk about the couple's lifestyle. "They're both very much family people, Gwen's extremely close to her family who live in California, and Blake has become part of their family," a source said.
There is a rumor their plans caused 'tense moments' between them
There is a new rumor about the celebrity couple's marriage plans. Us Weekly reports Stefani has been trying to get her previous marriage to Rossdale annulled this past year before marrying Shelton.
A source is now claiming they will get married with or without the pope's blessing. "She very much wants the marriage to be recognized by the church," claimed the source. Shelton reportedly wants to move forward with getting married and is getting restless, according to the rumor.
This difference and the process has reportedly led to "tense moments" between them. Does this mean the couple is closer to getting married? Fans will have to wait to see if they actually address their real plans for the future.