Gwen Stefani Confuses Fans With Her Photoshopped Throwback Picture With Blake Shelton
Fans love getting new pictures of Gwen Stefani and Blake Shelton together. But the newest one of The Voice coaches is confusing them. The photoshopped throwback picture is getting a mix of responses from their fans.
Gwen Stefani has joked about Blake Shelton's mullet in the past
Stefani seems to be very amused by old pictures of Shelton having a mullet. They previously joked about it coming back for the pandemic.
"I have an announcement. With basically EVERYTHING I had scheduled being canceled for the foreseeable [future] @gwenstefani and I have made a decision together. I am growing my mullet back as a symbol of hope or some sh*t like that.. Anyway it's coming back! For real. Stay tuned…," he tweeted.
Stefani went on to show a video of his growing mullet. The couple later appeared on The Tonight Show with Jimmy Fallon and she cut his hair during the interview.
"We are quarantined with a bunch of Stefanis. I'm talking 'bout a pile of them. It's me and a bunch of Stefanis," Shelton told the host. "My mom and stepdad live I don't know about 10 miles from here. I haven't seen them since the middle of March except for waving at them through the truck window and that's about it. We haven't left."
She shared a photoshopped throwback picture
Stefani posted a picture of her younger self when she was still rocking retro hairstyles. Shelton is seen next to her having a mullet. She captioned it with "#datenight @acmawards w my boo @blakeshelton gx."
Fans didn't know what to think about the post. "Wait, is this now? I'm confused," wrote one fan. "I'm so confused?? Is this a young picture of them pasted together!" asked another commenter.
Some fans caught on pretty quickly that her ex-husband, Gavin Rossdale was originally standing next to her in the picture. "Gavin is literally out the picture. Blake and you look adorable together," wrote one fan.
Stefani did post the original picture on Instagram back in 2014. But the change is so good many fans were tricked at first.
They performed 'Happy Anywhere'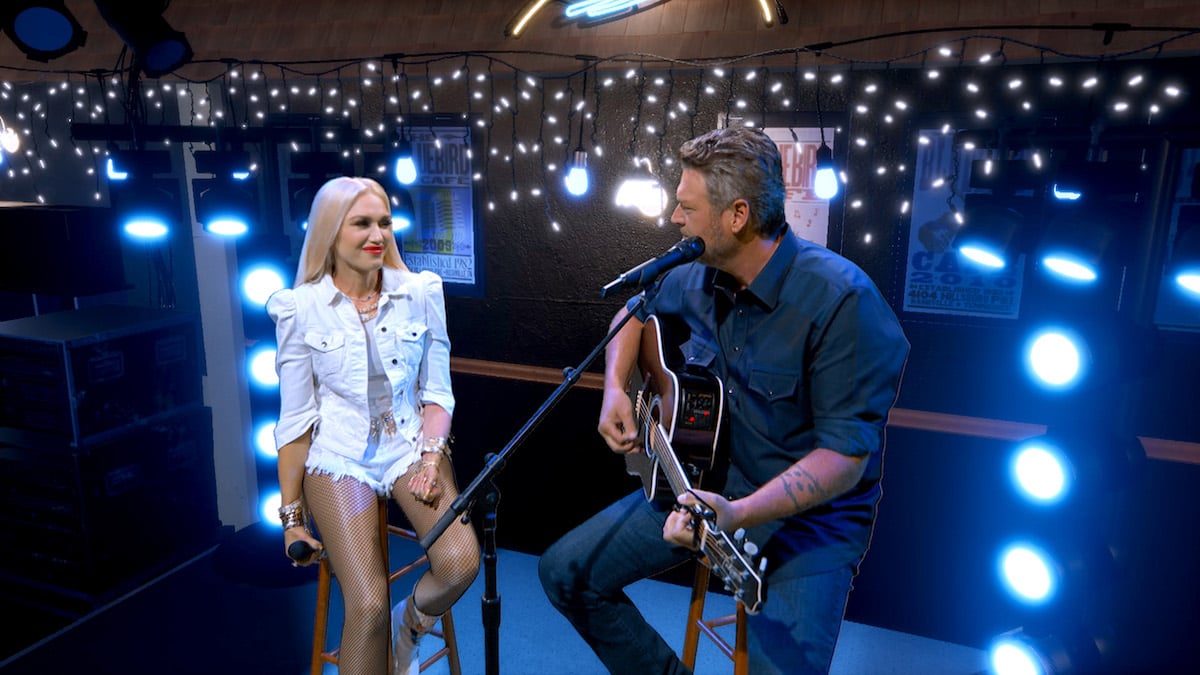 The couple performed "Happy Anywhere" together for the ACM Awards. Shelton previously said the song has perfect timing.
"Even though Gwen and I just had a single out we decided that, under the circumstances, this year… man, there's never been a better time for 'Happy Anywhere,'" he said in a press release, according to Entertainment Tonight.
"We've all been in quarantine and lockdown, and hopefully we've been doing that with somebody that we really love and enjoy being around. That's what happened with Gwen and me this summer — and this entire year," he claimed.