Gwen Stefani Finally Gives Fans an Up-Close Look at Her Massive $800k Engagement Ring From Blake Shelton
While waiting for Blake Shelton to accept his People's Choice Award, Gwen Stefani finally gave fans an up-close look at her massive engagement ring.
Gwen Stefani and Blake Shelton delighted fans last month when they finally announced their engagement after five years of dating. The couple shared the news via Instagram posts that featured a pic of the couple kissing while Stefani flashed her left hand to the camera. The pic didn't give fans the best view of the singer's diamond engagement ring. She finally offered up a closer look on November 15 while supporting Shelton at the People's Choice Awards.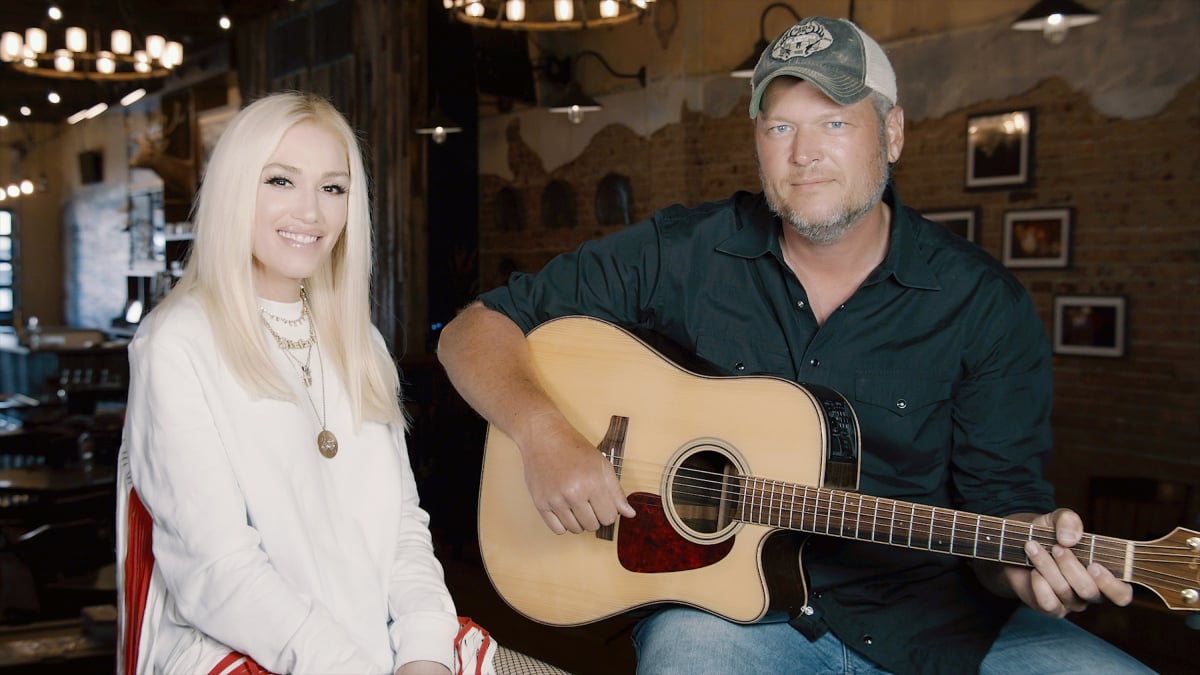 Why Gwen Stefani isn't wearing her engagement ring in new episodes of 'The Voice'
Stefani and Shelton are both currently starring in season 19 of NBC's singing competition The Voice. However, fans who were hoping to get a glimpse of Stefani's engagement ring during recent episodes have been out of luck.
As Entertainment Tonight points out, NBC shot the recent blind auditions and battle rounds before Stefani and Shelton announced their engagement. The mom-of-three isn't wearing her ring in those episodes, but she still has plenty of bling.
During the first few episodes, Stefani has worn both a mirrored Dulce Bestia bodysuit and a bejeweled, Egyptian-inspired Zuhair Murad top. She accessorized her look with personalized necklaces that read "Shelton" and "Stefani."
Stefani modeled the Zuhair Murad top with cutoff jean shorts, fishnet stockings, and thigh-high boots on Instagram. In one photo, Stefani is standing next to Shelton while wearing the outfit. In the caption she wrote, "Me and this guy ♥️."
Fans are hoping that when the live episodes premiere after the Knockout Rand, Stefani will be rocking her new diamond sparkler.
Fans got a closeup of the engagement ring at the People's Choice Awards
When Stefani announced her engagement to Shelton in October, she kept the caption brief and to the point.
"@blakeshelton yes please! 💍🙏🏻 gx," Stefani wrote.
Sharing the same photo of the couple kissing while Stefani flashes her left hand to the camera, Shelton wrote in his caption that Stefani saved his life.
"Hey @gwenstefani thanks for saving my 2020… And the rest of my life.. I love you. I heard a YES!" Shelton said.
A few weeks later, Stefani finally gave fans a closer look at her ring. On November 15, Stefani posted a selfie video on her Instagram Stories that featured her in a car on the way to the People's Choice Awards. The 51-year-old was wearing a mask while she explained that Shelton was going inside because he was a nominee. Stefani stayed behind, but was there for moral support.
"So basically I have to stay in the car because of COVID but I'm here to support Blake in case he wins," she said while showing off the large square diamond.
Blake Shelton had Gwen Stefani's engagement ring custom-designed
Page Six reports that Shelton spared no expense when it came to Stefani's engagement ring. Shelton reportedly proposed to Stefani while the couple was at his Oklahoma ranch sometime during the quarantine. The country music superstar also had the ring custom-designed.
"Gwen's ring appears to feature a classic, six-prong setting with a six to nine-carat solitaire diamond set on a white gold or platinum band," Brilliant Earth's SVP of merchandising and retail expansion, Kathryn Money, explained. "Depending on the quality and specific characteristics of center stone, we estimate the cost of the ring to be around $500,000+."
According to Blue Nile CMO Katie Zimmerman, the ring might be worth even more. She explained that Stefani's ring appears to be a round or oval cut diamond "set in a solitaire or simple pavé platinum setting."
Because the center stone almost reaches Stefani's middle knuckle, Zimmerman estimated the weight of Stefani's ring to be between eight and ten carats. Depending on the color and clarity of the diamonds, she estimates the ring's worth to be between $700,000 and $800,000.
New episodes of The Voice air Monday and Tuesday nights on NBC.