Gwen Stefani Gives Blake Shelton a 'Tiger King' Haircut With Jimmy Fallon's Initials
Jimmy Fallon is continuing his talk show by talking to guests over the computer. His latest interview was with Blake Shelton who decided to get his mullet trimmed during the interview.
Gwen Stefani did the trimming. Find out how she gave him a Tiger King haircut complete with Fallon's initials.
Gwen Stefani and Blake Shelton are isolating together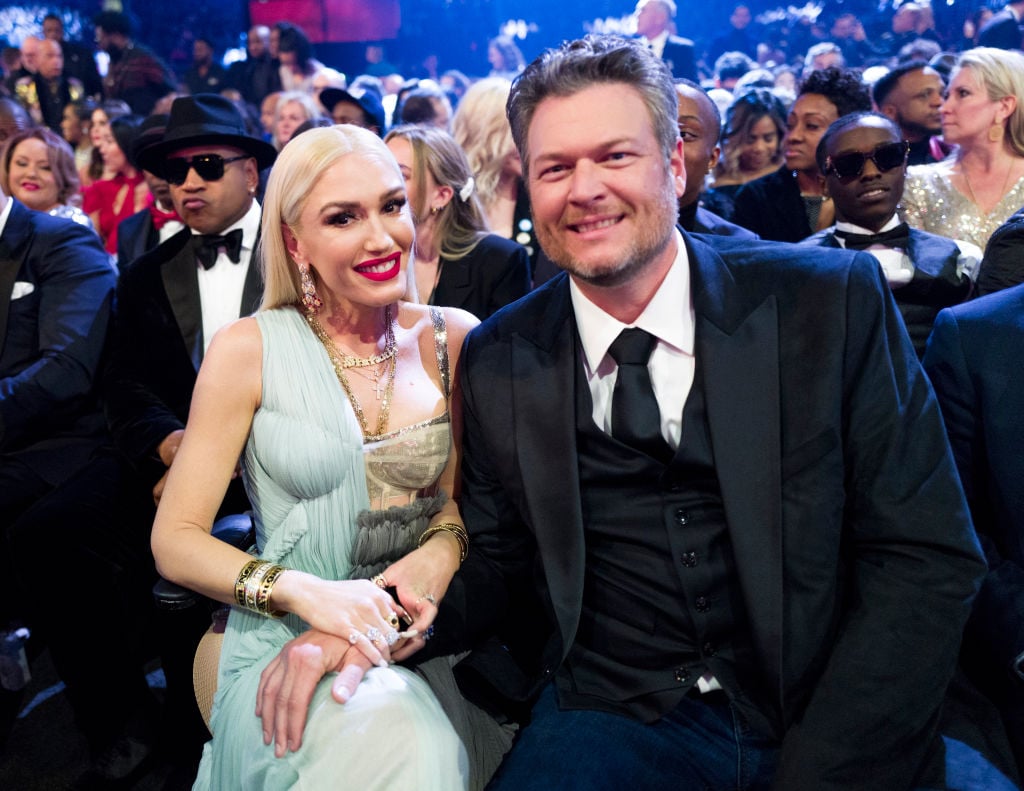 Stefani and Shelton are staying together in Oklahoma after the rest of their tours were postponed due to the coronavirus outbreak. Shelton found an interesting way to pass the time at home.
He tweeted on March 17, "I have an announcement. With basically EVERYTHING I had scheduled being canceled for the foreseeable [future] @gwenstefani and I have made a decision together. I am growing my mullet back as a symbol of hope or some sh*t like that.. Anyway it's coming back! For real. Stay tuned…"
He then posted an update with a video of Stefani touching the beginning of his mullet. The sides of his head are cut with stripes. Shelton captioned it with, "Quarantine mullet update 3/26/2020… @gwenstefani has decided to take it to the next level.. Stripes."
She gave him a 'Tiger King' haircut
Shelton appeared on The Tonight Show with Jimmy Fallon on April 13. Shelton and Fallon talked to each other from their homes.
"We are quarantined with a bunch of Stefanis. I'm talking 'bout a pile of them. It's me and a bunch of Stefanis," said the country singer. "My mom and stepdad live I don't know about 10 miles from here. I haven't seen them since the middle of March except for waving at them through the truck window and that's about it. We haven't left."
Shelton claimed he already had it scheduled that Stefani would do his hair. "I'm gonna' be helping Blake grow out his mullet. So you know today we had already scheduled that it's haircut day," Stefani explained while holding clippers.
She began cutting the sides of his head as Fallon continued the interview. Shelton asked her to put "J" and "F" on the sides of his head for Jimmy Fallon and she did.
"I'm literally putting your initials in my head right now, Jimmy. I'm not kidding," he said. "She just said they're not showing up very well because of the grey." Fallon then told him, "You are so Tiger King right now you have no idea."
This is in reference to the Netflix show Tiger King: Murder, Mayhem, and Madness. It's focused on Joseph Maldonado-Passage, also known as "Joe Exotic" and his feud with a woman named Carole Baskin. Maldonado-Passage's hairstyle is somewhat similar to Shelton's currently mullet.
Shelton did mention the rest of the season of The Voice will probably be affected by the pandemic once it's time for the live shows. "It's going to be crazy," he said. "We're going to coach like this [meaning over the computer.] It's just going to have to work out this way. It's going to be nuts."