Gwen Stefani Had to Take Extraordinary Steps to Wed Blake Shelton Her Way
Gwen Stefani and Blake Shelton are officially husband and wife. After two heartbreaking divorces and six years of dating, The Voice coaches tied the knot on Shelton's Oklahoma ranch over the 4th of July weekend. But Stefani had to take extraordinary steps to wed Shelton her way.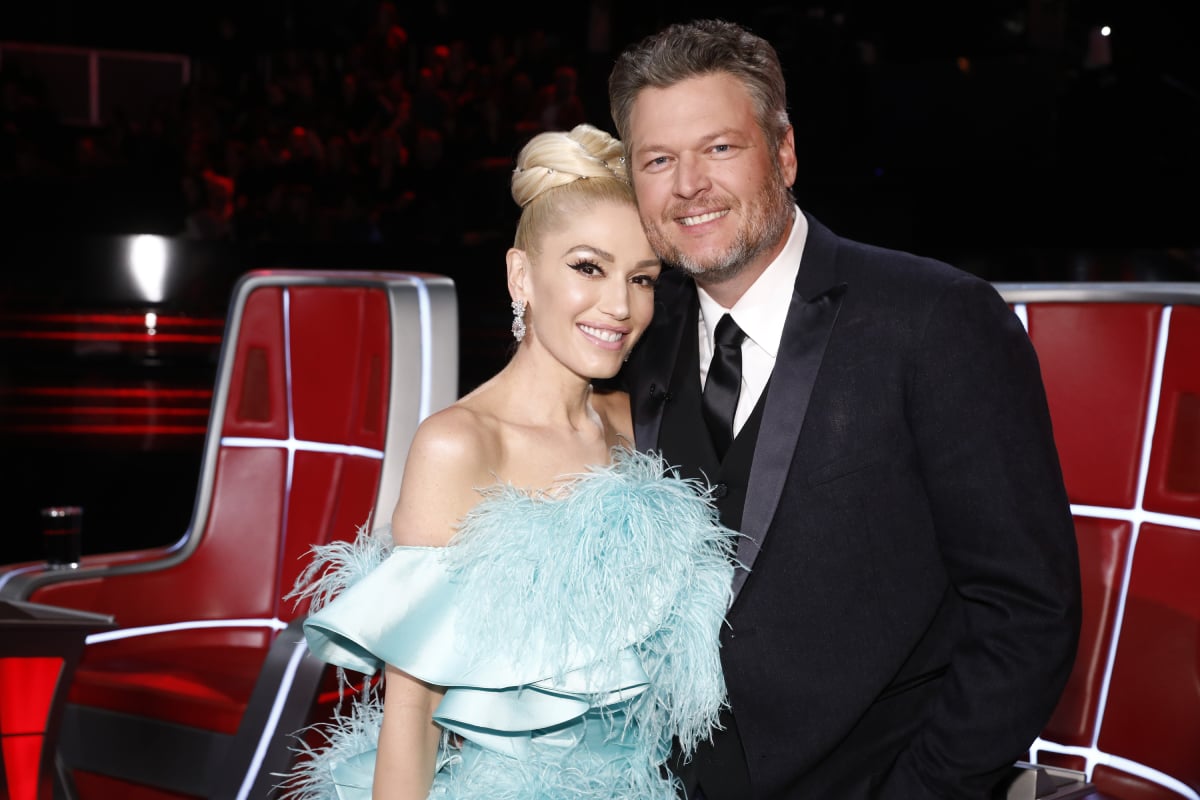 Gwen Stefani did not know Blake Shelton existed until they met on 'The Voice'
Stefani and Shelton first met back in 2014 during the Let Me Reintroduce Myself singer's first appearance as a coach on The Voice. Even though Shelton had been on the show since season 1 — and the fact that he was one of the biggest stars in country music — Stefani says she had no idea who he was.
"I can't imagine before, I didn't even know he existed, like before the show," Stefani told Andy Cohen in a 2019 interview. "I didn't even know he was a human being on this planet, and I didn't know much about country…. He is literally a country jukebox. He knows every single song forever, he's incredible like that. But I just love that we're so from different genres."
The country crooner says the No Doubt singer saved his life
When they met, both Stefani and Shelton were married to other people. Stefani was the wife of Bush frontman Gavin Rossdale, who she started dating in 1995. And Shelton was married to Grammy winner Miranda Lambert, who he'd been in a relationship with for nearly a decade at the time.
But in early 2015, both of their marriages fell apart simultaneously. By the summer of that year, they had both filed for divorce from their respective spouses.
"Gwen saved my life. Who else on earth could understand going through a high-profile divorce from another musician? You can't even imagine the similarities in our divorces," Shelton told Billboard in 2016.
Gwen Stefani had to take extraordinary steps to become Blake Shelton's wife
Stefani filed for divorce from Rossdale when she discovered his three-year affair with their nanny, Mindy Mann. After months of "torture" trying to figure out what was going on with her husband and nanny, the Hollaback Girl says she started praying because that's how she was raised.
RELATED: Blake Shelton Reportedly Included Gwen Stefani's Boys In His Proposal Plans 'Every Step of the Way'
Stefani's parents — Dennis and Patty — raised her as a Catholic, a religion that has strict rules in regards to marriage, children, and divorce. Since Stefani married Rossdale in a Catholic Church and they had three children together, Stefani had to have her union with Rossdale annulled by the church.
The process began in March 2019
In order for the Catholic Church to recognize her marriage to Shelton, Stefani had to get approval from the Vatican for the annulment of her first union. As Showbiz Cheat Sheet previously reported, Stefani began the annulment process in March 2019. She finally got approval from the church in early 2021.
The three sons that Stefani and Rossdale share — Kingston, 15, Zuma, 13, and Apollo, 7 — are still considered "legitimate" in the eyes of the church under Canon 1137 in the Code of Canon Law.
Blake Shelton built Gwen Stefani a wedding chapel
Stefani's marriage to Shelton is recognized by the church since she received her annulment from Rossdale. However, the couple didn't get married in a cathedral or at their parish church. Instead, Shelton built Stefani a wedding chapel on his Oklahoma property.
The intimate ceremony took place in front of 40 guests and was officiated by the host of The Voice, Carson Daly.
RELATED: Inside Blake Shelton's Ranch Where He Is Quarantining With Gwen Stefani and Her Boys
In Stefani's Instagram post about her wedding, she shared the first photos that featured Shelton in a suit and white bow tie and the Sweet Escape singer in her Vera Wang gown. Stefani accessorized her wedding look with gold bangles on her wrist, white boots, and her signature bold red lipstick.