Gwen Stefani Is a Huge Fan of Drugstore Makeup
If there's one thing we can be sure about celebrities, it's that they don't have to worry about being frugal with their money. That's the point of being famous, right?
You get to buy the brand names instead of the cheaper off-brands. But for musician Gwen Stefani, sometimes the off-brands are better than the designer brands. Stefani is a big advocate for drugstore makeup, preferring to buy the same things as the rest of us over the higher-end makeup brands she could be spending her big bucks on.
Gwen Stefani has had a long music career
Stefani started her music career at age 17 when her older brother invited her to sing vocals in his new band No Doubt. Influenced by ska and punk music, No Doubt was peak 90s — grungy, stick-it-to-the-man, and different from the average pop songs on the radio. Stefani's brother left the band after recording their third album Tragic Kingdom, which ended up being their breakthrough with hits like "Don't Speak" and "Just a Girl."
No Doubt continued to climb into mainstream success throughout the 90s and early 2000s. Stefani made her solo debut in 2004 with her album Love. Angel. Music. Baby. The album was a huge success and Stefani's solo career took off running. Since then, she has released three more studio albums and has collaborated on a ton of singles with other artists. She held a Las Vegas concert residency for two years starting in 2018 and will be joining the coaching staff of NBC's The Voice for the second time next season. 
Being a superstar doesn't stop Gwen Stefani from bargain shopping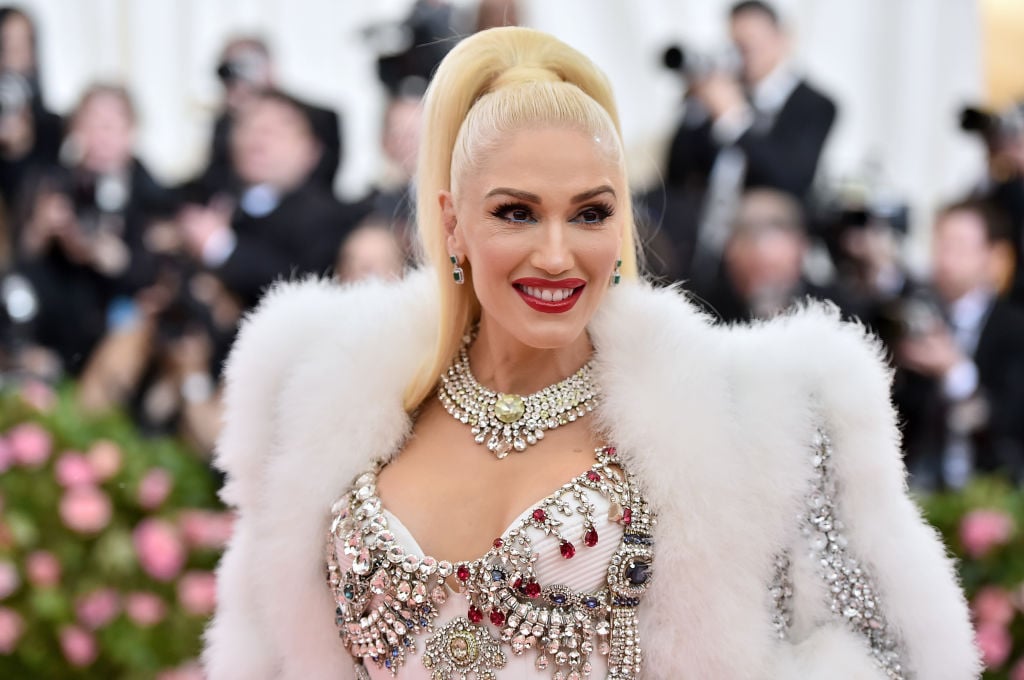 The 50-year-old musician may have everything she needs to shop designer labels, but that doesn't mean that she has to! It turns out that, like the rest of us, Stefani prefers to stock her makeup bag with drugstore makeup. And for someone known for her vibrant looks, that's saying a lot. 
Stefani has said in the past: "I've always been into grocery store makeup. From a little girl going to Sav-on's. I would find myself down the aisles, fantasizing about makeup." She even worked at a department store makeup counter as a teenager, coaxing people into letting her do their makeup for them. 
Stefani believes so much in inexpensive makeup that she became a global brand ambassador for Revlon in 2017. With a self-proclaimed "obsession" for makeup throughout her entire life, Stefani has been an advocate for Revlon's Choose Love campaign, which focusing on positivity and sharing your gifts with the world — which is exactly what Stefani has done throughout her whole career, as well as through her love of makeup.
"They're all the same products as high-end brands and they work just as well as the expensive versions," she has said about inexpensive brands like Revlon.
Gwen Stefani's makeup is always on point
Known primarily for rocking a bright red lip color, Stefani's makeup has always been a part of her brand. From her early days in No Doubt to her current days singing romantic duets with her country singing partner Blake Shelton, Stefani's bright red lip color has grown up right alongside her. 
And while you may be surprised to hear that she wears grocery store makeup, another surprise might be the fact that Stefani does her own makeup before each show she performs. A nod to her makeup artist days, Stefani says that it's part of her pre-show ritual to do her own makeup.
"I don't know what it is, but something about that whole kind of war paint, you know, putting it on, building the confidence. Once I get the makeup on, it's showtime."