Gwen Stefani's Ageless Skin Hack Is Something All Fans Can Do
The pop music icon, Gwen Stefani, may have just reached the age of 50, but you certainly wouldn't know it by looking at her. Whether it can be attributed to good genes, a life well-lived, or a combination, the 50-year-old mother of three could certainly still pass for a twenty-something.
While Stefani is blessed to look years younger than she actually is, she can't easily hide her age after spending years in the limelight. Read on to learn more about Stefani's extraordinary music career and her top tips on remaining ageless.  
There was "no doubt" that Stefani was on the path to fame 
Stefani was born in Fullerton, California, on October 3, 1969. She was the second of four children born to Dennis and Patti Stefani.
Stefani grew up in nearby Anaheim and, at the age of 16, became the lead singer in the alternative rock band, No Doubt. While the band formed in 1986, they wouldn't get their first big break until nearly a decade later after releasing their Tragic Kingdom LP in October 1995. The album sold 6 million copies and reached No. 1 in December 1996. 
Stefani and No Doubtwould go on to have massive success following the release of Tragic Kingdom in 1995. The band released three more albums, including Return of Saturn in 2000, Rock Steady in 2001, and Push and Shove in 2012. These albums produced Grammy-winning songs like "Hey Baby" and "Underneath It All." In 2004, Gwen embarked on creating her first solo album and found incredible success with this endeavor as well. 
Balancing family, relationships, and a thriving music career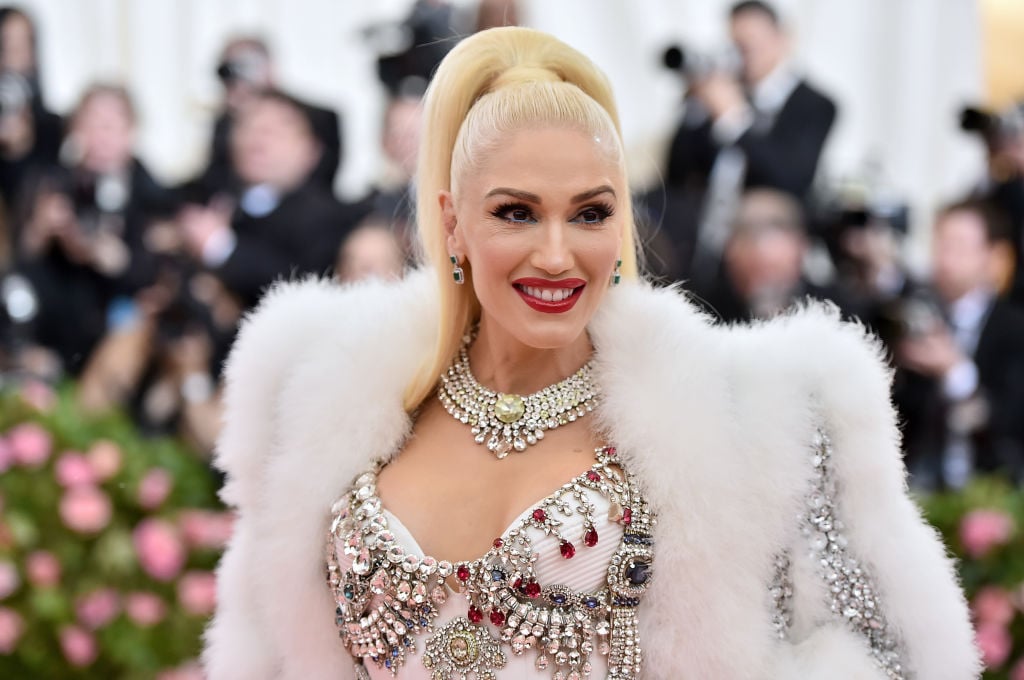 One of Stefani's first big solo songs was the classic, "Hollaback Girl" single that quickly rose to the top of the charts in 2005 and became the first digital download to sell more than one million copies. The year 2005 was huge for Stefani, on both the personal and professional levels. During this year, Stefani not only reached the top of the charts for the first time in her solo career, but she fell pregnant as well. 
Stefani and Gavin Rossdale, the lead singer of the rock band Bush, had tied the knot in 2002. The couple welcomed their first child together, Kingston Rossdale, in May 2006. Stefani now took on the role of motherhood and had to find a new balance between her family, relationship, and thriving music career. Stefani somehow found a way to manage her load gracefully and even added two more sons to her brood — Apollo and Zuma — before splitting from Rossdale in 2016. 
Gwen's top tips for looking youthful as you age 
A lot has changed for Stefani since joining No Doubt in 1986, from selling number one singles, getting married, having children, getting divorced, and finding new love. However, one thing that has stayed relatively consistent throughout Stefani's successful music career is her looks.
Stefani doesn't seem to age and looks as youthful as ever in recent pictures with her new country music singer boyfriend, Blake Shelton. If you've been wondering how to stay as ageless as Stefani, don't worry. She's happy to let everyone in all of her tips and tricks.
Stefani's number one piece of advice when it comes to remaining youthful is to stay out of the sun. Stefani knows too much sun exposure can cause some serious damage to the skin that you only come to realize the older you get.
Along with staying out of the sun, Stefani's top tips for a youthful appearance include taking makeup off every night, getting enough sleep, working out at least four times per week, and eating a mostly plant-based diet. While not everyone can be 50-years-old and still look like they're in their 20s, following some of Stefani's skincare tips might give you the youthful look you desire.