Why 'The Voice' Fans Are Torn over Gwen Stefani and Blake Shelton's New Couple Name
Gwen Stefani and Blake Shelton are back to working together on The Voice. They sometimes give a peek into their love life while they're giving advice to contestants or giving feedback.
Sometimes that means they reveal their differences. Other times it means they reveal their cute pet names for each other. Find out the new couple name they have for their relationship and why fans are torn over it.
Gwen Stefani called Blake Shelton 'babe' in her recent speech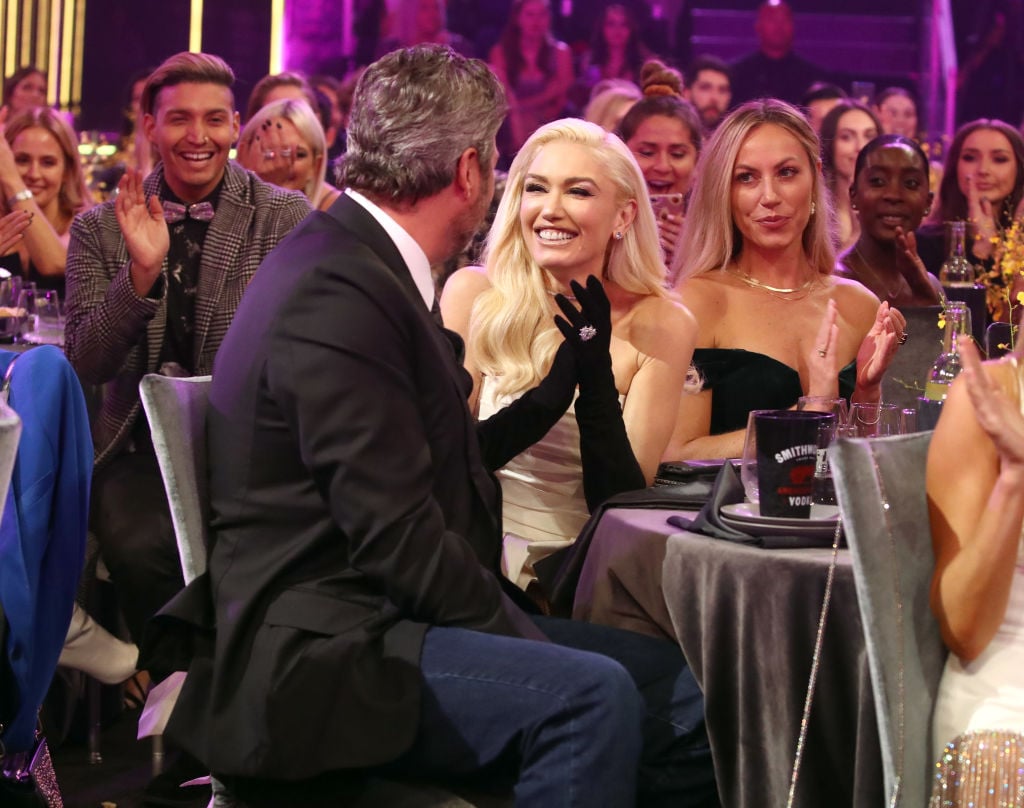 The singer was given the Fashion Icon award at the People's Choice Awards. Stefani gave a speech, which somewhat started and ended with her mentioning her boyfriend.
"Blake Shelton, look! Icon wow, this is hard to digest," she said according to Music News. "I always, always loved fashion. It was one of those very instinctual things, I think probably because of my mom … My mom would come home from school and my grandmother would have her made her prom dress. It was always there, so the fact that this is happening right now is hard to imagine because it's just what I do. I love fashion!"
She then ended with calling the country singer a pet name. Stefani said, "You inspire me all the time I love you, Blake Shelton. You're a babe."
Shelton also mentioned her that night when he accepted the award for Country Artist of 2019. "I love the sh*t out of you," he said to Stefani on stage.
He also joked, "I'm really glad I won this because I was the only person at my table who hasn't won anything tonight and it was starting to get a little bit embarrassing."
She said her new name for them is 'Gwake'
There is a video of Stefani in a car in the same outfit she wore for the Live Top 20 Eliminations. She made an announcement to her fans.
She said, "Alright so just so you know I got a new nickname for me and Blake. It's called 'Gwake' and I'm really excited about it! It's like Gwen and Blake together but Gwake. I didn't make that up. He made that up."
This isn't the first time the couple has used cute names to refer to each other. Stefani calls Shelton "Blakey" on the show.
Fans are torn over their new name
Some fans are loving and using the new name. "Oh and btw love the name gwake or even better qwakey," one person tweeted.
Another fan tweeted that fans were already using a different name for them with, "although we literally have shefani for them already her being so excited over gwake is so cute."
Contestant Joana Martinez also tweeted about their couple name. "So I just heard this new term from @gwenstefani… "Gwake". I'd say I'm the first ever person to be team #gwake," she tweeted. One fan replied, "Jesus Christ tell her it has been SHEFANI for 4 years already no gwake in this house." Martinez tweeted back, "haha I swear I'm not making this up I heard it from @gwenstefani's Instagram story."
Stefani and Shelton now have a couple name they use. Only time will tell if fans will use it too or stick to Shefani.