Gwen Stefani Shows off Her Engagement Ring While Kissing Blake Shelton
Blake Shelton and Gwen Stefani are engaged. The couple shares an engagement picture and messages to each other.
It's been five years since Gwen Stefani and Blake Shelton started dating. This is after they started working together on The Voice. For years, fans have been wondering if or when they'll get engaged. Stefani happily revealed Shelton popped the question with a cute picture.
Gwen Stefani said she talked to Blake Shelton about rings
Stefani and Shelton have released multiple duets together. John Legend put fuel on the fire when it came to rumors they were getting engaged.
"You know, Chrissy [Teigen] and I got married the week we did the 'All of Me' video, so who knows!" Legend told ET. "That's putting on some pressure there, Legend!" Kelly Clarkson said.
Stefani was able to joke about it. "Blake was saying some stuff about cubic zirconia, so we'll see," she joked. "I have so many rings picked out — have you seen my jewelry box?"
Shelton also talked what kind of wedding ceremony he'd want. "I would want it to be a short ceremony, and if Kelly was doing it, she would ramble on for hours," he said.
Some people still mistaken them as a married couple. Dua Lipa recently called Shelton Stefani's husband on Jimmy Kimmel Live. Stefani corrected her but said it sounded "cool" when she said it.
She addressed a rumor she called off their wedding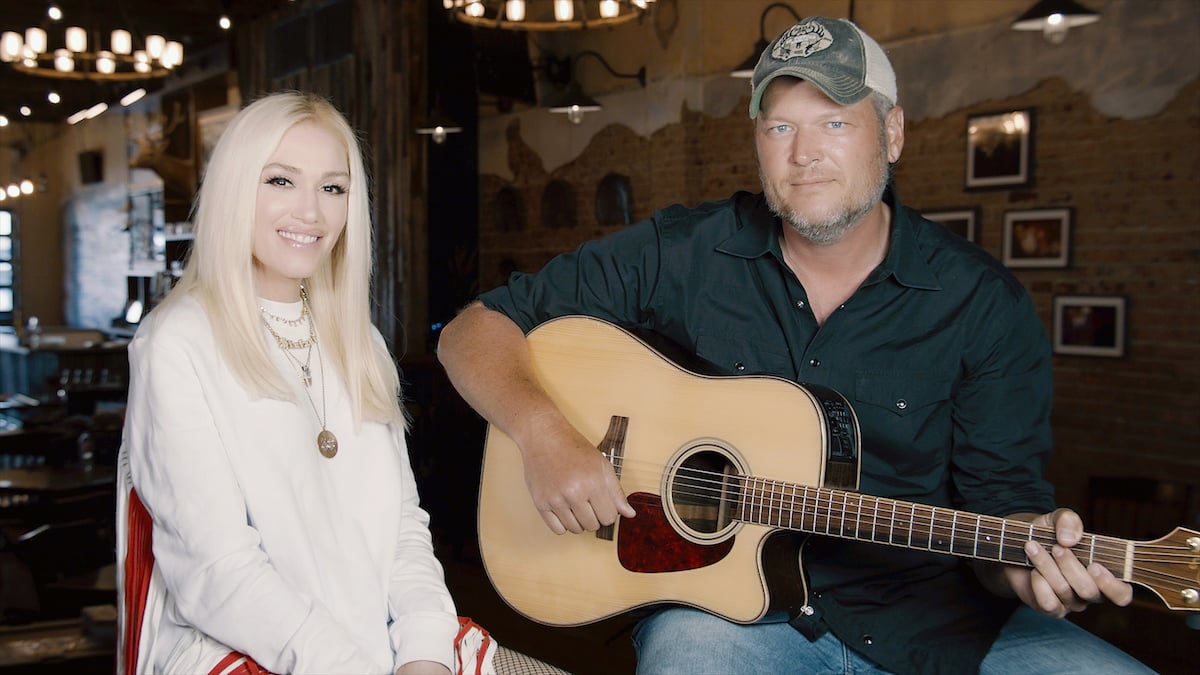 There have been many rumors about the couple throughout the years. Some of them claimed they were engaged, or already married. They have joked about it in the past.
Stefani recently appeared on Today and talked to Hoda Kotb. "What's happening with the wedding?" Kotb asked her. "The good news is that we still like each other a lot. So that's good. I don't know. We'll see what happens you know what I'm saying," Stefani answered.
Carson Daly was also there for the interview. He said he often sees rumors about them on magazines in the grocery store. "Gosh, the stuff they write about you guys is unbelievable," Daly said.
The couple seems to be happy. They're back to filming The Voice, and they made an exciting announcement.
She showed off her ring
The two shared their happiness with their fans on Oct. 27. Stefani tweeted a picture of them kissing with her hand up showing an engagement ring. She wrote, ". @blakeshelton yes please! gx"
Shelton's account shared the same picture and tweeted, "Hey @gwenstefani thanks for saving my 2020… And the rest of my life.. I love you. I heard a YES!" Stefani replied with "@blakeshelton i [sic] love u [sic] more! gx."
People reports multiple sources claimed they got engaged in Oklahoma recently. Hopefully the couple will reveal soon how the country singer popped the question.