Gwen Stefani's Youngest Son Apollo Has an Incredible Bond With Blake Shelton
As far as stepdads go, Blake Shelton ranks among the best. Ever since he started dating Gwen Stefani in 2015, Shelton has developed a strong bond with all three of her boys. Yet he shares a pretty incredible connection with Stefani's youngest boy, Apollo, who will never know a life without the country crooner. Here's a look at Shelton's special bond with Apollo and how he views his role as a stepfather.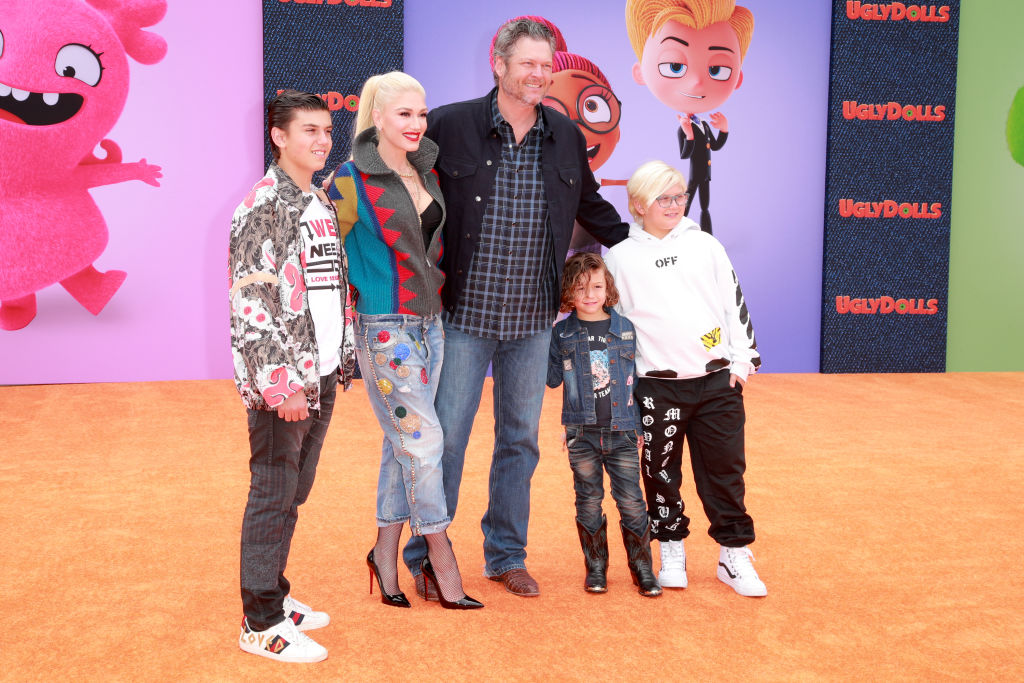 Blake Shelton embraces his fatherly duties
Shelton and Stefani started dating in the fall of 2015 while working on the set of The Voice. Their romance quickly made headlines and the two have been going strong ever since.
There have been many rumors about a potential engagement, but nothing official has been announced on that front. While fans wait for some wedding news, Shelton has been a great father figure for Gwen Stefani's three boys: Kingston (13), Zuma (11), and Apollo (6).
"The boys have really grown immensely by spending time with Blake," a source explained to People magazine.
Shelton often flies Stefani and her three children to his expansive ranch in Oklahoma. The insider claims that the boys have learned to become very adventurous during their time in the great outdoors and love it at his ranch.
For his part, Shelton seems to enjoy spending time with Gwen Stefani's kiddos, whom she shares with her ex-husband, Gavin Rossdale. Although Shelton has been married a few times, he does not have any children of his own.
Gwen Stefani gushes about Shelton's parenting skills
Stefani has not been shy about how well Shelton gets along with her three boys. This past fall, for instance, the No Doubt frontwoman revealed that Shelton is always around to lend a helping hand and that she has grown accustomed to relying on him.
"He's been helping me out a lot," Stefani told the Today Show. "I literally get to the point where I'm like, 'You gotta get home, I need help.'"
The interview came while Blake Shelton and Gwen Stefani were promoting their latest duet, "Nobody But You." The pair have also teamed up for songs in the past, including "You Make It Feel Like Christmas" and "Go Ahead and Break My Heart."
Shelton and Stefani, of course, started dating when they were both coming off respective divorces. While Stefani had just ended things with Rossdale, Shelton had parted ways with Miranda Lambert.
Shelton and Lambert were married for four years before they got divorced, while Stefani and Rossdale were together for well over a decade before their marriage ended.
Stefani shares adorable pic with Shelton and Apollo
In addition to Stefani's interview, the pop star has never been shy about sharing photos of Shelton with her boys on social media.
For Apollo's sixth birthday, for example, Gwen Stefani posted an adorable image of her, Apollo, and Shelton posing with his birthday cake. Shelton is featured sitting next to Apollo and it evident that the two are close.
"6 years ago GOD blessed us w this little angel boy," Stefani captioned the post.
One thing to note about the caption is how Stefani used the word "us" when talking about being blessed with Apollo. This is a pretty big step for Stefani and Shelton and goes to show that he really does share an incredible bond with the little guy.
Considering how Apollo is only six years old and has known Shelton for the past four years, he likely won't remember a life without his stepfather in the picture.
Blake Shelton and Gwen Stefani appear at Kingston's soccer game
With Shelton clearly becoming close with Stefani's children, fans are eager to know how Gavin Rossdale feels about the situation. For the most part, sources claim that Shelton is very respectful of Rossdale and understands that he is coming into the situation as a stepfather.
Although Shelton is not trying to replace their real dad, he gets just as excited for them and is a huge support whenever he gets the chance.
A few weeks ago, Shelton joined Gwen Stefani, her parents and her two boys, Zuma and Apollo, as they watched Kingston compete in a soccer match. To make things a little awkward, Rossdale was also present for the game, and the two sides did not interact at all.
Eyewitnesses claim that Shelton and Stefani were in high spirits as they arrived for the game and openly cheered for Kingston in the stands. Shelton held Zuma's hand as the family walked to the event, and Apollo was spotted sitting on Shelton's lap during the game.
For his part, Rossdale steered clear of Blake Shelton and Gwen Stefani and was seated much closer to the field.