Are Gwyneth Paltrow And Dakota Johnson Friends?
Actors Dakota Johnson and Gwyneth Paltrow have both been with musician Chris Martin. But are they friends themselves? Here's what we know.
Celebrities who stay friends after breaking up are something of a fascination of ours. It's always nice to see former couples like Jennifer Aniston and Justin Theroux hanging out after their divorce, or Kendall Jenner and Harry Styles laughing together on The Late Late Show. But among the most famous celebrity breakups was that of Gwyneth Paltrow and Chris Martin, the latter of whom is now dating actress Dakota Johnson. Are the two women in question friendly? Read on to learn more.
Gwyneth Paltrow was married to Chris Martin for many years
After high-profile relationships with actors Brad Pitt and Ben Affleck, Paltrow began dating Martin, the lead singer of alt-rock band Coldplay. Their relationship moved fairly quickly — they began dating in 2002, were married in 2003, and their first child, Apple, was born in 2004.
Paltrow and Martin have another kid together, Moses, born in 2006. However, their relationship didn't last. In 2014, they made headlines when they announced their "conscious uncoupling" to the media. Martin and Paltrow's divorce proceedings began in 2015 and were finalized in 2016.
Both have moved on
It's pretty clear that Paltrow and Martin have made every effort to have a solid co-parenting relationship. This allowed both of them to move on with ease. Shortly after things ended with Martin, Paltrow began dating producer Brad Falchuk. The two were engaged in 2018 and married in 2019.
As for Martin, he also began dating once again. He was briefly linked in actress Jennifer Lawrence, but this didn't last long. In 2017, he was first seen with Johnson. They reportedly broke up at one point in 2019, but are definitely back together now.
Johnson and Paltrow have a lot in common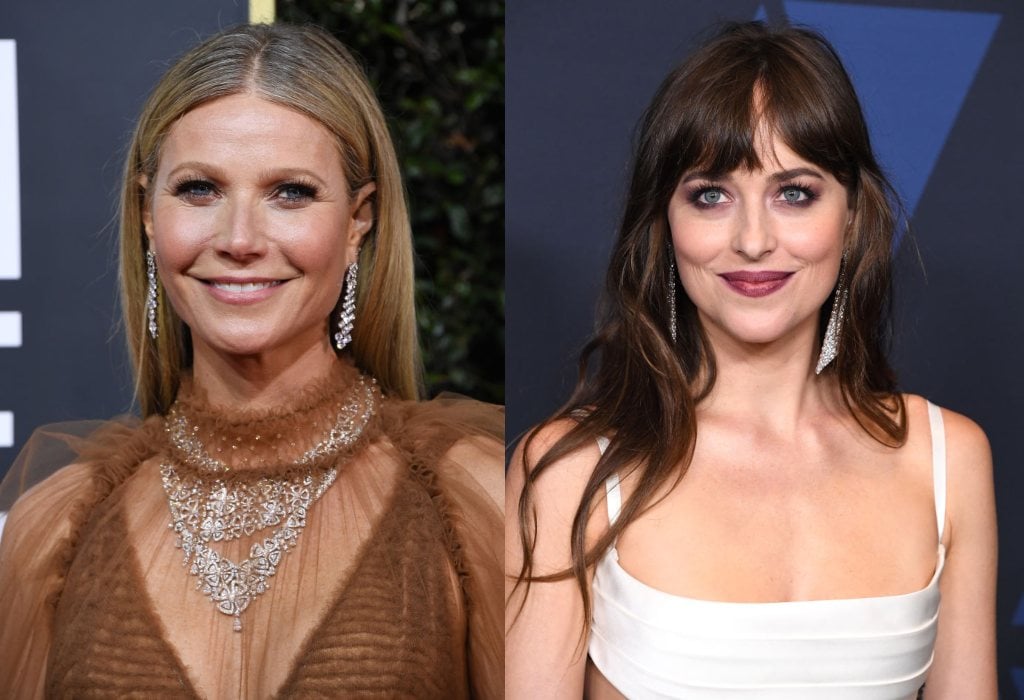 Despite the age gap, Paltrow and Johnson have one major similarity: Both are Hollywood legacies. Paltrow is the daughter of Emmy and Tony-winning actress Blythe Danner and her husband, producer and director Bruce Paltrow. Meanwhile, Johnson's parents are actors Don Johnson and Melanie Griffith.
Given that Johnson and Paltrow both grew up in Los Angeles with famous parents, it would make sense that their paths might cross occasionally. However, the only photo of them together on Getty Images is from a 2014 health book launch party. Regardless, they certainly may have been acquainted in other ways.
Here's what Paltrow says about Johnson
Paltrow has had only kind things to say about Johnson. In fact, as you can see, she posted a special "Happy Birthday" to the star this past year, calling her an "absolute gem." There have even been reports that Paltrow was the one who encouraged Martin and Johnson to get back together in 2019.
This sentiment was echoed in a new Harper's Bazaar interview with Paltrow. "I love her," said the Goop founder of Johnson. "I can see how it would seem weird because it's sort of unconventional. But I think, in this case, just having passed through it iteratively, I just adore her." We can only assume that the feeling is mutual on Johnson's part.