Gwyneth Paltrow's Problematic Instagram Post Stokes Fans' Concerns About Her Brand
There was a time when Gwyneth Paltrow's name was in the headlines because of her successful acting career. There have also been times when she's garnered a lot of attention for her famous love life, having once been engaged to Brad Pitt and married for a decade to Coldplay frontman Chris Martin.
These days, though, if someone is taking about Paltrow, there's a good chance the topic of conversation is her "lifestyle" brand, Goop. There's an even better chance that they're mocking it or calling it irresponsible and dangerous.
Now even more of the world has heard about Goop and Paltrow's pseudoscientific advice because of her Netflix documentary The Goop Lab.
How did Gwyneth Paltrow get into Goop?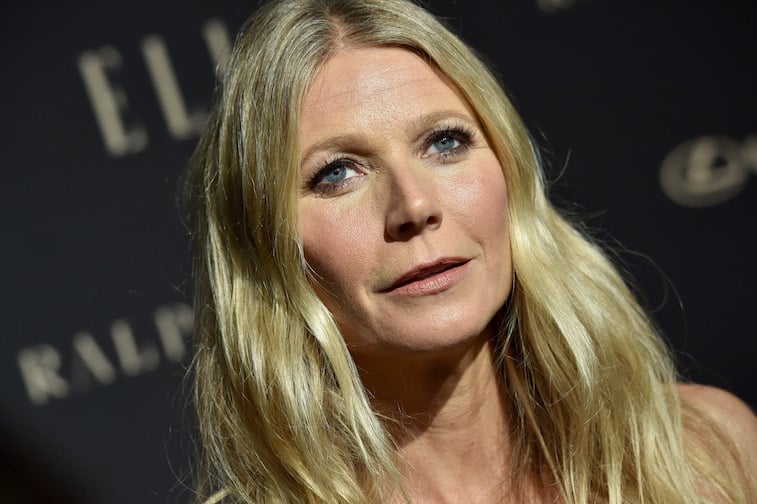 Paltrow was one of Hollywood's leading stars in the 1990s. She had prominent roles in iconic films like Se7en, Emma, Sliding Doors, and The Talented Mr. Ripley. She even won an Academy Award for her performance in Shakespeare in Love.
As Paltrow was rising to fame, her reputation for having some unusual health and wellness practices started to emerge. She appeared at the Anchorman premiere covered in marks from "cupping," a wellness remedy that allegedly sucks evil energy out of one's body. While the odd marks drew attention, Paltrow is far from the only celebrity who has advocated for the practice. Jennifer Aniston and Justin Bieber both allegedly practice cupping as well.
It wasn't until 2008 that Paltrow officially launched Goop as a nutritional newsletter. With this launch, she went from passively promoting her own health and wellness ideas to actively sharing her way of life.
The odd name comes from a combination of Paltrow's initials and advice from branding expert Peter Arnell who told her that successful websites have double O's in their name.
Goop's early success was in food
Logically, since Goop started as a nutrition newsletter, the early days were focused heavily on food. Paltrow leveraged her followers into some successful cookbook launches, but she also started to raise more than a few eyebrows at her nutritional advice.
These cookbooks were often ridiculed by critics for being overly neurotic and focused on achieving a largely unattainable sense of bodily perfection.
While the foods that Paltrow has more recently given as her off-limits list seem to be based mostly on ethical and personal preferences (she doesn't eat octopus, baby mammals, or dill), her early recommendations were very restrictive.
She was also criticized for being out of touch and elitist. After all, not everyone considers a nearly $100 salad as a simple treat, and her recipes frequently called for obscure ingredients and expensive tools.
Gwyneth Paltrow expanded her reach to products
In 2014, the same year she announced her divorce from Martin, Paltrow jumped into the e-commerce world with Goop-branded vitamins, housewares, and clothing items. The brand expanded even further through brick and mortar stores and pop-up shops, bringing the expensive products directly into the hands of potential consumers.
The criticism of Goop has only increased. Many people are confused about just who Paltrow is targeting with her expensive products and aspirational lifestyle displays.
When a single disposable washcloth costs $22 and $66 jade eggs are promoted to put in the vagina for increased feminine energy, it's hard to take the brand seriously.
For her part, Paltrow seems to take the criticism in stride. She is unapologetic about her privileged experience of the world, and she seems convinced that Goop's true followers will find her brand as she uses it to "change the world."
Gwyneth Paltrow may have promoted misinformation during a public health crisis
While most criticism of Paltrow's brand has been focused on ridiculing its disconnect from the real world, there are some who are genuinely concerned about the advice that Paltrow gives consumers through her products as well as her personal brand.
Recently, Paltrow posted a photo on Instagram of her wearing a face mask while traveling amidst coronavirus concerns.
While she did advise her followers to "frequently" wash their hands, the photo — and many others like it — may have indirectly led to rising misinformation about how to protect against the spread of the virus.
Recently there has been a shortage of necessary medical equipment needed to more safely treat hospitalized patients.
This isn't Gwyneth Paltrow's fault. But with so many fans watching, handling health information responsibly is always a must — in times like these more than ever.
While Paltrow's pricey products and advice might be laughable to some, they can also be dangerous. Viewers question how much harm could come from giving such untested ideas a broader audience.