H.E.R. Doesn't Want the Media to Talk About Her Personal Life
Music is the only thing H.E.R. wants you to talk about in regards to her. Not her personal life, not who she's wearing, and certainly not who she's seeing. Her personal life is off-limits, and according to her, unimportant. It's all about her music, nothing else. This is just another reason why she's a lot like her idol, Prince, who was private as well. But, then again, what celebrity, besides maybe the Kardashians, doesn't want to have some privacy in their lives?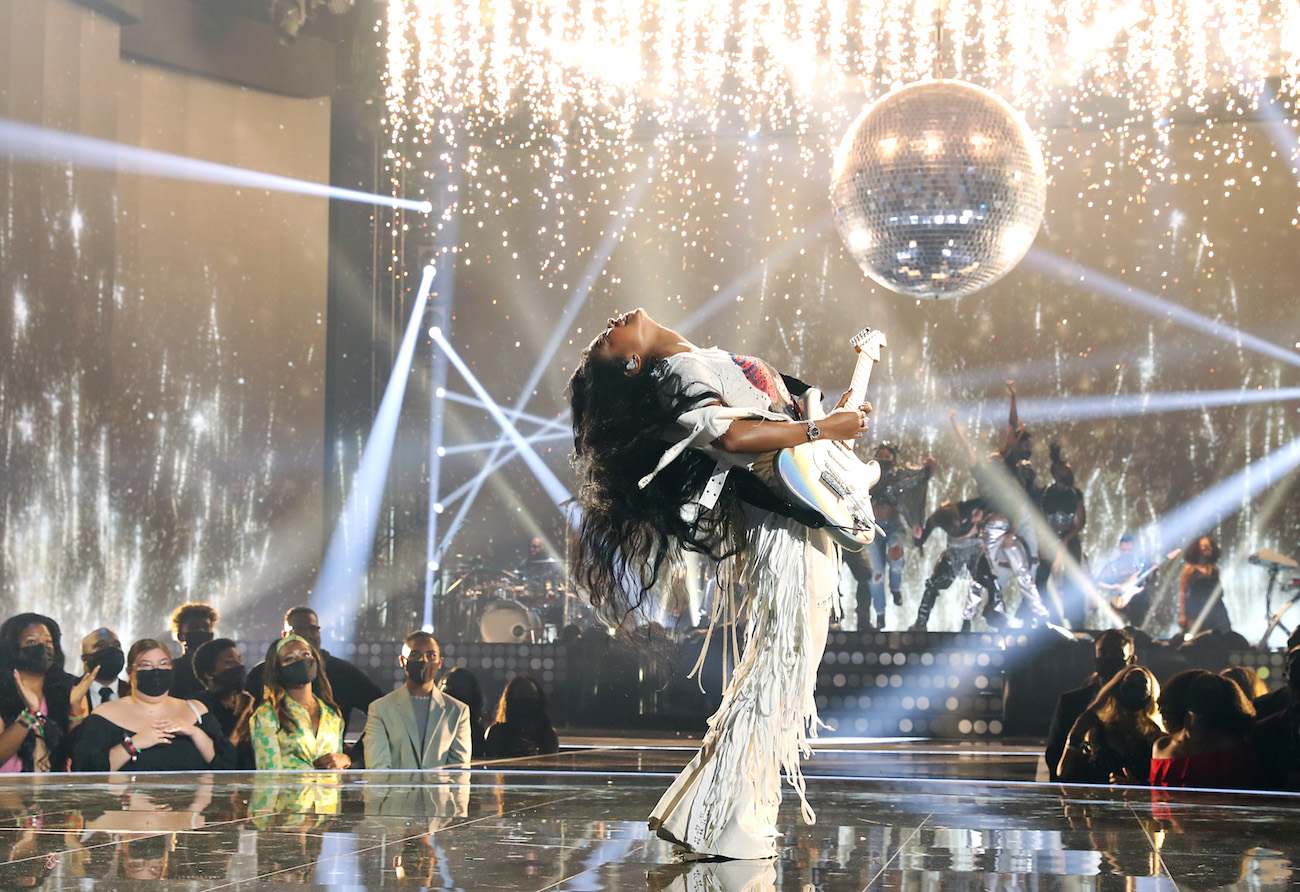 H.E.R. withheld her privacy early in her career
Just like Prince as well, H.E.R. surrounded herself in mystery ever since she dropped her first album, H.E.R. Volume 1. Other than the title of the album, we knew nothing about her. We didn't her real name or even what she looked like. Volume 1's cover art showed her shrouded in a dark silhouette. This is why, NPR points out, it's ironic that H.E.R. stands for "having everything revealed."
We've seen artists try to conceal their identities before. Sia is famous for covering her face, as are the members of Daft Punk. In a way, it makes fans even more intrigued by them. The mystery itself is publicity. Eventually, though, H.E.R. revealed her name. She was born Gabriella Wilson but goes by Gabi.
She doesn't want the media nosing into her private life
H.E.R. doesn't want the media to talk about her personal life. She wants to keep it private for many reasons, but she also just doesn't understand why anyone would want to know everything about her life. She'd rather the media talk about what really matters; her talent and her music.
Speaking to NPR, H.E.R. said, "I feel like this is the era of the anti-star. I really just wanted it to be about the music, and get away from, 'Who is she with?' and 'What is she wearing?' I want people to feel the emotion, try to relate to the way that I look or want to be like me in the way that I'm living or whatever."
It's understandable she feels that way. But considering the way celebrities are talked about in the press, the gossip and the prying will likely never die out.
H.E.R.'s music tends to be personal
Despite wanting to keep her life private, H.E.R. makes her music very personal. Which is just as ironic as having a name that means "having everything revealed." She wants us to look at her music and not question her life, yet she gives us insight into that life through her music.
She told NPR that "her own journey into maturity, what she calls "the evolution of woman," informs the way she sings about relationships in the song 'Facts.'"
"Throughout, let's say, my teenage years, I've made mistakes and I've felt like, you know, I'm the only one that has done that or I feel bad about, you know, this or I fell for the wrong guy – never thought I would fall for the wrong guy," she explained. "You know, I never thought I would be that girl, and I became H.E.R."
"And that's kind of how the concept came to be. So having everything revealed is ironic because, you know, I'm not revealing myself, but through my emotion, you can pretty much tell what my story is. And through the music, you can pretty much tell what I've been through and releasing it has made me realize I'm not alone in it because of the reactions I've been getting."
NPR made a great point. They said in today's world, being anonymous is dangerous. It was risky on their part to have her on because we're in "an era when people don't necessarily trust and believe what they hear, you know, on the media." So we're trusting H.E.R.'s word that she is who she says she is.
We trust her, but it's still an interesting concept to think about. We're excited to see what H.E.R. does in her career in the years to come. She's already made it intriguing for us. We'll jump on this ride with her, and if she wants to divulge her deepest secrets, our ears will be open.