Hailey Bieber Reveals 1 Thing She and Justin Bieber Won't Do in Their Bedroom 'Unless It's Absolutely Necessary'
Hailey Bieber is opening up about her and husband Justin Bieber's home life. Ahead, find out what one thing the 23-year-old says she and her pop star husband won't do before they go to bed. 
They met at one of Justin Bieber's performances
Hailey — who went by Hailey Baldwin at the time — met her future husband when she attended one of the pop star's musical performances in 2009. She had been only 12 years old when she met 15-year-old Justin. Her father, Stephen Baldwin, took her to see the singer perform during an episode of Today when he had been a new pop phenomenon in the music industry.
The two reconnected and started dating
In 2014, thanks to their mutual friends in the Kardashian-Jenner family, Hailey and Justin crossed paths again. At the time, Justin had been in an on-again-off-again relationship with singer Selena Gomez. 
From 2014 to 2015 they were spotted attending church together, celebrating the New Year, and getting matching tattoos. In 2016, they took their romantic relationship public when they were seen kissing at Leonardo DiCaprio's New Year's Eve party, according to Insider. 
In a Feb. 2019 joint interview with Vogue, Hailey said she and Justin had a falling out — reportedly somewhere between Feb. and Aug. 2016 — which she called a more than a romance that simply fizzled out. She referred to it as a "dramatic ex-communication," saying, "There was a period where if I walked into a room, he would walk out."
They reconciled in June 2018 
Seeing each other at a church event in June 2018, they had moved "past the drama" as Hailey told Vogue about her and Justin's reconciliation. A month later while on vacation in the Bahamas, they were engaged to be married. Shortly thereafter they were seen at a New York City courthouse getting a marriage license. However, they didn't have a wedding for another year because of Justin's ongoing health issues due to Lyme disease.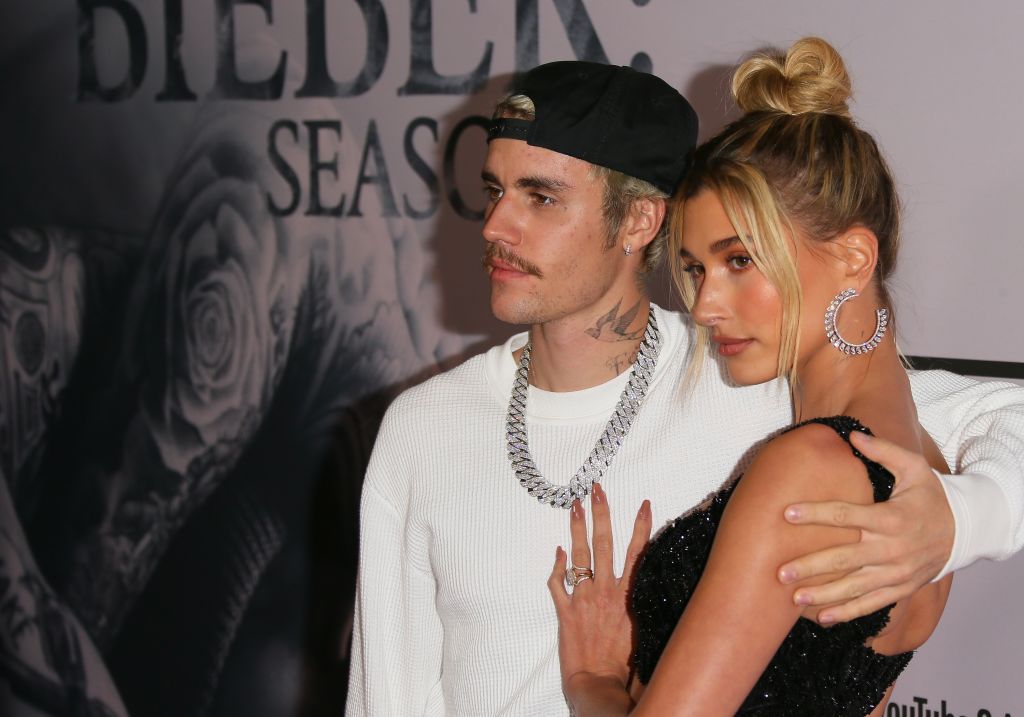 "When we first got married, we were just figuring out our life together. I felt like putting a wedding in the middle of all of that would be really hectic and stressful," Hailey told Elle in a cover story for their March 2020 issue.
In the midst of adjusting to life as a married couple — on his Instagram Stories Justin posted a marriage self-help book among his "essentials" —  and grappling with Justin's Lyme disease diagnosis, the pop star released his first new song in four years, "Yummy," a track inspired by Hailey. He will also be releasing an album in 2020 and going on tour. 
Justin and Hailey Bieber won't use their phones in bed
Celebrities are just like us. They too try to cut back on their screen time. In the same cover story for Elle magazine, Hailey revealed she and Justin have a rule about not using their phones in bed. Instead of scrolling on her phone, Hailey reaches for a book.
"I definitely enjoy being home more than I enjoy being away," she said. "I try to read more than be on my phone in bed. We have a rule: No phones in bed unless it's absolutely necessary."
That's right, the couple takes a break from their phones leading up to bedtime. We might have to follow their lead and give our devices (and ourselves) a break in the evenings.