Hailey Bieber's Skincare Routine Costs Almost $1,000
Hailey Bieber, maiden name Hailey Baldwin, is not only the wife of Canadian singer Justin Bieber, and the daughter Steven Baldwin, but a successful model in her own right. As a model, a big portion of her career is riding on the health and beauty of her skin, so it's no wonder she spends a good deal of time and money caring for it.
Though she's only 23, she already has a lengthy list of products she uses for sun protection, moisturizing, and wrinkle prevention. The products she uses are high end, and with high-end products comes a high-end price tag. Bieber took to her Instagram stories to share her skincare products and the grand total came to almost $1,000, and that's all before we even look at her makeup.
Hailey Bieber's shares what makes her skin glow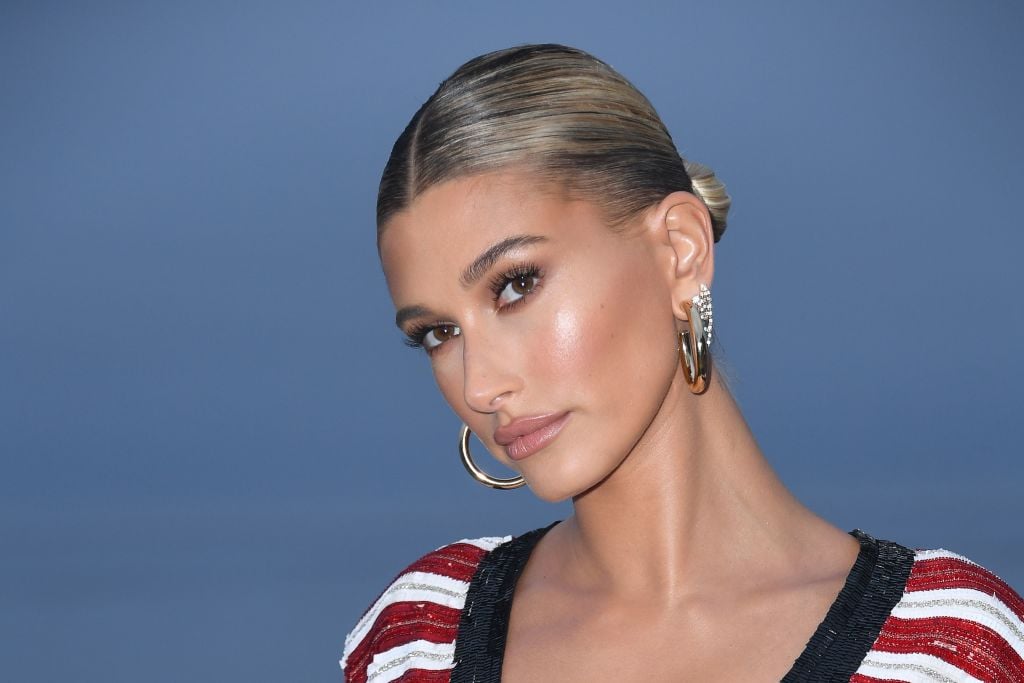 In a Vogue makeup tutorial, Bieber confesses, "I get really red because my skin gets really really dry, especially when it's allergy season."
To combat her dryness and red skin she uses and variety of products such as Drunk Elephant Slaai Makeup-Melting Butter Cleanser which costs $34. She also uses the brand's $52 F-Balm Electrolyte Waterfacial Mask. These products and her $27 sunscreen are not necessarily out of reach in the price for non-celebrities, but her serums and hydrators are where her items start to get really pricey.
Just one ounce of C E Ferulic Serum costs a whopping $166 and claims to help fight wrinkles and keep the skin firm. A 30 ml bottle (which is about an ounce) of Vintner's Daughter Active Botanical Serum is $185. Not far behind in cost is the SkinMedica HA5 Rejuvenating Hydrator at $120 an ounce.
One can only hope she's not using all of these products each and every day, or the recurring costs would be out of this world, but her most expensive item, she does claim to use every day.
The most expensive skincare product Hailey Bieber shared
A couple of years ago Bieber shared in a Vogue Mexico video, "The way I take care of my skin is just by routine. Making sure that I wash it every evening, never sleep with makeup on, and always travel with rosewater and makeup wipes."
It's hard to tell if she's since changed her tune, or just gave that answer to seem down to earth, but she certainly uses a lot more than some rosewater and makeup wipes these days.
Of all of the products Bieber shared on her Instagram story her daily use face cream is by far the most expensive. It is made by Augustinus Bader and is aptly called "The Rich Cream."
A 50 ml bottle runs $265, though to be fair the 30 ml bottle is $170, slightly cheaper than her botanical serum. However, it must be stressed again, she claims to use this product every day and it's hard to say how long a bottle will last, but the best guesses are between 2-3 months.
In her story, she said this was her third bottle so that's already $795 on this one product alone.
Thanks to the calculations of Seventeen Magazine, we know the total cost of every item shared on her Instagram in her skincare routine comes to $995.50, and that's all before she's put on a stitch of makeup.
Hailey Bieber's makeup products and routines
Bieber is a partner with the makeup brand Bare Minerals, so this is the makeup she mentions most. In a video called "Truth or Bare" for the brand, she explained why she chose to partner with them: "I love working with brands that I am a fan of myself and that I think represent me well."
She also named Bare Mineral's GEN NUDE Lipgloss and their Mineral Veil Finishing Powder as some of her favorites products in their line.
In her Vogue makeup tutorial, she shared how she gets her "California glow" which involved a series of products for making a base, contouring, and setting. She demonstrated that she uses her hands to apply many of her makeup products because "I know where my hands have been."
In general, she mostly sports a natural look, and said, "If I had to choose two things to take to a desert island, for sure it would be lip balm and mascara. I would die without lip balm."
Bieber, thankfully, has plenty of money to support her skincare spending and a steady supply of lip balm, so if she's ever on a desert island she'll be just fine.