HAIM Flashes Andy Cohen's Phone Number on 'WWHL' – 'HAIM Is About to Break Up!'
HAIM were so excited that Andy Cohen invited them to BravoCon on Watch What Happens Live, that Este Haim didn't realize she kept holding the paper with Cohen's phone number in view of the cameras.
Cohen had to interrupt the conversation at one point during the WWHL After Show when his control room notified him that Este was waving the paper containing his personal phone number around, unaware she was exposing his private digits on live TV.
Este Haim flashed Andy Cohen's phone number on 'WWHL'
While answering a question about Lizzo from their "Sister Sister Sister Tour," Cohen had to interrupt the conversation when his control room told him the piece of paper holding his phone number was in full view. "Hide my phone number please," Cohen is heard whispering off camera.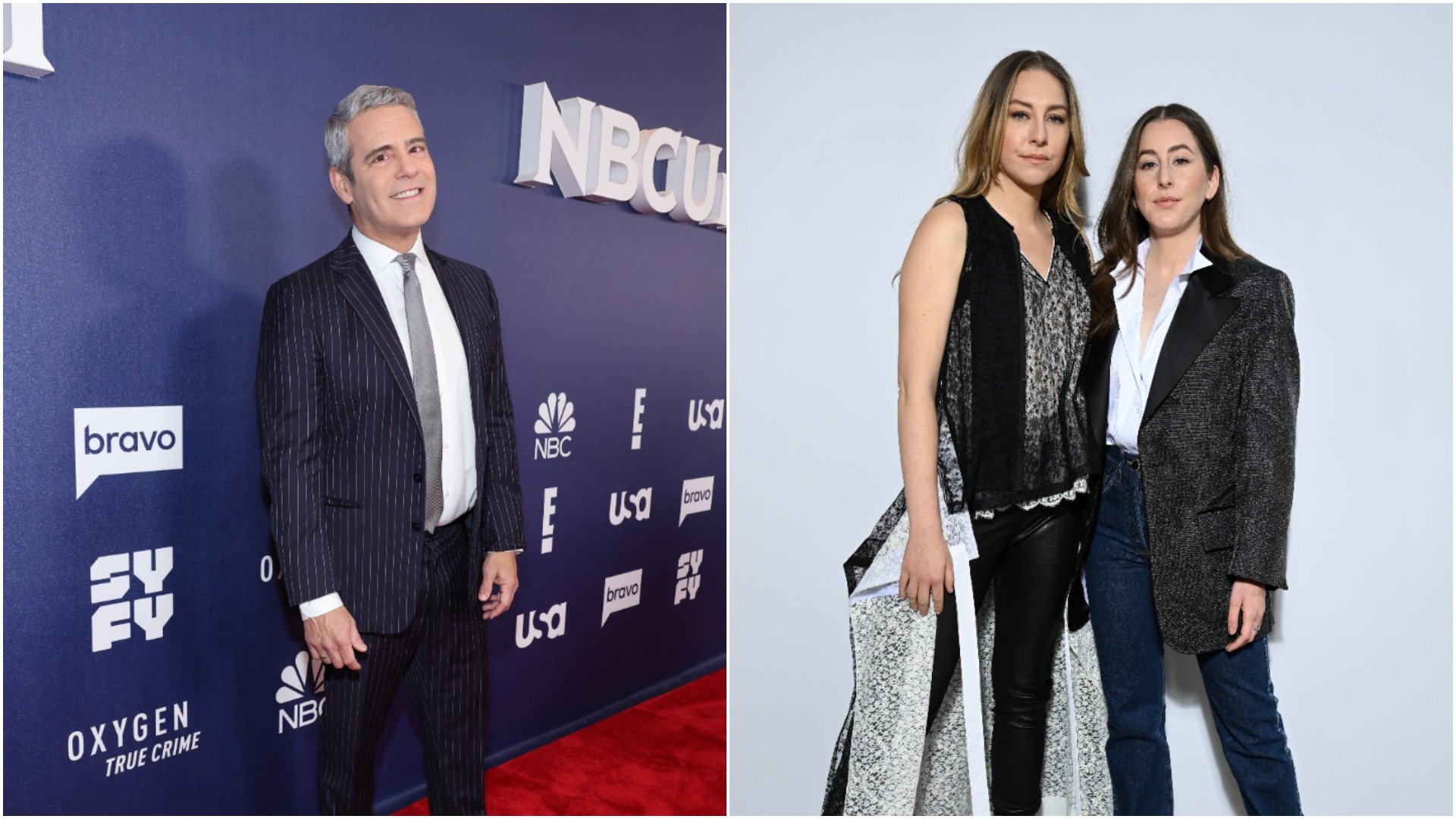 "Este hide your phone number," Alana told her sister. Este quickly hid the paper and burst into: "Sorry, sorry, sorry …!" Cohen laughed, adding that they told him in the control room that his number was in full view.
"I've never been more embarrassed in my whole life," Alana said. Este laughed, clearly embarrassed.
Cohen looked a little annoyed. "I mean, like … honestly," he said while smiling. "Can you blur that for the replay?"
Andy Cohen looked annoyed while HAIM continued to apologize
Still embarrassed, Este continued to apologize to Cohen. "I'm so sorry, I wasn't even paying attention," she laughed.
"Yeah, clearly," Cohen replied. He laughed as Este, launched into more "I'm sorry" remarks and "I'm so embarrassed."
"I will never let her live this down," Andy," Alana said.
Este said, "This gonna be an issue. HAIM is about to break up."
The sisters regained their composure and returned to the question, but Este was still clearly embarrassed and continued to laugh as Alana discussed Lizzo. But then added to her sister, "I'm so sorry but I'm gonna kill you."
HAIM plans to attend BravoCon and cover 'Housewives' songs
HAIM promised to not only attend BravoCon but play all of the Housewives songs. "We'll play whatever you want," Alana said. "I'll play all the Housewives songs Chic C'est La Vie, Money Can't Buy You Class …"
"OK, here's the deal, lets see if we can do a HAIM Housewives medley," Cohen suggested. "Like a super medley on an episode of Watch What Happens Live that we'll be doing that week. Because we'll be doing five huge episodes that week."
"RSVP, yes," Este said.
Why doesn't Este Haim like 'Summer House'?
HAIM are huge Bravo fans – just not Summer House fans. But Alana and Este explained why. "I watch everything," Este said. "Other than Summer House." Cohen laughed and added, "But you should."
Este said they are "sleeping" by the time Summer House aired on Bravo. She added, "Is Carl even single?" So when Cohen replied that Carl Radke was dating Lindsay Hubbard, Este said, "See, that's what I'm saying."
Alana joked, going back to the phone number debacle, "Also, Este is never gonna live to tell the tale because I'm going to murder her after the show. She just embarrassed me on Watch What Happens Live!"
RELATED: Andy Cohen Close to Tears About Ukraine Crisis – 'We're Praying for Everybody There'