Halle Bailey's Response to the #NotMyAriel Backlash Is a Graceful Clapback
Halle Bailey just shut down the haters criticizing her part in "The Little Mermaid."
The world has had a lot to say about Halle Bailey's starring role in Disney's live-action remake of The Little Mermaid. While many people have praised Bailey's casting as Ariel, some are not happy that a black actress got the role and have been protesting through the hashtag #NotMyAriel.
As people continue to mull over the casting, the actress herself is speaking out — and she's not holding back.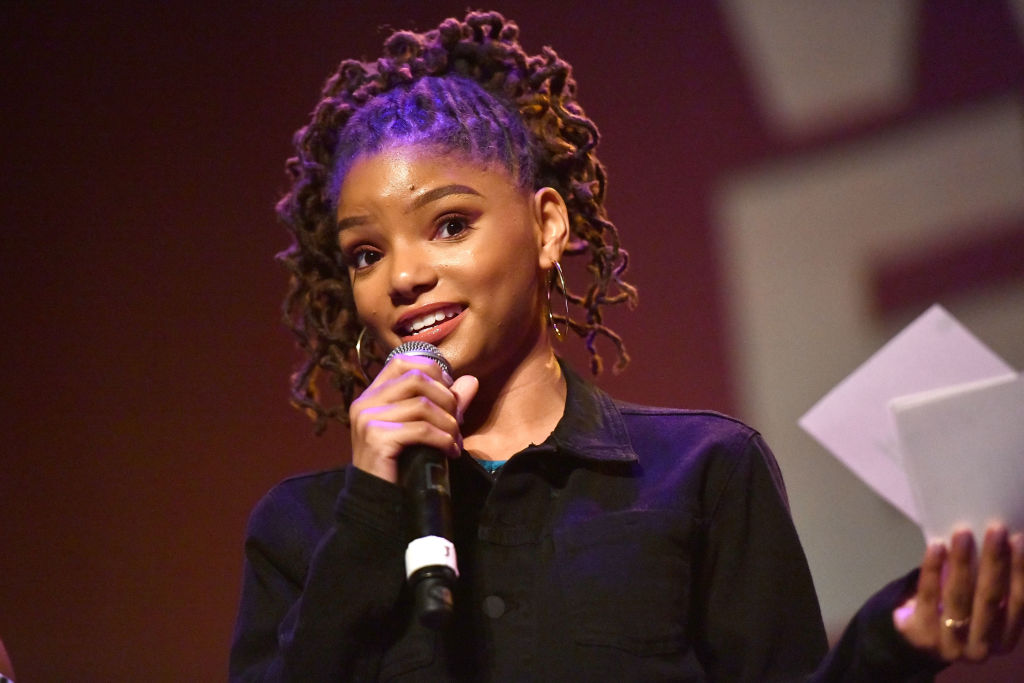 Bailey's response to the hate is unbothered
The singer, who is half of the R&B duo Chloe x Halle, offered her thoughts on the criticism at the Variety Power of Young Hollywood event on Aug. 6. She told Variety that she really hasn't let the naysayers get to her because the role is "something bigger than [her]."
"I feel like I'm dreaming," she told the publication. "And I'm just grateful. I don't pay attention to the negativity; I just feel like this role is something bigger than me. And it's going to be beautiful. I'm just so excited to be a part of it."
More on Bailey's role as Ariel
Rob Marshall, the director of the upcoming film, announced that Bailey got the part in a statement shared in early July. "After an extensive search, it was abundantly clear that Halle possesses that rare combination of spirit, heart, youth, innocence, and substance — plus a glorious singing voice — all intrinsic qualities necessary to play this iconic role," the statement read (via People).
Fans quickly flocked to social media to congratulate Bailey on the role, which she called a "dream come true."
"Halles get it DONE," actress Halle Berry tweeted. "You have expanded the world of princesses in so many ways and I am absolutely so excited for you to bring Ariel to life," added Grown-ish star Yara Shahidi.
But the casting also received an onslaught of criticism. "So is everyone colorblind?" one person wrote in response to the announcement.  "Boycott this movie!" commented another.
Many people defended Bailey
Obviously, people were not happy about the casting and did not hold back their feelings. But others didn't let their comments slide. The Disney-owned cable network Freeform shot back at critics in a statement shared via social media. "Danish mermaids can be black because Danish *people* can be black," it wrote on Instagram, pointing out that Ariel is a "work of fiction."
Historical scholars and journalists echoed those comments and also penned pieces pointing out that black mermaids have existed way before the creation of the 1989 film. 
And Jodi Benson, who voiced Ariel in the original film, defended the casting to ComicBook.com, telling the outlet that, at the end of the day, the most important thing is "to tell the story."
"The most important thing is to tell the story," she explained to the outlet. "And no matter what we look like on the outside, no matter our race, our nation, the color of our skin, our dialect, whether I'm tall or thin, whether I'm overweight or underweight, or my hair is whatever color, we really need to tell the story. And that's what we want to do, we want to make a connection to the audience. So I know for Disney that they have the heart of storytelling, that's really what they're trying to do. They want to communicate with all of us in the audience so that we can fall in love with the film again."
People will likely continue to say what they want, but Bailey is clearly looking ahead and moving forward. That's how you do it.