'Halloween Kills' Is Killing the Game: Executive Producer Explains Upcoming Re-Releases, Peacock, and Unmasking Michael Myers
It was a long and winding road for the Halloween Kills cast and crew. Like countless other productions, the horror flick was slapped by the pandemic. The new Halloween movie was initially projected for a 2020 release. But at long last, Halloween Kills will hit theaters—and Peacock—on Oct. 15, 2021.
The sequel trilogy has attracted new fans and given the veterans a terrifying taste of reality. Executive Producer Ryan Freimann joined the modern resurrection. And as an avid Halloween fan, Freimann talked to Showbiz Cheat Sheet about the upcoming film.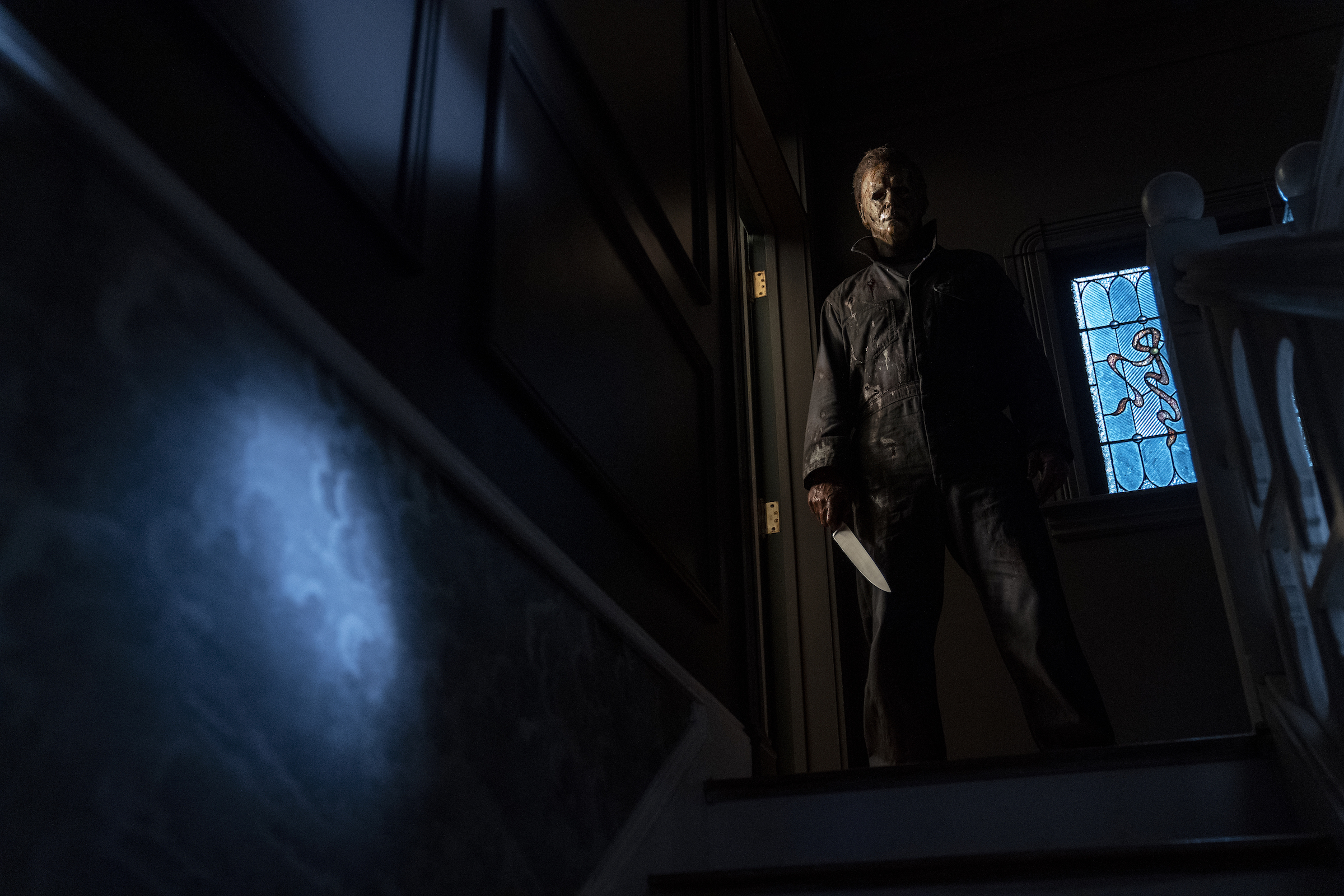 The resurrection of the drive-ins and 'Halloween' re-releases
Freimann is the Senior Vice President of Trancas International Films, which partnered with CineLife Entertainment to re-release Halloween 1978, Halloween 4: The Return of Michael Myers, and Halloween 5: The Revenge of Michael Myers in select theaters. Freimann explained how the 2018 film revived this event and emphasized the franchise's communal aspect.
We had, in the past, made small efforts to do screenings and small re-releases, but for the [2018] anniversary, we went all out. So we thought, OK well, can we kind of convert this year after year, make a Halloween seasonal aspect to it? … I think Halloween is a film series that's meant to be shared with friends and family, to enjoy all those scares. And that's why I think it's fun to have all these older ones back in theaters.
The producer also believes the re-releases cater to both newer and older fans. After all, millennials and gen-Zers couldn't watch these masterpieces when they first premiered.
Halloween 2018 reignited the franchise's popularity. But the pandemic slashed through theaters when Halloween Kills wrapped filming. However, Freimann claimed the drive-in experience became a hit; Halloween fans, in particular, loved it.
The only problem is many urban-based fans can't find drive-in theaters today. With indoor theaters trying to regain audiences, nostalgic movie fans could revive drive-ins with local sponsorships and petitions. Perhaps the Halloween fandom could contribute to the cause.
RELATED: 'Halloween Kills': Michael Myers Crashes Child's Birthday Party
Peacock vs. the big screen
Several filmmakers have voiced their concerns about the dreaded day-and-date release. The Sopranos creator David Chase didn't hold back. He was "extremely angry" that The Many Saints of Newark would stream on HBO Max. And Chase is just one of many.
Nevertheless, Freimann defended Halloween Kills' Peacock release.
"I think this model, for our purposes, was the right call. It seemed like a logical, reasonable step for both the fans that want to see it [in theaters] and the fans that don't feel comfortable enough doing it. And we're providing that opportunity for 100% of the audience."
However, he has seen the fandom's enthusiasm lean toward the theater—at least for the first viewing, then watching it on Peacock afterward. Still, he believes movie theaters offer a more "magical" and "emotional theatrical experience." Yet, Freimann emphasized again that he wants fans to enjoy Halloween Kills in the most comfortable manner possible.
With the new Halloween Kills soundtrack, featuring John Carpenter's score and Ghost's new song "Hunter's Moon," a surround-sound room raises the intensity. Michael Myers looks more merciless than ever, and Freimann even teased the horror "becomes something unlike any of the other films in the franchise." So viewers could see theaters fill up quickly.
What would unmasking Michael Myers do to the franchise?
Halloween Kills' new trailers and clips point to one moment—unmasking Michael. Jamie Lee Curtis' Laurie Strode says in one preview, "I wanna take his mask off, and see the light leave his eyes." Another clip shows Karen tempting The Shape, "You want your mask? Come and get it!" Another clip went even further as someone starts to remove it.
Some are thrilled at the possibility of seeing the faceless man; Others disagree. The franchise created this emotionless, supernaturally human figure. And the only time we've seen his face was in 1978, which was brief. So what would seeing The Boogeyman's face in Halloween Kills accomplish?
Freimann understands that some viewers don't want to see Michael's face; they think it could deflate his presence. Keep this in mind on Oct. 15 when contemplating the possibility—to unmask or not to unmask—during Michael's new rampage.
But whether or not we see the man behind the mask, Freimann is "immensely proud" of Halloween Kills and its cast and crew—they make up one big, happy "Halloween family." And fans can see it for themselves with the new B-Roll.
RELATED: 'Halloween': Did Director John Carpenter Play Michael Myers in the Horror Movie?