Are Any of Halsey's Songs About Evan Peters?
After moving in together and even doing couples costumes for Halloween, Halsey and Evan Peters broke up. A few months later, Halsey released songs like "Without Me" and "Graveyard" in conjunction with her album, Manic.
Are any of Halsey's songs about the American Horror Story actor? Here's what we know about this "Closer" singer and her award-winning album from 2020, Manic.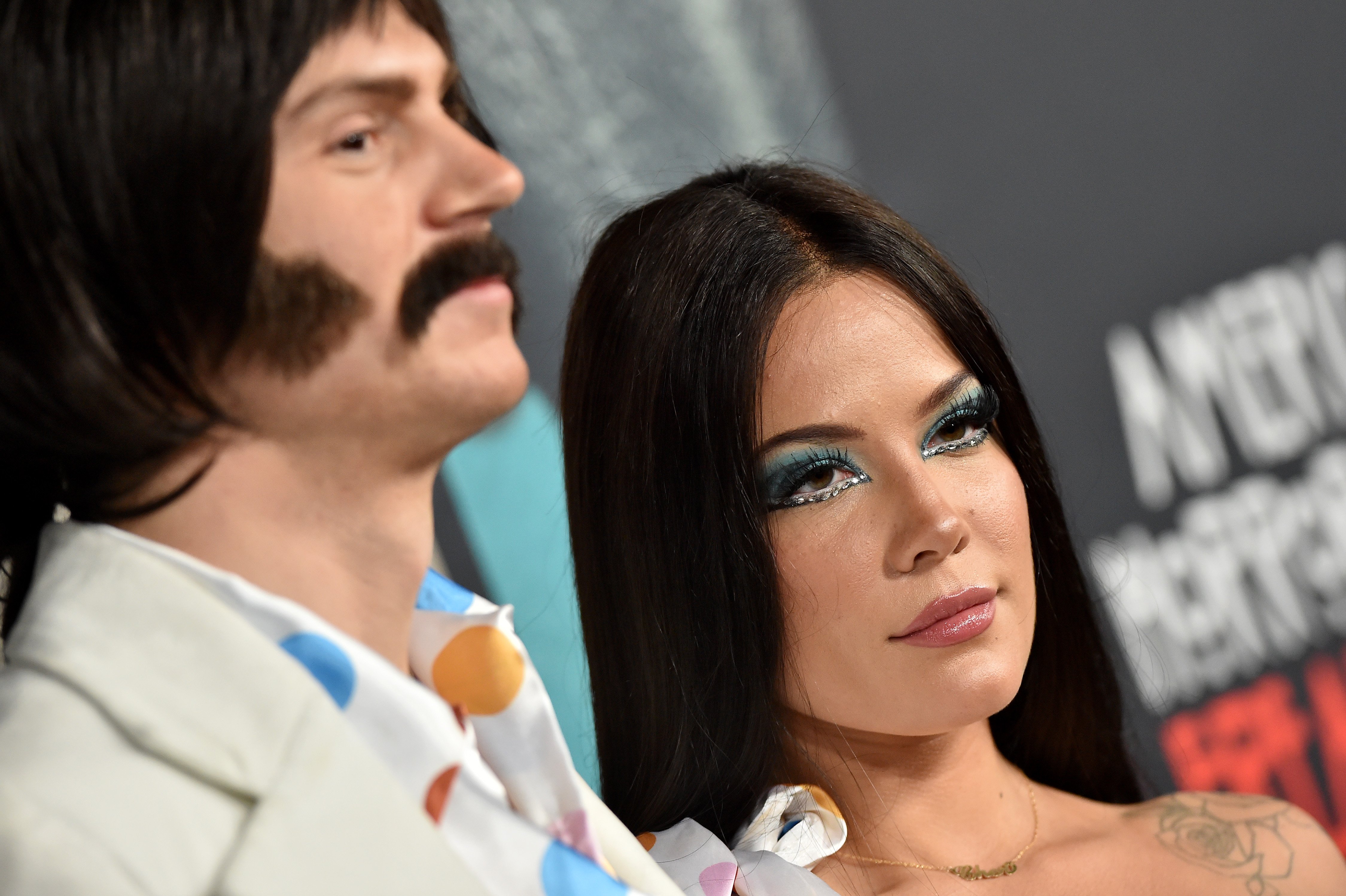 Halsey and Evan Peters dated during 2019
Peters and Halsey reportedly started dating in mid-2019, with Halsey confirming the relationship while on The Ellen DeGeneres Show. During October 2019, the couple attended American Horror Story 100th episode celebration dressed as Sonny and Cher. (They wore another couple's costume for Halsey's Halloween party that same year.)
Months later, rumors circulated that Halsey was pregnant, but the singer denied the claims, writing on Twitter, "Still not pregnant. Still just allergic to gluten. Still love pancakes." After deleting pictures of Evan Peters from her Instagram account, however, fans assumed that the couple broke up.
RELATED: Why AHS Fans Think Season 10 of 'American Horror Story' Has Something to Do With the Ocean
In January 2021, Halsey announced her pregnancy on social media. According to Seventeen Magazine, the father is screenwriter and producer, Alev Aydin, who had first been spotted with Halsey around October 2020.
RELATED: 'American Horror Story:' Here Are All of Evan Peters' Characters From 'Apocalypse'
Halsey released 'Manic' in 2020
After releasing albums like Badlands and Hopeless Fountain Kingdom, Halsey announced she was working on a new album in 2019. A year later, Manic premiered. This compilation included songs like "Without Me" and "You Should Be Sad."
This album also includes features from other artists, including the rapper, Suga, of the K-pop group BTS. Even Alanis Morissette was featured on the song "Alanis' Interlude."
"When was the last time you turned on the radio and heard a girl screaming, yelling, angry about something?" Halsey said during an interview with Rolling Stone. "That's why I love Alanis. I want to turn on the radio and hear a young woman be like, 'F**k no!' You know what I mean? Especially right now."
Are any of Halsey's songs about Evan Peters?
Although Manic premiered just months after Halsey and Peters started their relationship, the artist has not confirmed if any of the songs are about her ex-boyfriend.
When Halsey talks about this album it's mostly about her experience as a woman and as someone with mental illnesses. Her outspoken activism reflected in her role at the Women's March and her advocacy for the Black Lives Matter movement and Bernie Sanders.
In her music, Halsey had a chance to express different kinds of musical interests. During the Rolling Stone interview, she shared that she took inspiration from hip hop, country — "everything."
"It's so manic," she continued. "It's soooooo manic. It's literally just, like, whatever… I felt like making; there was no reason I couldn't make it."
Music by Halsey is available on Spotify, Apple Music, and most major streaming platforms.