Hana Giraldo Slaps Austin Gunn After he Makes Out With Another Woman on 'Ranch Rules' – And He Goes MIA
Hana Giraldo may not have wanted a relationship with Austin Gunn after Relatively Famous: Ranch Rules, but she definitely wasn't cool with seeing him make out with someone else at the bar on the reality TV show.
Giraldo and Gunn hooked up in one of the tiny bunks and he seemed smitten with her. But the next day she essentially ghosted him, leaving him feeling confused. Giraldo said in a confessional the hookup with Gunn was a one-night stand. Since she didn't seem interested he sought attention elsewhere – bad idea. Their fight could mean that he misses the big ranch grand opening.
Austin gets drunk on 'Ranch Rules' after Hana ignores him
Gunn decides to get drunk the night before the ranch grand opening. He is still feeling confused about Giraldo, while the rest of the cast go easy on the alcohol.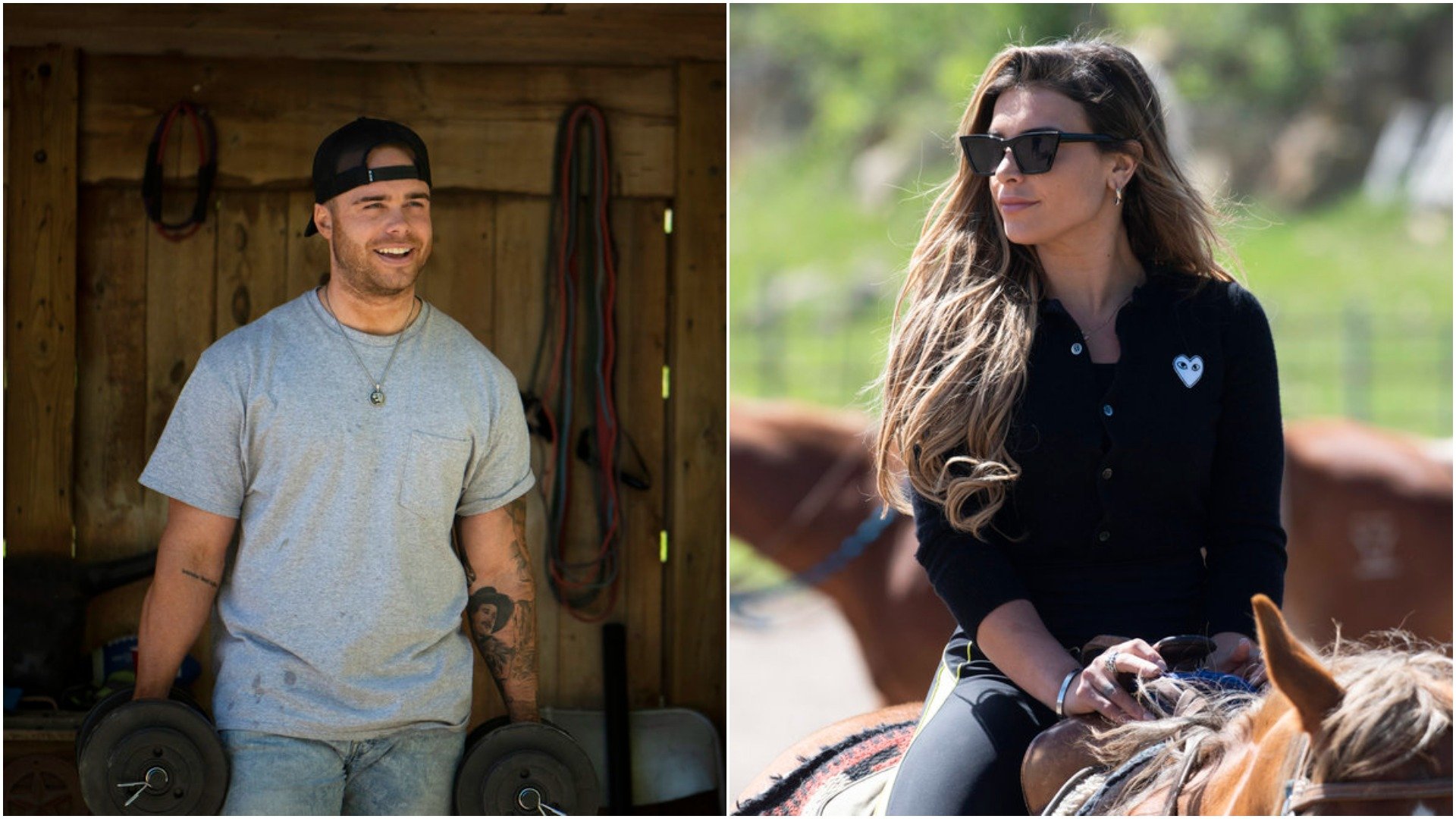 "Austin's really drunk and I don't understand what is going on," Giraldo says in a confessional. "We hooked up the other night and he's been acting weird ever since." She adds, "I'm very confused and very annoyed." Indeed, Giraldo looks annoyed as Gunn pounds some shots. But when he tries to talk to her during dinner, she ignores him.
But then he kisses someone at the bar …
"It's the same weird energy," Gunn says in a confessional about being ignored. "The same weird annoying distant vibes from Han at dinner. You don't wanna show you care about me? OK, then I'll do my own thing. And that's it." Ebie Wright can tell that Gunn is getting too drunk and jokes about cutting him off.
Wright swung into action a little too late because when it came time to try line dancing, Gunn was feeling no pain. He meets a woman at the bar and gives her his phone number. Giraldo looks heated. "The other day we were in bed naked," she says in a confessional. "Now you're just giving a girl your number in front of me? Austin dude what the f*** are you thinking?"
Harry James Thornton tries to shut down any romance by telling the woman that Gunn has a girlfriend. The rest of the cast knows Gunn is playing a dangerous game but he doesn't care. He gives the woman a passionate kiss and a smackdown awaits him when he returns to the ranch.
… and Hana is angry. But does Austin leave 'Ranch Rules'?
Before Gunn returns home, Giraldo tosses Gunn's favorite hat into the abyss. Jasmin Lawrence knows, "This is gonna be a night," she says to herself.
"Hana's on a f***ing rampage," Thornton says. "If Austin didn't learn to not mess with her after she chucked mac n' cheese at me, then he's in for a new one."
The mac n' cheese toss was child's play. Gunn returns home, asks Giraldo if she's mad at him and she promptly slaps him across the face. He quietly turns and walks away from her. Thornton is outside and Gunn tells him what happened. Gunn and Thorton chuckle outside but that only angers Giraldo.
"That's really funny, huh?" she demands after rushing outside. She attacks Gunn again, slapping the hat off of his head. At this point, a producer intervenes to hold her back. Gunn walks away again. "I'm not laughing at you Han," Gunn says as he retreats. The cast looks completely shocked. "I didn't expect it to get to that level," Lawrence says in a confessional.
Giraldo seems unfazed saying she only "smacked his hat off." So when she yells for Gunn to return he calls her a b****, which sets her off. They have a stand-off by the car and the producer tries to insert himself in between Gunn and Giraldo. They hurl expletives at one another and the moment the producer moves away, Giraldo lunges at Gunn. The producer pulls Giraldo off but she complains that Gunn kicked her.
The cast is stunned and upset worried about the re-opening. They should be because the next day Gunn is missing and it does not appear that he will return.
Relatively Famous: Ranch Rules season finale is on Wednesday, March 2 at 9/8c on E!
RELATED: Billy Bob Thornton, Eazy-E, Ray Parker Jr., and Billy Gunn's Kids Reveal Tough Childhoods on 'Ranch Rules'