Hannah Ann Sluss Disses 'The Bachelor' Star, Peter Weber and Calls Him 'Bland'
The cast of The Bachelor is still finding ways to move on after the season. Peter Weber is hanging out with Kelley Flanagan. Hannah Ann Sluss is still talking about the issues with their engagement. Find out how she called him "bland" in one of her latest interviews.
Hannah Ann Sluss previously liked tweets dissing Peter Weber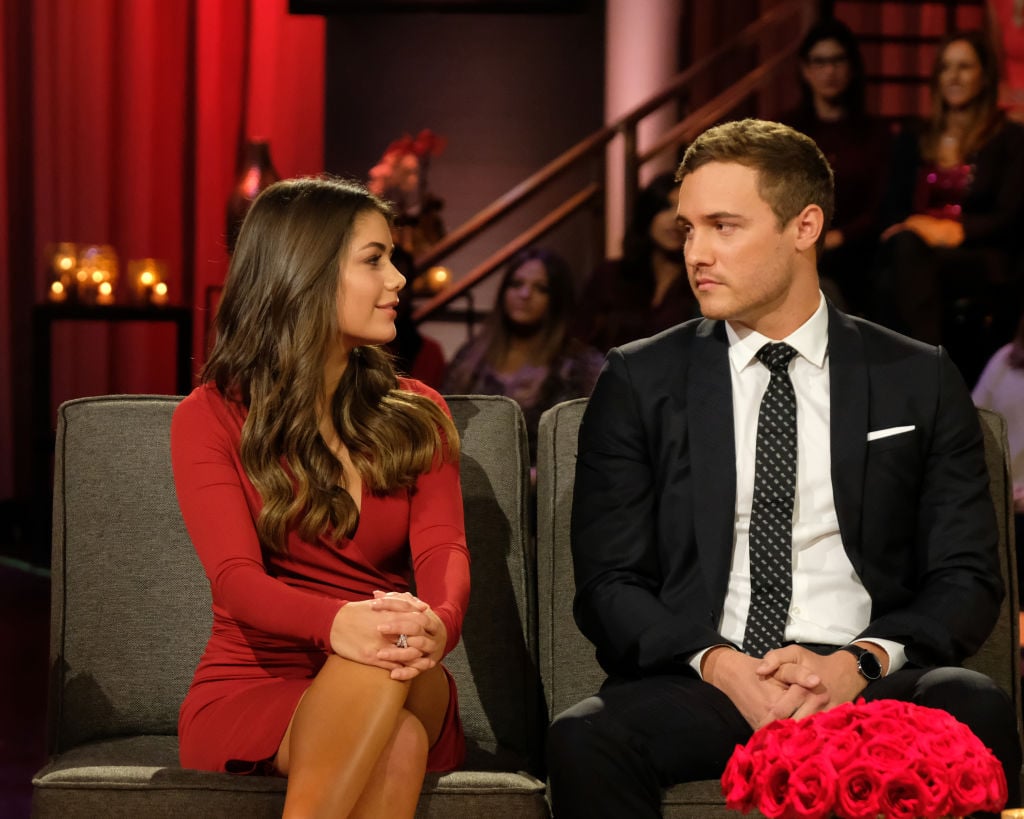 The Bachelor ended with Weber proposing to Sluss then ending the engagement. He claimed he couldn't give his full heart to her. She confronted him about their issues on the finale.
"I should have really picked up on the first red flag that you gave to me when you wanted to reach out to Hannah Brown to find closure with her. So really, looking back on it, our engagement involved three women: me, you still being in love with Madison [Prewett] and proposing to me, and you needing closure with Hannah Brown," she revealed.
Fans weren't happy with Weber once it was revealed that he is spending time with Kelley Flanagan. There is a good chance Sluss wasn't happy about it either because she liked certain tweets about him.
One read: "Raise hands if you knew Peter was a f*ckboi and are not surprised Peter's now hooking up with a third woman from his season after it ended. @HannahannSluss warned us when she said Peter had been talking to multiple woman while they were still engaged. #thebachelor."
She also liked a tweet that read, "And, apparently, one of those women might have been her friend… ouch. Well, at least she walked out of it like a QUEEN."
She reacted to him hanging out with Kelley Flanagan
Weber has been spending time with Flanagan recently. Sluss was asked on the podcast, The Viall Files if she felt like this was a slap in the face.
"I'm not giving either of them my face to slap," Sluss told Nick Viall. "At the end of the day, I'm single, Peter's single, Kelley's single, we're all single. Good for them if that's the case."
She continued, "When you've just been through so much crap and you see the light at the end of the tunnel, little things like that don't drag you down that much…I'm just glad I'm out of it…It's definitely confusing, but maybe it will work out for them and he'll be decisive about her."
Sluss called him 'bland'
The model was asked to compare Weber's manhood to a vegetable on the Off the Vine podcast during a game of plead the fifth. She gave a surprising answer.
"The vegetable that represents Peter's manhood would be cauliflower because it has no taste," she told Kaitlyn Bristowe. "Because cauliflower needs, like, a lot of flavor, it needs a lot. It's just bland."
They also dove into Sluss dealing with their breakup as the show was airing. "I'm, like, grieving the loss of the future I thought I had with him," she explained. "And no one can know about it. No one can know that everyday I'm hurting … I'll be out to lunch with my friends and go to the bathroom and just cry and pretend like everything's fine. … I felt so betrayed by him."
It sounds like Sluss isn't the biggest fan of Weber anymore after their public breakup.