Hannah Brown Is Reportedly Being Considered For a 2nd Season of 'The Bachelorette'; Former Contestant Claims 'a Very Reliable Source'
Peter Weber's season of The Bachelor, outside of a few rare exceptions, has not featured the kindest of contestants. Out of all these rather terrible personalities, who stands out as a potential next Bachelorette? Well, none of them. Hence why, apparently, Bachelor producers are talking about another season of Miss Alabama herself, Hannah Brown. Will Brown really be the lead on The Bachelorette again?
Who will be the next Bachelorette?
Recently, on Chatty Broads with Bekah and Jess, a podcast hosted by Bachelor alum Bekah Martinez and her friend Jess Ambrose, they talked about the contestants on Peter Weber's season, and the lack of solid options for the next season of The Bachelorette.
Ambrose suggested Tayshia Adams, a top-three contestant on Colton Underwood's season and a stand-out on Bachelor in Paradise.
"Tayshia in Paradise," Ambrose gushed. "She was honest, she was confident, she handled her sh*t, like, I was obsessed. Tayshia would be a phenomenal Bachelorette."
"I have heard mixed things post-Paradise about her," Martinez replied. However, she added: "you know, it's just hearsay and just personal people's opinions."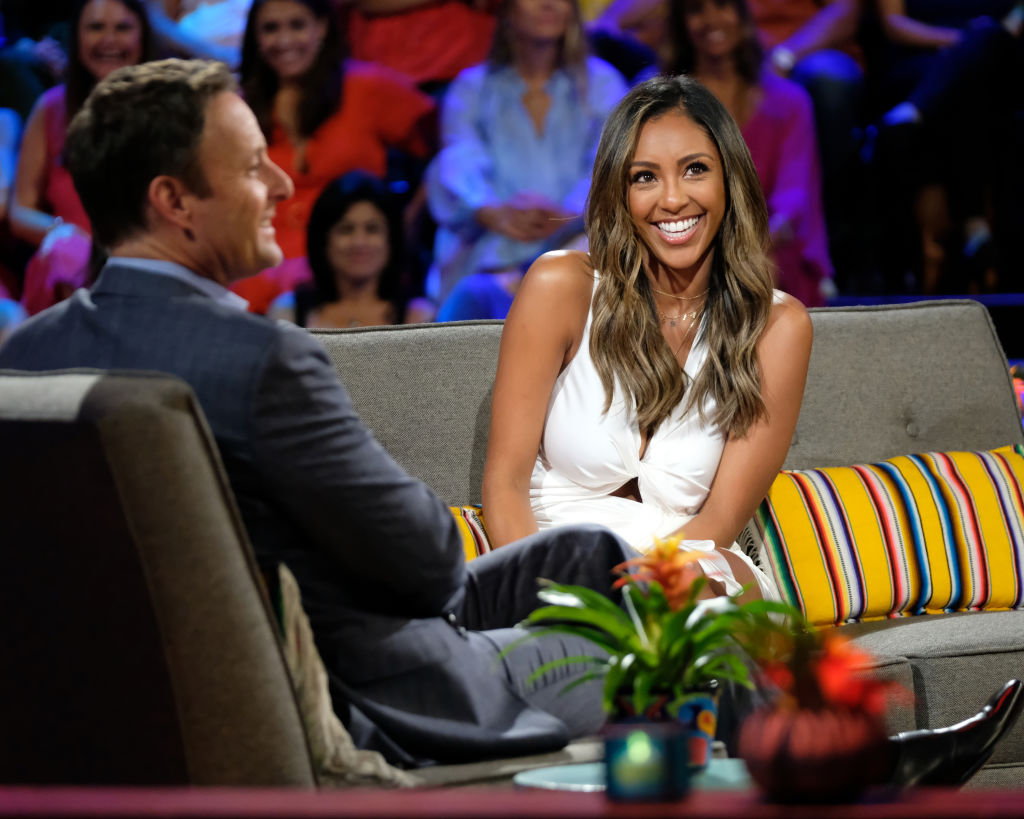 "At this point, though, I don't care if people don't like her," Ambrose said. "…I feel like she'd be a good Bachelorette."
"One hundred percent agree with that," Martinez concurred. However, she had some new tea on the next season of The Bachelorette.
Will Hannah Brown return to 'The Bachelor' franchise?
"Also, I heard rumors," Martinez spilled. "Apparently someone … in Bachelor world said that they heard from a very reliable source that they are actually considering Hannah for season 2."
"Hannah Brown is being talked about for season 2," Ambrose confirmed.
"No!" Martinez responded. "No! I don't care how I felt about her season or how I've ever felt about her. This has nothing to do with any of that, my personal feelings aside. Please, no!"
We wonder how she really feels?
"She already had her shot," Martinez argued. "She's on this fun single train thing right now, just let it be."
Ambrose wholeheartedly agreed.
"I don't like when people get recast because they come in different," she said of The Bachelorette. "Like, she's super famous, she has won Dancing With the Stars. It's gonna have a different energy."
No doubt, Miss Brown has ideally moved on to bigger and better things.
"Hannah's probably going out on dates with celebrities now; she's going out with models," Ambrose said.
Former contestant argues against Hannah B. on a second season
Maybe, Martinez offered, Hannah Brown is "still in that process of discovering herself." She continued:
I think she's in that mode right now. I think she's not dating and she's figuring sh*t out about navigating her new life in L.A. and making friends and navigating those kinds of relationships and I think that's what she's dealing with right now. To which I say, 'live your life, and do that. Don't go back on another season of The Bachelorette.
"I know," Ambrose replied, "I hope not."
"Get someone new!" Martinez exclaimed. "We already saw that."
"But I also don't want any of these girls," Ambrose said of Weber's season 24 of The Bachelor. "I want Tayshia."
"I mean, then again it's never really about the lead, right?" Martinez asked. "It's about the contestants."
Could Demi Burnett ever be the first queer Bachelorette?
"Unless they're gonna do a Demi," Ambrose responded. "I would love a Demi. And if we're gonna have our first season with men and women on the show–our first fluid Bachelorette. Can you imagine?"
"It's never gonna happen," Martinez replied. "Sorry." She went on to explain her reasoning.
"There's too much sex happening in the house," Martinez said. "That's the issue with it. That's why it's never gonna happen." The former Bachelor contestant argued it would make the show "too raunchy."
Ambrose called Pilot Pete's season "the wildest season when it comes to drama." She wonders, in light of this season: "would they, though?"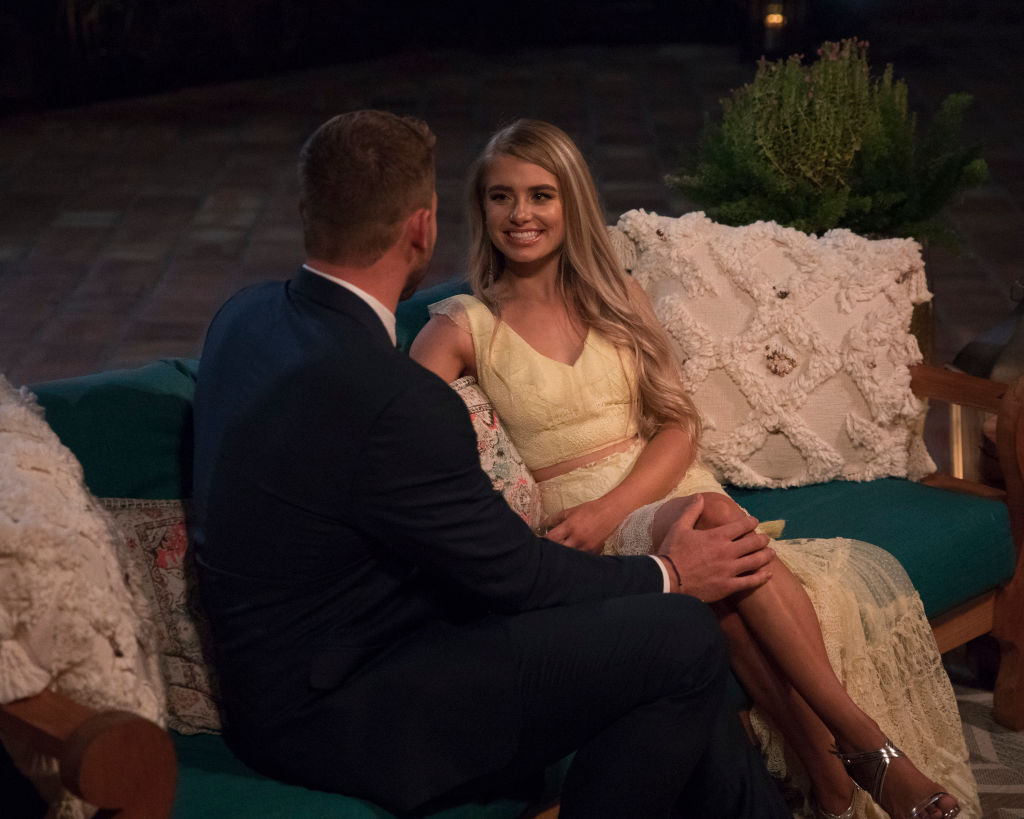 "No," Martinez responded, "because it's tame, white, Midwest, PG drama." Could anyone from Weber's season carry the Bachelorette torch?
"The only really viable one I see from this season is Madison being Bachelorette," Martinez said. She sounded completely resigned to the idea.
"At this point, whatever, I feel neutral about it," Martinez continued. "Yeah, she makes up fan accounts to comment on her photos with, and yeah she enjoys using black and brown children to take photos with…"
"We also have Kelley," Ambrose offered.
"What about Hannah Ann?" Martinez asked. She said she actually "wouldn't hate it." She said she'd even "rather have Hannah Ann be the Bachelorette than Hannah B."
What does Hannah Brown say about being The Bachelorette–again?
But what does Hannah Brown say herself? She recently told Entertainment Tonight about where she stood on The Bachelorette matter.
"I don't know [if I'd be the bachelorette again]," she said. She also brought up "a lot of hard and bad" from her season. "I mean, hello. Did we see my ending?"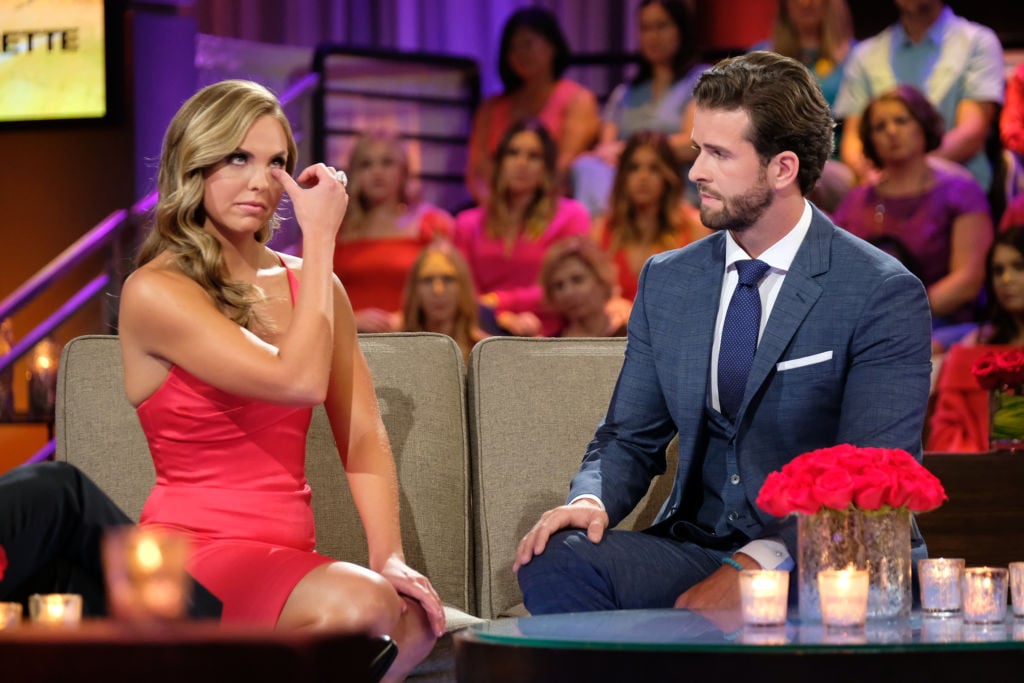 Brown went on:
Right now, I'm just trying to seize the opportunities that I have and feel very confident in the things that I say yes to. And also confident in the things that I know aren't the best for me right now. There is that like, weird… a desire in my heart to find somebody. Do I have to do that as being the bachelorette? No. But it is I think something that can work and has worked for other people.
Brown weighs the positive with the negative.
"There's a lot of good that comes out of it too," she acknowledged. "I would never, like, completely bash the Bachelor franchise … So, of course, I want that, but it doesn't have to be as the bachelorette."
Whoever the next Bachelorette is (don't do it again Hannah Brown), we'll have our Monday nights blocked out, forever and always.