Hannah Brown's 'Dancing With the Stars' Blog Makes So Much Sense After 'The Bachelor' Premiere With Peter Weber
How did the reunion between Hannah Brown and Peter Weber on 'The Bachelor' affect 'Dancing With the Stars'? Here's how 'The Bachelorette' felt after.
The Bachelor Season 24 premiere shocked everyone when Hannah Brown of Dancing With the Stars and The Bachelorette returned and had an emotionally raw conversation with Peter Weber. At the time, Brown was busy filming ABC dancing competition, which means she was in the public eye when she met up with her ex. But did Brown's reunion with Weber on The Bachelor affect her performance on Dancing With the Stars? It appears the 25-year-old already got real about her feelings in a DWTS blog post.
What happened to Hannah Brown and Peter Weber in 'The Bachelor' premiere?
In the Jan. 6 premiere of The Bachelor, Brown made two guest appearances. She first stops by on limo night to return the wings Weber gave to her on The Bachelorette. Brown then comes back on the second group date, where she retells the windmill story to a few of Weber's contestants. She also instructs them to prepare a personal sex story of their own to tell in front of a live audience.
Shortly after, everything falls apart backstage. Brown walks away and tells a producer she isn't sure how she feels. Later, Weber comes to wish Brown a happy birthday, meaning The Bachelor filmed the scene on Sept. 24. Regardless, it's clear Brown is not OK.
The former bachelorette apologizes to Weber and admits she was "very confused" and is now "really f*cked up." She adds, "I question what I should have done, and I question a lot."
Meanwhile, Weber asks her to become part of the house and Brown says, "Maybe." But the two dive back into their past and Brown reveals she only chose Jed Wyatt over Weber because he was "comfortable." Weber also shares the pain he felt when Brown asked Tyler Cameron out during After the Final Rose.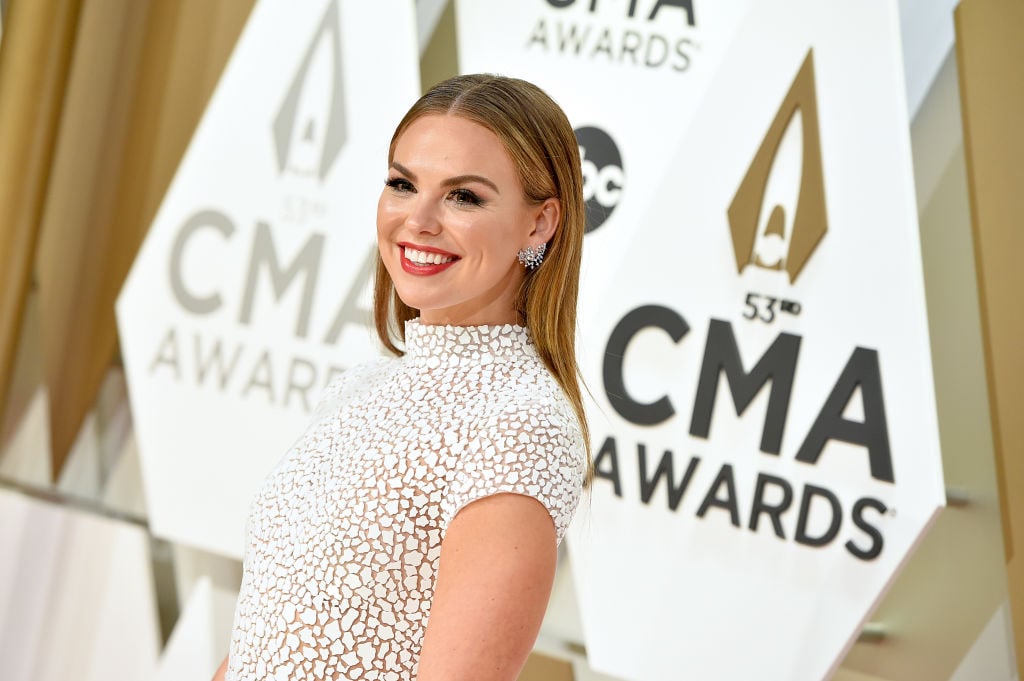 "He was reaching out, and you didn't say anything," Brown replied. "I knew you were upset and dealing with it, so I didn't reach out to you, and you didn't reach out to me. I didn't know if you wanted to get past it — I thought you wanted to be the bachelor."
She continues: "When I saw you, I felt a lot more than I thought I was going to. I didn't think there was going to be that much spark. Because I knew there was something still there."
At this point, both parties are visibly distressed and confused. But before the episode ends, Weber shares his thoughts in a confessional.
"I can't help how my heart feels," Weber said. "I look at her, and I just don't want to stop looking at her. And I want to just kiss her … I just feel like such a jerk because I have such an awesome group of girls here expecting to meet someone that was truly ready to have this work for them as well."
Hannah Brown expressed her emotions after filming 'The Bachelor' on her 'Dancing With the Stars' blog
As mentioned, Brown and Weber reunited around Brown's 25th birthday on Sept. 24. Meanwhile, Brown was writing a personal Dancing With the Stars blog on Bustle, detailing her daily thoughts. So now, Bachelor Nation fans know exactly where her appearance on Weber's season falls in the timeline.
Regardless, it seems Brown hinted at a few emotional hiccups in her blog posts from DWTS Week 3. And on Sept. 24, Brown explained the "day has been really difficult on a deeper level." She wondered whether being 25 would bring the "same, exciting, scary" things or begin to slow down.
The following day, Brown had a rough day at practice with her partner, Alan Bersten. They were rehearsing the rumba — which received average marks. However, Brown was "frustrated."
"I couldn't pick up anything," she wrote. "I have a lot of mind fog from the stuff emotionally that I haven't had time to deal with, and it's decided to come out this week."
Brown also reflected on her past, questioning her choices. "I think what it's coming down to is I feel like I've made a lot of decisions that I shouldn't have trusted in the past year," she wrote. "That's the raincloud over all this. Because of that, it's manifesting in dance."
And it seemed Brown's doubt in her past stopped her from taking steps and making decisions to move forward. "I don't trust myself to make decisions right now, because a lot of the decisions I made the past year, were they the best?" she wrote. "I was having that a-ha moment that trust is not something that I really have right now, at all. For other people, or for myself. It was a heavy day."
Then on Sept. 26, Brown briefly called out the exploitive nature of reality TV. She wrote:
I've lived this past year with my emotions being exploited for national television. And that is really hard sometimes, when you have a lot of bottled up emotions but you know every day you're going to be in front of the camera. Because I am who I am, I can't hold my emotions in, so I know they're going to be exploited because I can't hold it together. Because honestly, there are only a few hours of the day where I don't have a camera on my face.
Brown's honest Dancing With the Stars blog post illustrates the reality star's inner thoughts at the time. And quite frankly, all the introspection and doubts about her past actions were likely affected by her reunion with Weber on The Bachelor. But even so, Brown still made it out the other end by working hard and winning the Mirrorball trophy.
Read more: Will Peter Weber Get Engaged? 'The Bachelor' and Chris Harrison Say the Finale Will Break Tradition